Back to
The Front Page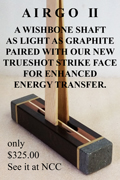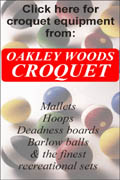 The USCA Grand Prix awards points for the performance of USCA members in sanctioned doubles and singles games, tracked for each calendar year. For an explanation of how the system works, see the article "New USCA Grand Prix."

Results for all USCA sanctioned events are included for the current calendar year to the current date. The annual game ends on January 1.

Click here to see the complete final results of the Full 2005 USCA Grand Prix or 2005 Top 100 USCA Grand Prix.

To re-sort the list, select the button that describes the field you would like to sort by.
---
NAME
HANDICAP
SINGLES
POINTS
DOUBLES
POINTS
TOTAL
POINTS

---

1
Knopf, Ted
-1
13924
11531
25455
2
Grimsley, Doug
-1.5
13926
8144
22070
3
Lloyd, Ron
-1.5
13320
7556
20876
4
Lamm, Rich
-1.5
12700
8150
20850
5
Brackett, Richard
-0.5
12424
7132
19556
6
McBride, Leo
-2
12370
7050
19420
7
Zuro, Michael
-1
11008
8304
19312
8
Cumming, Brian
-2
14184
5034
19218
9
Curtis, Richard G.
-1
9130
9144
18274
10
Osborn, John C.
-2
13124
4826
17950
11
Mehas, Mik
-1
6630
11075
17705
12
Jackson, Lionel S.
-1
8360
9190
17550
13
Berne, Freeman A.
-2
12372
5020
17392
14
Cherry, Bob
-1.5
9633
7130
16763
15
Huneycutt, Danny
-1.5
11410
4920
16330
16
Just, Peter
-0.5
5890
9726
15616
17
Bitting, Kenneth (Tim)
-0.5
7470
7426
14896
18
Scott, Paul
-1
7825
5100
12925
19
Jones, Keith
-0.5
5795
6560
12355
20
Jones, Jackie
-0.5
11185
741
11926
21
Caldwell, Jeff
-0.5
6423
4849
11272
22
Bent, David
-1
5450
5750
11200
23
Chilton, Bob
0.5
4712
6326
11038
24
Hunter, John
0
8095
2860
10955
25
Stark, Jerry P.
-1
8400
2550
10950
26
Quimby, Ted
-1
3310
7450
10760
27
Uhlman, W. Carl
-0.5
8108
2514
10622
28
Soo, Jeff
-1.5
5360
5100
10460
29
Mayer, Dwight J.
0
6140
4300
10440
30
Mitchell Jr., Johnny
-1
7890
1785
9675
31
Butts, Jim
0
3320
6282
9602
32
Sullivan, Richard
0
7458
2091
9549
33
Baird, Matt
-1
4966
4064
9030
34
Young III, John
1
4383
4346
8729
35
Curington, John
-0.5
4914
3482
8396
36
Fusz, Eugene A.
0
4434
3866
8300
37
Spoonhour, James M.
-1
6801
638
7439
38
Morgan, Robert S.
0
4126
2986
7112
39
Johnston, Stephen C.
-0
3420
3650
7070
40
Hixon, William
-0.5
6510
400
6910
41
Hendry, Ron
1
3419
3457
6876
42
Jones, Fred
-0.5
4140
2400
6540
43
Simonds, Jane
1
3833
2668
6501
44
Hughes, Tom
0
4670
1690
6360
45
Herin, Trevor
0.5
3186
2964
6150
46
Bayard, Rufus
0
4638
1352
5990
47
Loving Jr., Charles
1
1095
4875
5970
48
Roberts, Edward S.
0
5770
170
5940
49
Lloyd, Peter
1
3744
2191
5935
50
Winmill, Bass
2.5
2096
3660
5756
51
Campbell, William
2
4226
1403
5629
52
Berne, Billie Jean
2.5
1723
3882
5605
53
Nicklasson, Jim
0
3994
1584
5578
54
Martin, Bill
0
3580
1950
5530
55
Hayworth, Horace W.
3
3845
1653
5498
56
Scalpone, Steve
0.5
5204
288
5492
57
Pollock, Murray
1.5
4148
1081
5229
58
Gibbons, Michael
1.5
4044
1051
5095
59
Cochran, George
0
4444
613
5057
60
McCoy, David
4.5
1569
3468
5037
61
Carmichael, Michael
3.5
2536
2250
4786
62
Weimerskirch, Mike
0.5
3396
1224
4620
63
Ruby, Britt
-1
3360
1200
4560
64
Bopp, Bill
0.5
2962
1574
4536
65
Stevens, Jack
1.5
1548
2822
4370
66
Houghton, Neil
0
3342
1000
4342
67
Leonard, Margot
2.5
2038
2240
4278
68
Scoggins, Ken
-0.5
3750
500
4250
69
Dilley, Albert R.
1.5
2392
1776
4168
70
Settlemyre, Norris
-0.5
3560
585
4145
71
Blake, George
3.5
1082
3058
4140
72
Nelon, Keith
1.5
1304
2714
4018
73
Aden, Bill
0.5
1044
2856
3900
74
Grimsdale, Bill
4
1690
2144
3834
75
Rosenberry, Kenster
-1
2200
1540
3740
76
Nel, Louis D.
0.5
1794
1914
3708
77
Sheely, Richard
0
2016
1674
3690
78
Whitmore, Robert B.
2
2863
775
3638
79
Leeming, Barbara
4.5
1654
1960
3614
80
Theiste, Dave
2
1968
1584
3552
81
Coffey, Pablo
2.5
1672
1872
3544
82
Moore, G. Laurence
1.5
1885
1610
3495
83
Shipley, Ken
3.5
1564
1914
3478
84
Wassink, Derek
2
2005
1400
3405
85
Mathieson, Don
2.5
2630
740
3370
86
Brown, Russell
2
3207
144
3351
87
Clark, Wally
1
3024
288
3312
88
Herzog, Jim
1
2981
288
3269
89
Newton, Kelley
1
2955
311
3266
90
Guernsey, Cameron
1
3122
144
3266
91
Harmon, Hope
5
651
2564
3215
92
Hall, Jr., Jim
3.5
1889
1243
3132
93
Morehead, Ben
2
2282
833
3115
94
Davis, Blaine
1
1805
1290
3095
95
Gibson, Barry
4
1288
1784
3072
96
Loat, Christopher
1.5
2637
433
3070
97
Ekstrom, David
1.5
2823
182
3005
98
Blow, Diane
2.5
1664
1296
2960
99
Whitlow, Charles
1.5
1530
1420
2950
100
Kurtzman, Aaron
1.5
2939
0
2939
101
Parsells, Art
2
2340
544
2884
102
Davies, Wayne
3.5
1340
1495
2835
103
Orgill, Michael
1
2638
169
2807
104
Bennett, Paul T.
-1
1530
1275
2805
105
Seward, Jim
3.5
1508
1220
2728
106
Maloof, David
0
1950
750
2700
107
Thompson, Frank
4.5
1911
723
2634
108
Coco, Anne Jones-
3
2143
471
2614
109
Mol, Daniel
2.5
876
1708
2584
110
Hamilton, Bill
4.5
1159
1386
2545
111
Allison, Harold R.
0
2125
408
2533
112
Dunn, Pierre
2
2192
288
2480
113
Anson, Jill
6
587
1872
2459
114
Lavezzoli, Chuck
4
1824
593
2417
115
Blundell, Mark
0.5
1623
740
2363
116
Heerens, Don
2.5
1120
1212
2332
117
Embry, Paul
1.5
1605
715
2320
118
Scott, Jack
2
1424
838
2262
119
Escher, Bill
3
1010
1234
2244
120
Lunn, Gord
0
2240
0
2240
121
Donaldson, Betsy
2.5
1870
324
2194
122
DeCourcy Ireland, Andrew
2.5
528
1644
2172
123
Thomas, C. Lee
1
1560
610
2170
124
Dill, David
1.5
1159
1008
2167
125
Yount, Robert
1.5
480
1680
2160
126
Weltner, Gary
1.5
1480
680
2160
127
O'Laughlin, Edward
3
1652
460
2112
128
Lewis, Dave
-0.5
2100
0
2100
129
Jackson, Josette G.
3
1080
900
1980
130
Blassnitz, Richard
3
1976
0
1976
131
Hamilton, Janet
4
1607
361
1968
132
Houser, Jim
0
1800
96
1896
133
Weltner, Barbara
5
1182
714
1896
134
Emmett, Paul
0.5
1860
0
1860
135
Bidencope, Damon
0
1840
0
1840
136
Freeman, Anthony
4
1135
689
1824
137
Little, Patrick
2
1374
432
1806
138
Haas, Marie
5
1186
598
1784
139
McGill, James C.
3.5
1180
595
1775
140
Bake, Robert
2
1405
340
1745
141
Nicolaci, Ruth
3
1355
361
1716
142
Walsh, Ann
3
1130
561
1691
143
Soo, Eileen Kupstas
4
1132
503
1635
144
King, Barney
4.5
1392
229
1621
145
Knott, John
4.5
1038
570
1608
146
Huxtable, Linda
4.5
1214
388
1602
147
Sweeney, Patrick
3
1428
144
1572
148
Rheault, Gerald
2.5
360
1200
1560
149
Rothman, Ben
0.5
1560
0
1560
150
Smith, Matthew B.
2.5
1540
1
1541
151
Haas, Conrad
6
1076
455
1531
152
Wille, Audrey
0
1505
1
1506
153
Nappi, Jo-Anne
2
1060
445
1505
154
Paduano, Stephanie
4.5
995
508
1503
155
Mayo, Anthony
3.5
0
1500
1500
156
Pitera, John
5
356
1144
1500
157
Jacobson-Mol, Paula
5
706
766
1472
158
Herin, Tom
3.5
800
666
1466
159
Kuhasz, Kathleen
4
1223
233
1456
160
Mol, Douglas
4.5
704
748
1452
161
Kaylor, Mark
5
702
750
1452
162
Mattison, Geoffrey
5
755
696
1451
163
Nikora, Leo
9
1437
0
1437
164
Ramey, Martha
1
760
660
1420
165
Huxtable, Ron
5
809
604
1413
166
Hafner, Bob
2.5
752
660
1412
167
Minor, Claiborne W.
2.5
1290
120
1410
168
Fenner, Susan
4
1069
334
1403
169
Butts, Phyllis
6
784
586
1370
170
Moore, Douglas P.
2
1245
120
1365
171
Dimond, Stephen
1.5
1350
0
1350
172
Kroeger, Robert
-0.5
1050
300
1350
173
Prentis, Ted
0
0
1350
1350
174
Katz, Aviv
4.5
837
493
1330
175
Short, Andrew
0
1320
0
1320
176
Prickett, Linda
6
0
1311
1311
177
Kemp, Ted
4
1108
200
1308
178
Oehrle, John
0.5
920
380
1300
179
Williams, Barry
3
1170
115
1285
180
Warner, Stephen
4.5
800
470
1270
181
Thomas, Tyler
2.5
330
935
1265
182
Just, Judith
5
829
434
1263
183
Shiftan, Ronald H.
4.5
440
800
1240
184
Peterson, Ervand M.
0
1240
0
1240
185
Perry, Charles
4
994
241
1235
186
Noriega, Juan
3.5
788
446
1234
187
Betz, Kevin
6
726
504
1230
188
Male, Simon J.
2
680
536
1216
189
Selman, Martyn
2
890
300
1190
190
Wall, Mal
2.5
900
285
1185
191
Young, Eugene
2.5
768
408
1176
192
Phoenix, Paul
3
608
540
1148
193
Menzel, Harold
5
718
430
1148
194
Bard, Lucie
6
712
432
1144
195
Maresca, Lucille M.
5
879
262
1141
196
Jacobson, Donald
1.5
1126
0
1126
197
Bitting, Reine F.
6
437
685
1122
198
Holloway, Mena
3.5
640
473
1113
199
Imhoff, Robert
3
779
288
1067
200
Sprague, Kristine
3
840
226
1066
201
Huttenhoff, Mickey
1.5
834
204
1038
202
Paul, Gordon
5
419
614
1033
203
Uhler, Russell
4.5
178
850
1028
204
King, Joe
0
1020
1
1021
205
Copeland, Bill
5
805
216
1021
206
Mol, Brad
3.5
464
534
998
207
Johnston, Dick
7
803
191
994
208
Hughes, James H.U.
0
793
192
985
209
Dixon, Donna
8
396
582
978
210
Essick, Jon
5
815
154
969
211
Poszgai, Dale G.
4.5
941
26
967
212
Cramer, Margaret S.
5
665
301
966
213
Knowlton, Bob
5
120
840
960
214
Menton, Raymond (Bo)
2
867
86
953
215
Nolte, Ann
6
628
319
947
216
Shiftan, Ceci
4
130
800
930
217
Hoffman, John
6
486
427
913
218
Goodwin, Mark Lewis
2
910
0
910
219
Waechter, Jerry
2
845
60
905
220
Prentis, Debbie
1.5
900
0
900
221
Lawrence, Stuart
0
400
500
900
222
Enochs, George
4
828
63
891
223
Lefton, Al Paul
5
500
390
890
224
Seele, Michael
8
546
333
879
225
Todorovich, Michael
7
611
264
875
226
Lefton, Amarilice
7
498
360
858
227
Theurkauf, Tina
6
423
431
854
228
Thompson, Wendell
5
846
1
847
229
Franz, Joe
2.5
840
0
840
230
Dill, John
0
840
0
840
231
Dreyer, Uwe
6
573
239
812
232
Wahlrab, Otto
5
683
126
809
233
Wilford III, Edward B.
5
527
279
806
234
Garner, Pat
7
215
590
805
235
Turner, Garnett R.
2.5
800
0
800
236
Lufkin, Michael
1.5
780
0
780
237
Reaves, Tony
8
664
114
778
238
Winmill, Sally
8
201
576
777
239
Krause, Tom
0
272
500
772
240
Fleming, Reid
1
770
0
770
241
Young, Robert F.
5
573
180
753
242
Billings, Paul
20
747
0
747
243
Grey, Peter
2.5
740
1
741
244
Davis, Sheila
6
512
228
740
245
Riddell, Bob
4
738
0
738
246
Woodside, John
8
369
358
727
247
Loew, Richard
3.5
686
40
726
248
Mol, Rick
6
62
663
725
249
Parker, Philip
1.5
595
120
715
250
Kelley, Les
4.5
250
462
712
251
Solondz, Philip
5
680
27
707
252
Minick, Bob
5
202
499
701
253
Huff, James
1.5
700
1
701
254
Brinkley, Jeff
6
700
0
700
255
Simonds, William H.
4.5
690
0
690
256
Ely, Stephen
6
260
425
685
257
Bonacci, Jim
4
680
0
680
258
Hawkins, James A.
2.5
675
0
675
259
O'Neil, Marilyn
4
671
0
671
260
Lee, Jeff
5
617
48
665
261
Silverman, Sis
6
617
48
665
262
Knight, Whickey
7
308
355
663
263
Huhn, Liz
2
660
0
660
264
Newburn, Bob
5
447
210
657
265
Lyon, David
6
474
180
654
266
Schiller, Richard
5
521
132
653
267
Haden, Robert C.
4.5
313
340
653
268
Shanley, Jane
6
627
12
639
269
Wyer, James
9
186
447
633
270
Nathanson, Eugene
4
512
100
612
271
Neves, Carol P.
9
42
566
608
272
Watson, John G.
4.5
438
169
607
273
Kelly, Virginia
7
423
180
603
274
Thomas, Byron
0.5
600
0
600
275
Mead, Bill
0
200
400
600
276
Warlick, John
6
341
259
600
277
Fusz, Louis
6
365
223
588
278
Theiste, Beth Ann
6
296
291
587
279
Reynolds, Nancy S.
6
317
268
585
280
Lembo, Gregory
1.5
530
50
580
281
Wyrough, Richard R.
6
324
253
577
282
Peck, Archie
0
0
576
576
283
Bozeman, Bob
6
261
306
567
284
Theurkauf, Robert
7
387
180
567
285
Chase, Jack
8
274
293
567
286
Brodsky, Stuart
0.5
560
0
560
287
Lastinger, Ron
2
560
0
560
288
Stoy, Ray
4
396
160
556
289
Hughes, Joan Donoho
13
72
482
554
290
Hitzelberger, Al
3.5
550
0
550
291
Maxwell, Maryholt
2.5
548
1
549
292
Whitlow, Betty
5
284
262
546
293
Johnson, Kiehner (Jake)
6
525
19
544
294
Arnold, Willard B.
4.5
332
210
542
295
Cherry, Carol
6
326
215
541
296
Van Wyck DeRopp, Zoe
6
257
282
539
297
Taylor, Glen D.
5
518
19
537
298
Armour Jr., James W.
4.5
419
118
537
299
Gowrie, Spencer
6
354
180
534
300
Balson, Jan
6
370
156
526
301
White, Kenneth B.
2
524
1
525
302
Comeau, Robert A. Jr.
7
377
143
520
303
Schilling, Henry
7
297
222
519
304
Spiotta, Robert A.
4.5
432
85
517
305
Moss Jr., Thomas
3.5
512
1
513
306
Parker, George D.
1.5
510
0
510
307
Graves, Norman
0.5
510
0
510
308
Jacob, Merritt
3.5
492
13
505
309
Breed, Sterling
6
268
234
502
310
Bartholomew, Randy
1.5
500
0
500
311
Turner, Ron
1.5
500
0
500
312
Dimm, Wayne
10
0
500
500
313
Megalli, Jenifer
10
14
484
498
314
Cooley, William
8
130
368
498
315
Roche, William
3
495
0
495
316
Alderson, Richard
4.5
495
0
495
317
Kender, John
8
221
273
494
318
Pollock, Brenda
10
130
364
494
319
Copeland, Suzan
5
291
196
487
320
Ryan, June R.
7
348
139
487
321
Nicholson, Avril
7
284
200
484
322
Pollard, Ron
5
470
0
470
323
Lankford, Robert
8
176
287
463
324
Essick, Becky
7
251
210
461
325
Amsler, Virginia
5
380
73
453
326
Percival-Smith, Christopher
1.5
450
0
450
327
Messex, Marvin G.
3.5
448
0
448
328
Buelte, Arnhilt
8
306
138
444
329
Theiste, Peder
6
62
378
440
330
Abrahamson, Stan
6
223
216
439
331
Baker, Stuart
8
108
328
436
332
Taylor, Jim
1.5
255
180
435
333
Brown, Sandford
6
425
1
426
334
Denton, William R.
2
425
0
425
335
Birkhead, Ben
3.5
420
0
420
336
Jenner, Mike
-1
420
0
420
337
Skinner, Bill
4.5
0
420
420
338
McLaughlin, Bill
6
150
269
419
339
Johnson, Jerry
5
416
0
416
340
Saunders, James R.
6
416
0
416
341
Kruse, Carl
6
416
0
416
342
Lembo, Carole
7
165
250
415
343
LeClair, Joyce
6
265
148
413
344
Commander, Bryan H.
9
236
176
412
345
Gallagher, Dolores
6
382
30
412
346
Fong, Elaine C.
6
209
202
411
347
Rowand, Ronald P.
4.5
404
0
404
348
Del Duca, Vincent
17
81
320
401
349
Jones, Helen
10
0
400
400
350
Schott, John
2
400
0
400
351
Maye, Robert
10
202
196
398
352
Thomas, Dan
5
112
280
392
353
MacDonald, Joseph
5
283
102
385
354
Cagney, Cynnie
7
138
247
385
355
Roemmele, Herbert A.
6
249
135
384
356
McCauley, Geraldine
8
192
183
375
357
Summer, Steve
7
375
0
375
358
Bendig, Mike
3
375
0
375
359
Bradford, Joy
7
193
181
374
360
Geddes, Jean
7
324
48
372
361
Miller, Jean
7
270
100
370
362
Jones, Everett
4.5
255
111
366
363
Beharriell, Jane
5
364
0
364
364
Tatnall, Mary Knox
7
331
32
363
365
Christian, Chris
5
80
280
360
366
Blow, Michael
7
320
36
356
367
Holberg, Eileen
8
12
342
354
368
Miller, Samuel G.
6
176
175
351
369
Ruffing, Arthur L.
5
351
0
351
370
Ryan III, John B.
6
171
180
351
371
Leonard, John
0.5
350
0
350
372
Olson, Lynn
3.5
0
350
350
373
Mondt, Chris
7
216
130
346
374
Goldfarb, Ronald
4.5
100
240
340
375
Fuller, Theodore
7
315
21
336
376
Losier, Bill
4.5
336
0
336
377
Pike, Norman
8
96
234
330
378
Kays, Bob
5
281
48
329
379
Smale, Roswitha
7
326
0
326
380
Kend, Stan
7
129
192
321
381
Robinson, Anne Frost
4.5
280
40
320
382
Eliassen, Garth
1
320
0
320
383
Smith, Craig P.
3.5
192
128
320
384
Yates, Tom
7
130
187
317
385
Taves, Donald R.
3
316
0
316
386
Bothe, Andree
7
262
54
316
387
Holdsclaw, Howard J.
4.5
170
144
314
388
Taft, Bill
5
120
194
314
389
Spatz, Jonas
6
87
216
303
390
Myer, Carl H.
6
251
48
299
391
Betz, George
7
297
0
297
392
Shaughnessy, Norma
6
295
1
296
393
Wasylyk, Brian
4
295
0
295
394
Aden, Joy
4
180
115
295
395
Bergofsky, Rebeca E.
9
204
86
290
396
Schweitzer, Lone P.
2.5
240
50
290
397
Roche, Biff
4
283
1
284
398
Atkins, Ronald R.
10
262
21
283
399
Toops, Curtis
4.5
280
0
280
400
Smith, Charles
0.5
280
0
280
401
Ix, Alexander
4
33
245
278
402
Ekstrom, Martha
7
274
3
277
403
Rugart, Conrad
11
26
248
274
404
Broderson, Peter
6
255
13
268
405
Nicolaci, John
7
146
120
266
406
Ormsby, Marty
8
263
2
265
407
Stuart, Preston
14
138
126
264
408
Penwell, Edward M.
0
260
0
260
409
Charlton, Gordon R.
8
165
94
259
410
Scholl, Richard W.
6
258
0
258
411
Smale, Gordon
4
255
0
255
412
Rhodes, Sandy
8
221
28
249
413
Dolezar, Gerald
9
128
121
249
414
Goodman, Susan
6
248
0
248
415
Coleman, Robert
6
246
1
247
416
Hardy, Florence
11
111
136
247
417
Moore, Nancy(Polly)
9
78
169
247
418
Nicholson, Ed
9
172
72
244
419
Pitera, Andrea
8
96
148
244
420
Gagne, Alexis
8
138
100
238
421
Devitt, Gerald
8
197
41
238
422
McLaughlin, James
9
204
33
237
423
Streight, Alison
8
208
29
237
424
Ix, Ann
8
48
187
235
425
Norris, Louis
9
105
130
235
426
Low, Sara
6
77
153
230
427
Bolton, Floyd
4.5
230
0
230
428
Whitmarsh, Mary Louise
8
139
91
230
429
Babcock III, L. Kent
6
201
28
229
430
Walter, Mary Cate
4.5
225
1
226
431
Taft, Billie Jean
9
28
198
226
432
Siemers, Carl
2.5
225
0
225
433
Williamson, Andrew
5
225
0
225
434
Sanders, David
4.5
224
0
224
435
Colt, Joseph
8
42
180
222
436
Mayo, Carol
4
120
100
220
437
Corbett, Ellen
10
164
52
216
438
Brazell, Roni
9
179
36
215
439
Sharpe, Jeffrey
1.5
212
0
212
440
Hall, Ellen
9
120
92
212
441
Bryan, Gene
5
207
0
207
442
Brine, Elizabeth W.
8
187
18
205
443
Harrington, Tommy B.
9
103
101
204
444
Knoll, Joseph
9
150
54
204
445
Shulman, Ephraim E.
6
204
0
204
446
O'Laughlin, Laura
9
43
161
204
447
McGill, James E.
4.5
200
0
200
448
Turner, Darrel M.
0
200
0
200
449
Bagby, Cindy
8
6
192
198
450
Turtur, Gaye
9
141
55
196
451
Dahlstrom, Judy
8
160
36
196
452
Powers, Barbara S.
7
180
12
192
453
Anderson, Donald A.
9
48
144
192
454
Mihlon, Margaret
3.5
0
190
190
455
Conolly, Alexander
4.5
70
120
190
456
Paul, Mary-Anne
11
126
62
188
457
Stoy, Hedy
9
90
98
188
458
Peters, Phillip B.
10
134
52
186
459
McDonnell, Jane
4.5
183
0
183
460
Knapp, Dick
3.5
0
180
180
461
Coudneys, James
5
40
140
180
462
Campbell, Marjorie
12
59
121
180
463
Foy, Patrick
9
180
0
180
464
Walsh, Sandra Knuth
7
126
54
180
465
McQuinn, Bob
8
159
18
177
466
Hamel, Lee
5
133
43
176
467
Stetson, Josephine
7
93
82
175
468
Vuitch, Frank
6
75
100
175
469
Stephenson, Shanda
8
0
173
173
470
Vaughan, Henry
8
171
1
172
471
Goodman, Molly
8
159
13
172
472
Shippee, Ham
5
64
108
172
473
Young, Nelga
3.5
0
170
170
474
Plummer, Catharine
12
125
45
170
475
Miles, James B.
3
170
0
170
476
Bagby III, Arthur
0.5
170
0
170
477
Feldman, Nancy
5
0
170
170
478
Morris, Anne
6
0
167
167
479
Babcock, Katherine
9
99
67
166
480
Norris, Courtney
5
105
60
165
481
Duncan, Patricia M.
6
46
118
164
482
Deason, Ken
5
164
0
164
483
Seele, Helga
11
106
58
164
484
Essex, Bernard R.
7
162
0
162
485
Bridges, Donald A.
5
160
1
161
486
Tyler, Gary
5
160
0
160
487
Baitschova, Lila K.
2.5
128
32
160
488
Ely, Jennifer Gregory
10
130
28
158
489
Wheatley, Bill
7
158
0
158
490
Luecke, Jerry
10
66
90
156
491
Kennedy, Thomas W.
7
156
0
156
492
Slater, Shep
8
156
0
156
493
Howland, John
6
156
0
156
494
Crisler, Betty
9
97
57
154
495
Plummer, Walter
12
103
51
154
496
Lanyon, Genevieve
6
57
97
154
497
Summers, Ruth
2.5
150
0
150
498
Stinson, Margo
7
147
1
148
499
Tucker, Richard
3
145
0
145
500
Griffith, Matthew P.
2
140
1
141
501
Herkness, Wayne
7
102
38
140
502
Beckstead, Gar
0.5
140
0
140
503
Wille, Robert
2
140
0
140
504
Salloum, Charles W.
4.5
40
100
140
505
Lively, John
9
68
69
137
506
Hartley, Sean
10
109
28
137
507
Maxam, Donald
9
112
24
136
508
Blumenthal, Gerald
7
100
36
136
509
Gannon, Helen
13
117
19
136
510
Albright, Alida (Binky)
6
68
68
136
511
Kropp, Paul
11
135
0
135
512
Atkins, Betsy
13
108
25
133
513
Rogers, Colleen
9
51
82
133
514
Pearson, Gene
4
132
0
132
515
Hartmann, Bill
9
132
0
132
516
Postley, John
7
120
12
132
517
Dixon, Frank
12
73
57
130
518
Stewart, Keith
10
86
43
129
519
Mosley, Al
7
128
0
128
520
Jefferys, June
9
72
55
127
521
Mol Jr., Daniel
6
36
90
126
522
Quanstrom, Dana
10
86
40
126
523
Zipper, Howard
10
96
30
126
524
Cannon, Rose
10
124
0
124
525
Morgan, Hywel
10
112
11
123
526
Lafferty, Ralph
10
93
29
122
527
Hoffman, Jan
14
0
120
120
528
Wagner, Gisa
12
80
40
120
529
Bast, Jim
2
120
0
120
530
Williams, Pat
5
120
0
120
531
Smith, Gary
3.5
120
0
120
532
Bajema, Don
11
46
72
118
533
Beck, Frederick
10
81
36
117
534
Stark, Harold
7
104
12
116
535
Moody, James D.
5
116
0
116
536
Campbell, Marc
10
58
58
116
537
Murphy, Finn
9
114
1
115
538
Munn, Bill
8
114
0
114
539
Creegan, James
10
114
0
114
540
Rapuano, Timothy
9
53
60
113
541
Baker, Robert Ellis
6
111
1
112
542
Vandergriff, Bill
7
112
0
112
543
Gannon, Frank
10
96
15
111
544
Strawson, Dave
10
74
37
111
545
Hodges, Helen
9
111
0
111
546
Hapak, Charlotte
11
49
61
110
547
Cagle Jr., John S.
6
109
1
110
548
Schauman, Richard
10
110
0
110
549
Lane, Alexander
5
110
0
110
550
Enochs, Jane
8
70
39
109
551
Stewart, George H.
6
108
0
108
552
Cowles, Symon
9
84
24
108
553
Cramer, Dolf
9
18
90
108
554
Bromley, Ruth
7
106
2
108
555
Ridgeway, Marilyn
10
72
36
108
556
Sherburne, Barbara
10
88
18
106
557
Taves, Bennett C.
8
105
0
105
558
Jones, Lucy
10
28
77
105
559
Ridgeway, Joe
7
65
36
101
560
Clem, Allen
4.5
100
0
100
561
Cooley, Judith
8
100
0
100
562
Murphy, Stephen V.
5
100
0
100
563
LeBlanc, Lynn
9
0
100
100
564
Johnson, Doug
6
100
0
100
565
Dietz, Joan
12
39
60
99
566
Crowley, Kit
7
24
75
99
567
Brotzman, Darlene
7
99
0
99
568
Carter, Xandy
10
76
22
98
569
Heape, Artie A.
11
94
4
98
570
Hasson, Dave
11
44
54
98
571
Keating, Mary Ellen
6
96
0
96
572
Porter, Bob
9
87
9
96
573
Stark, Betty M.
11
12
84
96
574
Cuccia, Russ
8
96
0
96
575
Hanna, Lee
7
0
94
94
576
Cargill, Robert
8
24
70
94
577
Shorthouse, Bobbi
14
68
24
92
578
Spiotta, Jeanne Pace
10
46
46
92
579
Boozell, Michael
10
92
0
92
580
Safran, Bruce
10
90
1
91
581
Dakil, George
12
18
72
90
582
Boozell, Anne
12
86
3
89
583
Fosse, Dorthy
10
83
6
89
584
Kay, Herbert
10
89
0
89
585
Lafferty, Traudl
10
59
29
88
586
Reade, Ann
11
66
21
87
587
Joseph, John
12
21
66
87
588
Mitchell, Barbara
3.5
85
1
86
589
McKeon, Judy
7
43
43
86
590
Postley, Elaine
7
36
48
84
591
Mol, David
9
72
12
84
592
Drossman, Jay
11
28
54
82
593
Apple, Patricia G.
7
81
0
81
594
Tatnall, Frank G.
8
63
18
81
595
Heckman, Karen
13
0
81
81
596
Little, Lee
10
64
16
80
597
Anderson, Ken
9
80
0
80
598
Holzmacher, Robert
11
78
0
78
599
Comeau, Joan C.
11
38
39
77
600
Harders, Cheryl
10
64
12
76
601
Crow, William
8
76
0
76
602
Van Osdol, David
8
75
0
75
603
Clarke, Arthur C.
14
10
65
75
604
Flynn, Bob
11
49
25
74
605
Christensen, Harry "Chris"
10
74
0
74
606
Kay, Rita
11
72
1
73
607
Dacey, Ray
11
73
0
73
608
Gaisor, Cassandra
6
72
0
72
609
Knudsen, C. Stuart
6
0
72
72
610
Woolley, Peter
10
72
0
72
611
Williams, Betty
16
72
0
72
612
Dages, Alan
10
72
0
72
613
Prosser, Robert
8
72
0
72
614
Oehrle, Cathryn
8
27
45
72
615
Fleuette, Marc
9
72
0
72
616
Williams, Rick
6
72
0
72
617
Stokes, Alloe
15
72
0
72
618
Stokes, John
15
72
0
72
619
Hyland, Bill
9
72
0
72
620
Goesmann, Ilse
9
72
0
72
621
Hyland, Tunia
7
72
0
72
622
Lowry, Ben
6
72
0
72
623
Armour Jr., Elizabeth
11
72
0
72
624
Fulmer, George
5
30
41
71
625
McGill, Johanna
8
70
1
71
626
Robinson, Ian
10
70
0
70
627
Dainton, John
13
66
3
69
628
Rodeberg, Mary
12
67
1
68
629
Mazur, Joseph
12
48
20
68
630
Johnson, Tibbi
10
42
25
67
631
Priddle, Doris
10
66
0
66
632
Palmer, Richard
9
66
0
66
633
Pearce, Ralph E.
11
57
8
65
634
Westwater, John
10
57
7
64
635
Taylor, Cory
7
64
0
64
636
Rheault, Yvette
11
4
60
64
637
Brock, Thomas
10
63
0
63
638
Williams, Dorothy
11
63
0
63
639
Swartz, P. Michael
8
61
1
62
640
Grekin, James A.
10
8
54
62
641
Stempfle, Bill
11
62
0
62
642
Wells, Robert
10
46
16
62
643
Henry, Jean
8
49
12
61
644
Perry, Marilyn
11
20
41
61
645
Clymer, Martha
11
61
0
61
646
Sommer, Barbara
14
60
0
60
647
Cady, Everett Ware
9
52
8
60
648
Quanstrom, Brenda V.
10
20
40
60
649
Conry, Mike
11
46
14
60
650
Polite, Earl D.
9
60
0
60
651
Knapp, Mary
3
0
60
60
652
Pattie, Bernard
7
50
9
59
653
Hewitt, Dean
11
58
0
58
654
Sienkowski, Ron
12
57
0
57
655
Francis, Danielle J.
10
28
28
56
656
Richardson, Diane J.
11
0
55
55
657
Guernsey-Diesel, Joy
8
12
43
55
658
Brine, John J.
11
36
18
54
659
Host, Stig
9
36
18
54
660
Ward, Al
20
54
0
54
661
Patterson, Jim
10
54
0
54
662
Heberling, Marilyn
12
54
0
54
663
Richardson, John
16
0
54
54
664
Baker, Peter M.
14
54
0
54
665
Wheeler, Tim
10
53
0
53
666
Drake, Susan
12
0
52
52
667
Dainton, Kathleen
13
51
1
52
668
Levine, Arthur
8
25
27
52
669
Spillman, David
9
52
0
52
670
Conklin, Schuyler
10
40
12
52
671
Titus, Barbara
13
52
0
52
672
Butler, Herbert J.
4
50
1
51
673
McCormick, Emilie
15
44
7
51
674
Dej, Georg
9
29
22
51
675
Blagden, George
10
51
0
51
676
Fremont, Nancy
10
48
3
51
677
Robb, Mary
12
7
43
50
678
Hanson, Russ
11
50
0
50
679
Diamond, Herbert
8
50
0
50
680
Pettus, Tom
10
50
0
50
681
Loving Sr., Charles
5
50
0
50
682
Trimble, Neill
5
50
0
50
683
Hines, Cecily
11
50
0
50
684
Cartwright, David
20
48
0
48
685
Blumenthal, Renee
10
12
36
48
686
Bohannon, Charles
12
48
0
48
687
Crow, Carole
13
48
0
48
688
Gagne, Nolan L.
8
45
3
48
689
Landry, Rick
5
48
0
48
690
Karstetter, Allan
12
48
0
48
691
Moore, Harry
8
48
0
48
692
Brickman, Blair
14
11
36
47
693
Charles, Ralph
14
6
40
46
694
Pearson, James C.
12
45
0
45
695
Marron, Albert
9
27
18
45
696
Uhlhorn, C. Monica
10
45
0
45
697
Stillman, Anne M.
11
45
0
45
698
Lammers, Suzanne
13
0
45
45
699
Bach, Peter
10
22
22
44
700
Warden, Alan
12
44
0
44
701
Perkins, Eleanor
10
16
28
44
702
Fulmer, Ulys C.
8
29
14
43
703
Rosetto, Roxanne S.
12
40
3
43
704
McCumber, Myron
10
29
14
43
705
Tysinger, Jerry
10
42
0
42
706
Bennett, Glen
8
42
0
42
707
Carpenter, Walt
14
42
0
42
708
Guthrie, Bea
9
42
0
42
709
Amby, Bruno
20
41
0
41
710
Collins, David
3
40
0
40
711
Porter, Judy
12
31
9
40
712
Greer, Charles
9
40
0
40
713
Blystone, Eugene
12
40
0
40
714
Gould, Anne B.
11
40
0
40
715
Watson, Rich
10
10
29
39
716
Windsor-Mann, Ruthie
10
9
30
39
717
Cramer, Beatty
11
9
30
39
718
Regensburg, Andrew
11
25
14
39
719
Howell, Stephen
11
34
4
38
720
Bridges, Pat
9
36
1
37
721
Abrahamson, Jo Ann
12
36
1
37
722
Funston, Lance T.
9
18
18
36
723
Schick, Tom
15
30
6
36
724
Morris, Art
12
36
0
36
725
Harrison, John
11
36
0
36
726
Christian, Karen
9
18
18
36
727
Novell, Donald
10
33
3
36
728
Rhind, Ridley
14
8
28
36
729
Hall, James R.
0.5
36
0
36
730
Cannon, Richard
11
36
0
36
731
Moss, Ted
6
36
0
36
732
Barnard, Trisha
15
34
0
34
733
Gamel, Betty
8
34
0
34
734
Novell, Joan
13
27
6
33
735
Irace, Steve
20
0
33
33
736
Weld, John
5
33
0
33
737
Fusz, Jodie
12
24
9
33
738
Cramer, Gayle
10
21
12
33
739
Dahlstrom, Marshall
11
32
0
32
740
Sutton, Mary
5
32
0
32
741
Timmons, Robert
11
24
6
30
742
Colt, Torsten
12
30
0
30
743
Himes, Craig
13
0
30
30
744
Himes, Charlie
12
0
30
30
745
Haumann, Rudy
15
30
0
30
746
Wagner, Robin
11
18
12
30
747
Mattson, Perry
11
30
0
30
748
Morris, Monroe
10
20
9
29
749
Kemerer, Bob
12
25
4
29
750
Stemple, Ann
13
21
8
29
751
Nelson, Barbara
13
1
28
29
752
Saenz, Dale A.
11
28
1
29
753
Lancto, Donald
15
28
0
28
754
Petit, Patricia
10
12
16
28
755
Kingsley, Catherine
11
24
4
28
756
Simpson, Keith
10
14
14
28
757
Short, Donald
14
28
0
28
758
Fell, Eileen
12
0
28
28
759
Hadden Jr., A. Lloyd
10
14
14
28
760
Wallace, Asha
12
23
4
27
761
Spangenberg, Suzanne
10
18
9
27
762
Dewey, Chauncey
10
27
0
27
763
Anders, Stan
6
27
0
27
764
Keating, Thomas
9
27
0
27
765
Cooley, Ted
7
0
27
27
766
Maxam, Elsie
11
18
8
26
767
Allen, Amelie W.
14
14
12
26
768
Ryan, John J.
14
25
1
26
769
Mills Jr., William H.
6
25
0
25
770
Levine, Georgia
9
25
0
25
771
Little, Ross
6
25
0
25
772
Morgan, David G.
12
0
25
25
773
Voytershark, Paul
7
25
0
25
774
Johnston, Pam
7
25
0
25
775
Alley, Jim
20
18
7
25
776
Whalen, Dan
7
25
0
25
777
Jordan, Isabel
12
8
17
25
778
Newton, Judy
7
0
24
24
779
Hearn, Mary Ann
9
24
0
24
780
Harris, Bob
10
24
0
24
781
Devine, Patrick
10
24
0
24
782
Daly, Mary
4
0
24
24
783
Brown, Michael
20
24
0
24
784
McConnell, Marilyn
12
22
1
23
785
Spratley, Bob
12
22
0
22
786
Dej, Joy
14
0
22
22
787
Morgan, Eleanor H.
12
12
9
21
788
Harter Sr., James L.
9
21
0
21
789
Splan, Dave
10
7
14
21
790
Joseph, Jennifer
13
0
21
21
791
Stevens, Lloyd
14
18
2
20
792
Japhet, Nancy
9
14
6
20
793
Kemerer, Linda
14
9
11
20
794
Barber, Otti L.
12
20
0
20
795
Lentz, Robert
12
20
0
20
796
Morris, Carole
14
8
12
20
797
Green, Dennis
16
20
0
20
798
Cooper, Rick
12
20
0
20
799
Walter, Ed
8
18
1
19
800
Blackburn, George
9
19
0
19
801
Broderson, Patricia
10
18
1
19
802
Haskins, Sturgis
12
18
1
19
803
Regensburg, Mary-Stewart
12
19
0
19
804
Johnston, Pat
16
16
3
19
805
Dring Jr., Arthur M.
8
18
1
19
806
McMullen, Jacqueline
12
11
8
19
807
Westwater, Jan
12
11
7
18
808
Colt, Pat
10
18
0
18
809
Olson, Ralph
9
0
18
18
810
Northrop, Ken
20
12
6
18
811
Ragsdale, Sharon L.
12
18
0
18
812
Morgan, Susan B.
12
18
0
18
813
Bard, Henry
10
18
0
18
814
Tesauro, Jason W.
10
18
0
18
815
Nichols, Eric
7
18
0
18
816
Patch, Anita
12
18
0
18
817
Boone, James
9
18
0
18
818
Christie, Norma A.
6
18
0
18
819
Huneycutt, Danna
13
18
0
18
820
Graffagnino, Betty Lou
12
18
0
18
821
Craven, John W.
10
18
0
18
822
Loving, Norma Jean
12
0
18
18
823
Gilbertson, Charlotte
13
12
6
18
824
Logie, Flavia
14
3
15
18
825
Baldrate, Gene
10
16
0
16
826
Kelly, Joan
12
0
16
16
827
Barnard, Brewse
15
16
0
16
828
Saunders, Diane
14
16
0
16
829
Diamond, Lynne
10
16
0
16
830
Conklin, Mary
13
4
12
16
831
Musham, Bettye Martin
12
7
8
15
832
Brogan, Millie
11
10
5
15
833
Oakley, Don
10
14
0
14
834
Smith, Hunter
15
10
4
14
835
Glowacki, Christopher
10
14
0
14
836
Ducharme, Madeleine
17
14
0
14
837
Hauck, Maureen
13
6
8
14
838
McHold, Heather
11
14
0
14
839
Trollope, Eileen
13
12
1
13
840
Zipper, Susan
13
7
6
13
841
Graffagnino, Paul N.
10
13
0
13
842
Bandy, Joyce
12
13
0
13
843
Hoffman, Walter
11
12
0
12
844
Schneider, D. Kay
14
12
0
12
845
Holloway, Walter D.
8
12
0
12
846
Patch, Wally
8
12
0
12
847
Krochta, Ilaria
12
6
6
12
848
Boniface, Arthur
11
12
0
12
849
Sipe, William Henry
9
12
0
12
850
Deibel, Mary Catherine
8
12
0
12
851
Moore, Terry
10
12
0
12
852
Deupree, Nancy
8
0
12
12
853
Carroll, James
18
12
0
12
854
Logan, Louise
10
12
0
12
855
Hagan-Smith, Barbara
11
6
6
12
856
MacArthur, Steven
10
12
0
12
857
Stetz, Nancy
10
4
8
12
858
Ham, Brenda
15
7
4
11
859
McAndrews, Randall
11
10
0
10
860
French, Bobbie
11
9
1
10
861
Hall, Barbara
15
10
0
10
862
Fernald, Jeanne C.
13
10
0
10
863
Schick, Anne
16
4
6
10
864
Cox, Anthea
10
6
4
10
865
Holdsclaw, Lois F.
12
10
0
10
866
May, John
17
10
0
10
867
Hasson, Judy
13
8
1
9
868
Summer, Rhonda
13
9
0
9
869
Holmes, Constance
10
0
9
9
870
Roman, Bob
10
0
9
9
871
Barile, Pat
13
0
9
9
872
Warfield, Gail
14
9
0
9
873
Greene, Thurston
11
9
0
9
874
Prosser, Judith
9
9
0
9
875
Lamond, Priscilla
11
9
0
9
876
Crowther, Hugh
14
9
0
9
877
Zinsmeyer, Andrew R.
9
9
0
9
878
Lewis, Betsy
12
9
0
9
879
Neagle, Charlotte
12
9
0
9
880
Strohecker, Jim
13
8
0
8
881
Howell, Ann
16
7
1
8
882
Sanchez, Joseph
11
8
0
8
883
Henshaw, Naomi
20
8
0
8
884
Goldfarb, Arlene
12
8
0
8
885
Green, Pat
13
0
8
8
886
Kelly, Bob
11
0
8
8
887
Kaplan, Karen
10
0
8
8
888
Quinn, Linda
13
4
4
8
889
Peoples, Barbara
10
8
0
8
890
Shick, Larry
16
7
0
7
891
Karr, Dick
20
7
0
7
892
Cunnington, Patricia
17
3
4
7
893
Corbin, Sonja
13
3
4
7
894
Villiotte, Maureen
11
6
0
6
895
Uusitalo, Helen
15
3
3
6
896
Timmons, Sylvia
15
0
6
6
897
Harris, Linda
13
6
0
6
898
Synan, Scotia
14
6
0
6
899
Smith, Robin
16
2
4
6
900
Camper, Patricia
9
6
0
6
901
Gilbert, Tom
11
6
0
6
902
May, Sheila
18
6
0
6
903
Koop, Nobuko
11
6
0
6
904
Blagden, Josephine
13
6
0
6
905
Waibel, Bill
10
6
0
6
906
Ellis, Urchie B.
11
6
0
6
907
Roth, Robert
10
6
0
6
908
Wood II, Joseph M.
10
6
0
6
909
Dees, Jenny
12
6
0
6
910
Allen, Ilse Rieder
11
6
0
6
911
Dring, Janet
13
5
1
6
912
Brunn, James A.
10
6
0
6
913
Michaud, Andree
17
5
0
5
914
Cleminshaw, Douglas
14
5
0
5
915
Zecchino, Marleen
14
4
1
5
916
Jones, David
14
5
0
5
917
Retzleff, Marjorie
11
4
0
4
918
Tweedie, David
14
4
0
4
919
Morris, Corky
12
4
0
4
920
Nenner, Dona
10
4
0
4
921
Warden, Sue
12
0
4
4
922
Hodges, Jim
16
4
0
4
923
Rosenfield, Dora E.
11
0
4
4
924
Smith, Marian P.
14
4
0
4
925
Morgan, Helen
20
0
4
4
926
Krause, Victor
11
4
0
4
927
Campbell, Kristin K.
11
4
0
4
928
O'Laughlin, Tom
18
4
0
4
929
Schenck, Mike
20
4
0
4
930
Wessinger, David
13
4
0
4
931
Bennett, Judy
16
4
0
4
932
Nelson, Richard
12
3
0
3
933
Mayer, Marsha Montoya
16
2
1
3
934
Difazio, Carol
15
3
0
3
935
Coleman, Martha Ann
16
3
0
3
936
Ferrara, Richard J.
12
3
0
3
937
Holbert, Arlene E.
12
3
0
3
938
McQuade, Connie
11
3
0
3
939
Green, Pat B.
12
3
0
3
940
Japhet, Daniel R.
14
2
1
3
941
Essick, Matthew
16
3
0
3
942
Pearson, Janet S.
13
3
0
3
943
Brock, Dorla
10
3
0
3
944
Gaisor, Charles
12
3
0
3
945
Hobart, Richard R.
5
3
0
3
946
McLaughlin, Maire
15
3
0
3
947
Kenney, Jean
13
3
0
3
948
Welsh, Stephen
20
2
1
3
949
Boehmer, William
14
3
0
3
950
Mercer, Sarah
15
2
0
2
951
Fudge, Thomas
15
2
0
2
952
Raiffe, Herbert
15
2
0
2
953
Flones, Julie Ann
20
2
0
2
954
Baker, Barbara
20
2
0
2
955
Baker, Jean M.
17
2
0
2
956
Johnson, Bill
17
2
0
2
957
Lancto, Geraldine
16
2
0
2
958
Mattison, Claire W.
16
2
0
2
959
Themm, Carol
16
2
0
2
960
O'Laughlin, Barbara
18
2
0
2
961
O'Laughlin, Kathy
20
0
2
2
962
Massey, Farley (Ruth)
20
2
0
2
963
Wick, Greg
12
1
0
1
964
Hamilton, Mary
20
1
0
1
965
Henshaw, Fred
20
1
0
1
966
Epple, Nadine
8
0
1
1
967
Simmons, Ruth P.
14
1
0
1
968
Schmole, Joanne
16
1
0
1
969
Drossman, Phyllis
16
1
0
1
970
Icalla, Larry
20
1
0
1
971
Rohde, Holly
11
1
0
1
972
Jarvis, David
7
1
0
1
973
Pond, Warren
20
0
1
1
974
Peake, Bob
16
1
0
1
975
Ormsby, Preston T.
14
0
1
1
976
Boehmer, Marion
14
1
0
1
---