My view of the 2014 MacRob

by John Prince
photos as credited below
layout by Reuben Edwards
Posted January, 1, 2014


---

The MacRobertson Shield Test Series is the oldest and greatest international croquet contest, the jewel in the croquet world's crown. No other croquet competition produces the tension, the drama, the elation that comes when a series is won, or the devastation of defeat when it is lost. Some years ago a young player, now an established member of the New Zealand team, was asked during the New Zealand Open about his ambitions in croquet. His reply was not a self- centered "win the Open" response; instead, he said his ultimate goal was to play for New Zealand in the MacRobertson. Such is the mana that goes with the Mac. John Prince comments on the past and present MacRob action.

---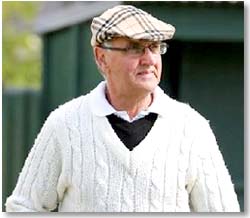 John Prince in 2014 at 68

Since the first contest between England and Australia way back in 1925 the MacRobertson has enjoyed a rich history, with many wonderful encounters, triumphs and bitter disappointments, but above all the MacRobertson has made croquet the international game it is today. For those of us fortunate enough to take part, life long-friendships were formed in these games.

Apart from an isolated anti-Mac rumbling from within the World Croquet Federation in its early days, the MacRobertson has been seen as the "Everest" for croquet players worldwide.

It started in the 20's, and then...

As I reflect back on past series from, of course, a Kiwi perspective, I recall reading about, hearing about, or listening to witnesses of the astonishing feat of Australian Billy McCleery completing in 1930 all three peels of a triple before running hoop five. And I heard about Arthur Ross "hurdling" the first hoop to hit the cross wire. And of Ashley Heenan playing a sensational jump shot through rover against Dudley Hamilton-Miller, when New Zealand first won the Shield in 1950.

I vividly recall my own debut at the age of 17, midway through the 1963 series, and the huge thrill of playing against the legendary John Solomon from England.
John Solomon at Hurlingham in the 1986 MacRob.
Back then a test match comprised 9 matches, 3 doubles and 6 singles, with each nation playing three tests against each other nation. (The USA did not join in until 1993, and by then the current format of 21 games in each Test was in place--with 9 all-play-all matches in doubles, and 12 singles matches contested in three tiers of play determined by ranked players one through six.)
1969 saw the arrival of two new young outstanding players in Nigel Aspinall for England and John Magor for Australia. In 1974, New Zealand mounted a challenge to the top order of British croquet, which laid the groundwork for victory at home for the Kiwis in 1979. I'll never forget Bob Jackson's match-saving straight triple at Westport against Aspinall and Paul Skinley becoming the first player to compete a sextuple peel in the MacRobertson at Rotorua.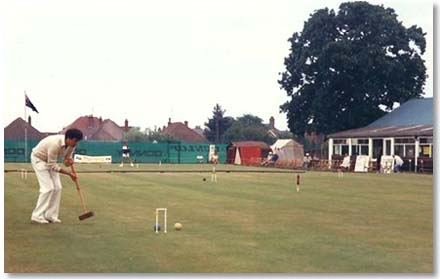 Nigel Aspinall at Parkstone in the 1986 MacRob.
1974 was in retrospect a turn-around year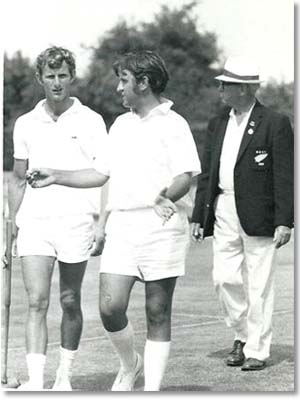 Tony Stephen and John Prince looking and playing like teenage prodigies in 1971 at the New Zealand Open in Wanganui.

Roger Murfitt and I were members of the New Zealand 1974 test team, when the series was played in the United Kingdom. We had a great time playing tests at six different venues, meeting many players with several becoming life long friends. We didn't win the shield, but came second with a close 2-1 result against Trans Tasman rivals Australia. However, as we recorded some good wins against the holders we felt confident that a series win at home in 1979 was definitely on.

As it turned out we were right. It all started to gel when 1974 team mate Gordon Rowling phoned after a tournament and said, "You must get youngsters Paul Skinley and Joe Hogan in the next MacRobertson team. I believe they have what it takes to help us win the shield." They were duly selected. Joe Hogan partnered Roger, and Paul paired with Bob Jackson, the latter having established himself as our number one singles player. I partnered Alan Anderson, my partner from 1974.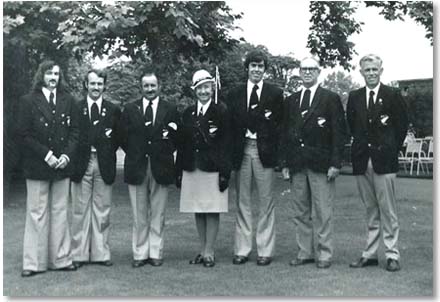 1974 MacRobertson teams at Budleigh Salterton.
The two new combinations were undefeated through the entire series, with Jackson and Skinley continuing their unbeaten MacRobertson record when New Zealand won the shield again in 1986 in the U.K.
At Adelaide in 1982 we experienced for the first time hoops becoming too narrow when set in rock hard ground, causing Kiwi Richard Clarke in desperation to let fly at hoop six with a massive jump only to see the ball finish wedged in the hoop six inches above the ground!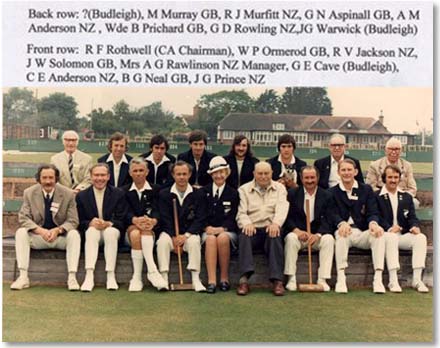 1974 MacRobertson teams at Budleigh Salterton.
That 1982 series was decided on the last match of the final test between Great Britain and Australia. Keith Wylie (GB) with game down against the until-then "player of the series" Neil Spooner (undefeated to that point in singles) turned around his match before a large crowd at Warleigh in Melbourne.
Great Britain makes history again by losing!
History was made again when Great Britain for the first time lost the series in 1986 on their home ground, to New Zealand. It included "tension in the twilight" doubles, and the sensational hit-in and finish from Paul Skinley against William Prichard.
And so the rich tapestry grows. In 1993 against Kiwi Bob Jackson, Dave Maugham with just two balls left on the court played a sensational break from hoop one to the peg to win the Shield for Great Britain.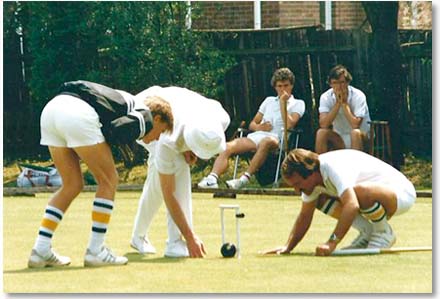 Opponents David Openshaw and Mark Avery look on as John Prince peers at his ball in the jaws.
At United in 2000 in the final game of the final match of the final test, Maugham executed an immaculate triple peel on a rock-hard court with unforgiving hoops and secured the shield for Great Britain, who had defeated New Zealand by the narrowest margin of 10-11. Meanwhile the test between Australia and the U.S.A. also came down to the wire.
In 2003 an out-of-sorts Kiwi team which had already lost to Australia and the US at the National Croquet Center in Florida faced an undefeated Great Britain team. On the back of a fantastic "Captain's knock" from Toby Garrison, who won five of five matches, the Kiwis went down 10-11.
2010 saw an amazing comeback by the Kiwis in the series decider against the old foe. Needing to win all six singles on the last day, they came up just one short but gave the holders a huge shock.
But now it's a New Year, and a new day in 2014
For the current series being played in New Zealand at three venues-- United in Christchurch, Marewa and Te Mata in Hawkes Bay, and finally Mt Maunganui--all four countries have selected teams with players ranked within or near to their top six. So all the teams should be more or less at full playing strength.
Australia have three new caps in Ken Bald, Malcolm Fletcher and Tim O'Leary. Dormer Cantabrian Ian Dumergue will captain the side, which also includes World Champion Robert Fletcher and the stylish side-stance player Stephen Forster, with Kevin Beard from 2010 at first reserve.
The English holders also have three new players: their Captain Samir Patel, Jamie Birch and James Death plus the hugely experienced trio of Robert Fulford, Dave Maugham and Stephen Mulliner.
Team USA contains just the one debutant in David Maloof, with Danny Huneycutt and Ben Rothman as the top-ranked players, the experienced pair of Jim Bast and Jeff Soo, and Rich Lamm filling in for Damon Bidencope.
The Kiwi hosts have one player making his first appearance for New Zealand but he's no newcomer to test match croquet: He's Chris Clarke, the current world number two, a former Great Britain team member and former world champion. Chris joins his wife Jenny, Greg Bryant, Paddy Chapman, Toby Garrison and Captain Aaron Westerby in a very strong Kiwi side. The amazing Jarrod "Courtside" Coutts as Team Manager will provide great inspiration and support off the court.
With potentially three extremely strong doubles combinations and assuming Hawkes Bay and Mt. Maunganui can produce the same challenging playing conditions United is renowned for, then I firmly believe the Kiwis go in as favourites in 2014.
Having recently talked with members of the current New Zealand team, I sense that same confidence we all felt, leading into the 1979 series. While Roger Murfitt hasn't played for a number of years, he has kept in touch with results and watched the major events at United, most recently the Centennial Open. I asked him how he felt the New Zealand team will fare in 2014.
Roger commented, "The New Zealand team has a good balance to it with a number of players that could play in the number one spot. This will create some internal competition, which will help their motivation to achieve. Our 1974 team had a father and son playing, whilst this team has a husband and wife – not for the first time in a New Zealand Mac team.
"It is now more important in the 21-match format (than the previous format of 9 matches) that a team has good double combinations," Roger continued, "and I believe that this New Zealand team has recognized that in its selections."
Former Kiwi MacRobertson Shield team members and Croquet New Zealand Life Members Roger Murfitt and John Prince were both on the victorious 1979 NZ team that defeated Great Britain 5-4, 6-3 and 7-2 and achieved a whitewash of Australia 9-0 three times. They will provide further comments from the past and present during this 2014 MacRob, on the New Zealand Bulletin Board, linked to from the front page.
---