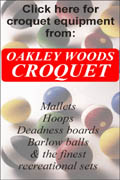 Picturing the sport

art and reflections by John Prince


---

As a top-ranked player, John Prince has spent a couple of decades representing himself and his native New Zealand at competitions all over the world. He met all the players and sponsors, formed impressions of them, and recorded the sketches in notebooks. We asked him to caption the work below as if giving a tour to a guest. As it happens, this is the ideal place for such a tour, as most of the original images have been given away or sold to fans and friends all over the world.

---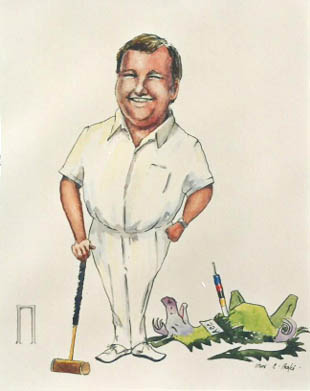 I first met and played against Neil in England during the 1974 MacRobertson test series. The Australian team were accompanied by a large party of croquet followers which included a number of their national executive, the latter easily recognised in their white clothing and green jackets. I got the impression that the players travelling with such a large group didn't have a happy passage and at some stage these female administrators, who could be quite formidable, became known amongst the teams as the "Green Dragons". Over the years Neil apparently had further issues with the Australian administration but at a later stage when he was accepted I felt he'd secured a victory and sent him this drawing.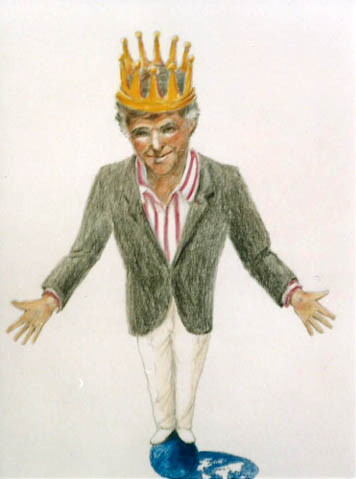 During the 1987 Sonoma-Cutrer International tournament a players meeting was held and a proposal made that the tournament be renamed The Croquet World Championship or World Croquet Championship. The World Croquet Federation had just been formed, and they too were planning a World Championship. The matches at Sonoma were all single games and this format was to be retained. I objected to the name change as I felt strongly that a World Croquet Championship should be played with a best-of-three format. Clearly the latter format was not going to be acceptable to Brice Jones; it would take too long and not fit in with the other activities held on finals day. The following day my suggestion to Brice that he rename his tournament the US Open, drawing a comparison with Tennis and their Grand Slam tournaments, was also rejected. He felt he needed to call it a World Championship for promotion purposes. No doubt the prestige that went with it was also a factor. Brice renamed his tournament as he pleased, so I later sent him this drawing as a gesture of good will, depicting him as a croquet "King". The WCF World Championship also went ahead with a best-of-three format.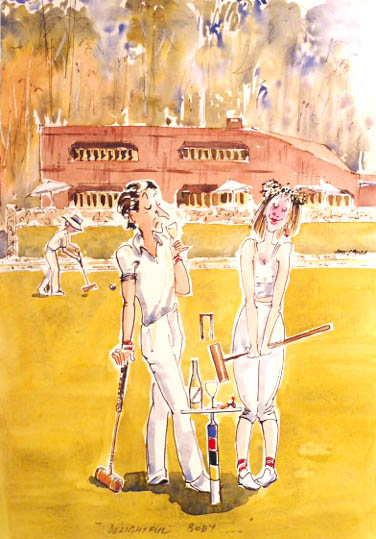 "Delightful body" celebrates the connection between world-class croquet, high society, and vintage Chardonnay--the only wine produced at Sonoma-Cutrer. Private Collection.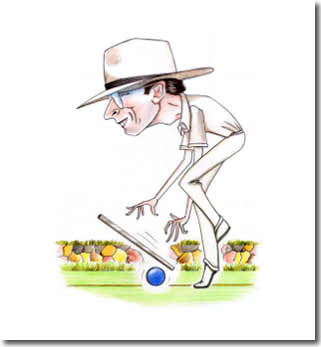 "Keith Wylie refereeing at Sonoma Cutrer." During the Sonoma Cutrer International tournament Stephen Mulliner called for a referee to judge whether a ball was out of play, i.e. touching the string (AC International rule). Up stepped Keith, but it was so close he called for a straight edge. A steel bar was produced and Keith either dropped the bar on the ball or tripped on the string. (I rather liked the former.) Of course it was no longer possible to give a decision. Stephen was furious, but I couldn't resist making the drawing when I got home. Coloured pencil on paper. Private Collection and issued as a limited edition print.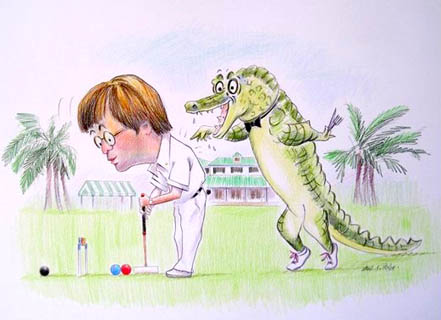 "Bob K. Pops Ali G. at the National Croquet Centre." A few years ago I heard or read that a small alligator was living in a drainage pond at the NCC. I imagined my friend Bob Kroeger was playing a match there (perhaps Bob had told me about the alligator) and so I decided to have "Bob popping" an opponent's ball through hoop one, only to feel a tap on the shoulder from his opponent, guess who? Colour and graphite pencil on paper, Private Collection.
"Jack Appleseed Osborn" is an image the brilliant founder of the United States Croquet Association would have approved of, although it may accord little with the tough and monk-like dedication his task required in the 70's and 80's.
"Look out George!" When I was completing a diploma in cartooning and illustration my tutor said my cartoon figures reminded him of English cartoonist Thelwell. Among other things, Thelwell drew a series of young girls and their truculent, chubby ponies. So with the croquet and polo connection in mind I did this one. Gerald Scarfe is one of my favourite cartoonists, along with Ronald Searle, who would have done brilliant croquet cartoons if let loose at Hurlingham. Watercolour on paper, Private Collection.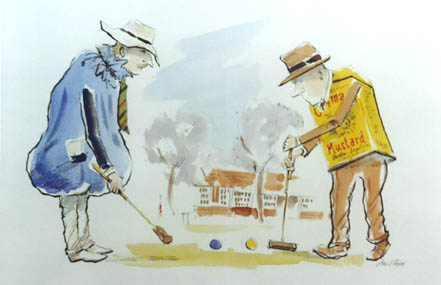 "Reckitt v Colman at Roehampton." Maurice Reckitt was an amazing croquet enthusiast. Author of "Croquet Today" he wrote numerous articles, tournament reviews etc., for the English Croquet Gazette. He was a member of the famous and wealthy Reckitt family, who among other things made a washing product named "Reckitt's Blue" which came, if my childhood memory is correct, in a small blue bag. Charles Colman, like Maurice, was also a first class player and a member of the firm who made "Colman's Mustard". So here they are suitably attired for a match at Roehampton. At some stage the companies merged to form Reckitt and Colman. Watercolour on paper, Private Collection.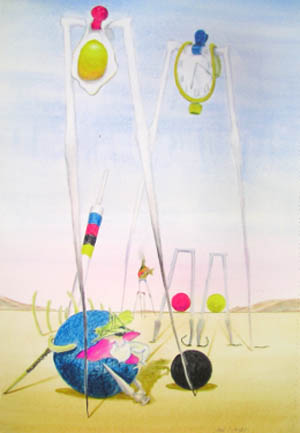 "Birth of the Exquisite Croquet Player." With vague reference to Dali's "Geopoliticus child watches the birth of the new man" I made this image using many of Dali's symbols: limp watch, fried eggs, giraffe candles, crutches, impossibly long legs, and the bones of ships which I added to croquet equipment. Notice the portrait of a surprised Dali formed by the red, yellow, black balls along with two worms emerging from the hoop holes to form Dali's famous moustache. Watercolour and colour pencil on paper, Private Collection.
"van Helsing stakes out Vlad." Thinking in U.S. Rules jargon, the peg is called the "stake" I believe, so I imagined a croquet match played out in Dracula's dungeon, with van Helsing driving the stake into the vampire's heart to seal the victory. Pen and watercolour on paper, Private Collection.
"Early morning autumnal fantasy." I enjoyed reading about Nina Coote in Prichard's history, a young Irish player who also competed in the tournaments held in England. She won the Women's Championship in 1903, and played in the 1906 Championship Cup (President's 10) . To quote Prichard, "In 1936, as a result of a tragic love affair, she took to spiritualism....". Thinking of the latter I imagined how wonderful if on a crisp autumn morning her ghost could be seen playing croquet in a beautiful park-like setting.....but perhaps it's just a trick of the morning light.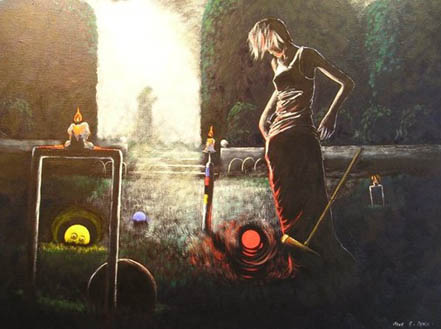 "A little night croquet" is inspired by the title of the famous play "A little night music." I dreamed up a strange night time croquet court lit by candles on hoops and peg, along with balls that suddenly glow in the dark and even levitate to the players' amazement, with a statue in the background someone later suggested to me was a referee consulting the Laws book. I rather like that suggestion. Acrylic on canvas, Private Collection.
"Miss Lily Gower's best croquet hat." I have always been impressed by the enormous Cecil Beaton style croquet hats worn in the early days, and Lily Gower was one of the most famous young lady players, given to wearing such hats, trim skirts and frilly blouses. Here she is complete with feathers, ribbons, fruit and a strange looking bird on top. Watercolour on paper, Private Collection.
"Lily Gower's other favourite croquet hat." I'm sure Lily Gower would have had several croquet hats over the years. This of course is an early one, as you can tell from the the garden style mallet and hoop. Pen and markers on paper, Private Collection.
"The croquet player's nightmare." All croquet players will relate to this: an uneven court with a ditch, impossibly narrow hoops and the opponent one simple turn from victory when somehow the rover hoop has suddenly become extremely wide; but wait, he too faces a dilemma: can he run rover without finishing in the ditch, and how will he roquet blue to peg out? As I look back, I've really enjoyed making the surreal drawings, so I might dream up some more one day. Colour pencil on Fabriano paper, Private Collection.
---