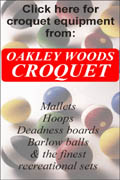 The croquet shot
that spans generations


By Bob Alman
photos courtesy of James Creasey


---

James Creasey had just learned to play Golf Croquet at the Denver Croquet Club, about 10 years ago when his father in England suffered a stroke that was diagnosed as the beginning of vascular dementia. This was the first real sign to his family of the cognitive and physical decline that lay in the days and months ahead. But his active dad remembered croquet, and that's the way James and the siblings and grandchildren could relate to him, happily, in his back yard. When James came back to the States, he organized Jiminy Wicket mostly as a way for dementia challenged elders to relax and connect. Looking around for partners, he soon found that many youngsters in schools experience the same hesitation to connect with other people. So, with enthusiastic PE teachers, he enlisted some public schools, which in turn generated further partnerships with other schools and senior care communities. Almost anyone can shoot a ball through hoop. In croquet, that shot can span many generations, and even transform lives.

---
When CROQUET WORLD first wrote about Jiminy Wicket, the story was mostly about how his family handled his father's loss of speech. The backyard solution included both children and grandchildren--which might have had something to do with leading Creasey to the thought of creating and sustaining a simple, powerful and playful way to create inter-generational connection. Croquet.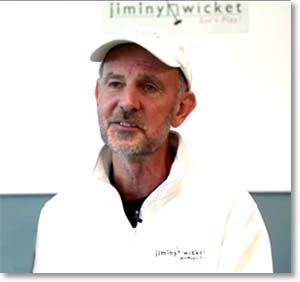 Connecting with his father in England ten years ago and watching the dementia-challenged elder with his grandchildren on the croquet court made James Creasey wonder if he could magnify that dynamic in America.

Now flash forward ten years: On Tuesday afternoon in early January, Jiminy Wicket wrapped up three days of teaching Golf Croquet to 361 students at the Charles Hay elementary school in Englewood, Colorado. Those youngsters are not afflicted with Alzheimer's, but they might have had something that feels just as consequential as age-related dementia: shyness. And it's likely to get worse in their teens.

Do you remember when you didn't have the confidence to ask someone to dance at that high school party? That feeling of isolation in teenagers is even more acute for an elder in a senior home of some kind. It's less daunting to ask someone to partner with you in croquet than it is to ask someone to dance at the prom. Croquet is a natural and workable way to pierce the isolation, with a partner pursuing mutual goals. You don't even have to win the game…you've already scored by dissolving the isolation -- yours, and the other person's.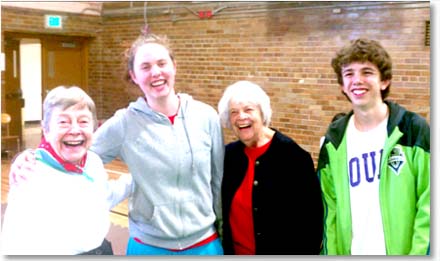 Creasey's model in 2019 enlists all kinds of elders in senior homes along with students--from elementary grades through college age--to partner them.
Jiminy Wicket has trained more than 2,000 students from 35 schools and colleges in the US and the UK to play croquet with seniors who have a wide range of cognitive and physical abilities, including users of walkers and wheelchairs, resulting in tens of thousands of inter-generational connections.
Something seniors and high school students have in common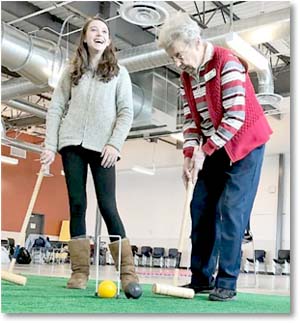 It turns out that students of all ages may isolate themselves from others in institutional surroundings, and relate very well to elders who do the same, with no way of connecting--except, maybe, through a game. The high schoolers have fun, too, and earn community service credits without having to leave the school grounds.

More than 65 percent of Americans in long-term care receive an average of one visit per year from a friend or family member, according to the Older Americans Report. The study shows that older adults experience feelings of isolation and fear. Many high school students have the same feelings.

Jiminy Wicket organizers believe in the power of play to create connection across the generations. The Through Hoops to Hope program transforms isolation into connection and fear into friendship for the young and old alike.

"This has completely changed my view of young people," a 63-year-old participant said. A 95-year-old woman commented, "They told me this was going to be fun. They didn't say it would be this much fun." And one of the 16-year-olds in the program said, "Playing croquet with seniors is bomb-diggity."

Jiminy Wicket is looking to replicate this program across the country. San Diego has embraced Dementia Friendly America and AARP's Age Friendly Communities initiatives to reduce the stigma and isolation of aging and Alzheimer's.

What the high school teachers say about Jiminy Wicket

Almost a decade after he put the program together, Creasey has found the ideal model -- one that fits the needs not just of the elders and the corporate sponsors, but also the requirements of conventional high school curricula designed to address not only the seniors' needs to socialization, but the parallel needs of the teens.

For four years now, Kelly Wilbert, the gym teacher at Charles Hay elementary school, has been leading an indoor, inter-generational, after-school Croquet Club that grew out of the Jiminy Wicket program. The students host their guests from a local senior community and often include their own parents and grandparents in the weekly games.

Jiminy Wicket trains and equips school students to play croquet indoors and year-round at their schools with the residents of a local senior community, some of whom are living with dementia, some using walkers or wheelchairs.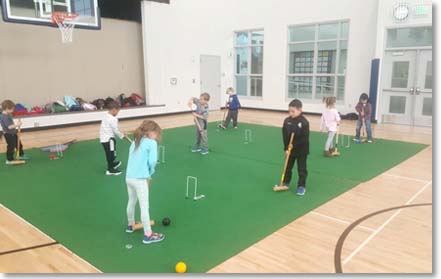 These third-graders begin by learning the game on their own year-round court--with equipment and instruction provided by Jiminy Wicket, managed by two volunteers from one of Creasey's corporate partners, New York Life.
The gym teacher's enthusiasm is typical: "We have been partnering with James and Jiminy Wicket for the past three years now. It never fails to amaze me how enthusiastic our kids are to learn and play in their PE classes and then sign up for our after-school club. From three-sport athletes to students that tend to be more on the sedentary side; from high-functioning students to low-functioning students; those with physical disabilities or behavioral disorders to those without; croquet interests and engages every single student!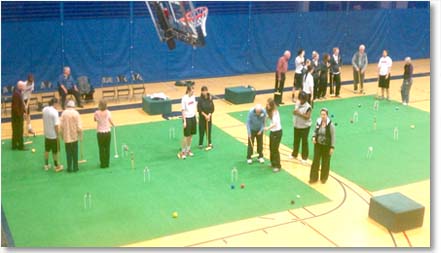 A typical basketball gym has plenty of room for more than one small croquet court, where these high schoolers are being matched with senior partners.
"Students learn to be knowledgeable in understanding the rules, to be thinkers in working out winning strategies, and to be caring in working with a partner and demonstrating sportsmanship. All three of these traits are further practiced at our after-school Croquet Club, where students can invite their parents or grandparents and teach them the rules of this all-inclusive, challenging, lifelong sport!"
The winning formula combines three elements
Since it was founded in 2009, Jiminy Wicket has played with people from 129 different countries ranging from 2 years to 103 years old. Now, at last, Creasey has the perfect model for establishing permanent programs in other locales, with most of the essential elements in place--the seniors, the high school students and teachers, and the corporate source of volunteers to run the programs across the country. What is needed now is some modest funding to replicate the model in major metropolitan areas in the US and the UK.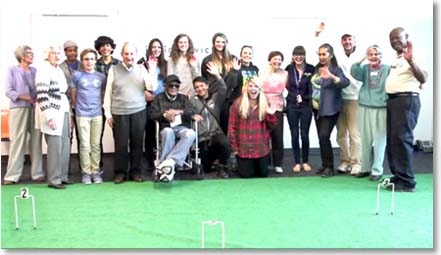 The inevitable group photo shows a typical mix of students and elders--and a couple of volunteers to make sure everything works perfectly. Creasey, in his white baseball cap on the right, leads his group.
Creasey has shown that play with mallets and balls can transform isolation into connection, fear into friendship, and loneliness into well-being.
And in the last five years, the focus has shifted as the ideal components have been discovered and tested. Now, according to Creasey, "We empower young people to help create dementia-friendly communities."
In James Creasey's home territory, he has created a model that can be replicated in other metro areas in the US and overseas. Jiminy Wicket is in 10 schools in metropolitan Denver, ranging from elementary to college level, and is now expanding to San Diego. It costs Jiminy Wicket $5,000 to start a school out of state and they are looking for donations to fund the $25,000 that effectively plants Jiminy Wicket in a new city, perhaps your own. To donate, click here. Creasey's outreach in high schools is strongest because it enables those students to score their community service hours without having to leave campus. Each school is staffed by two volunteers from New York Life, one of Jiminy Wicket's corporate partners. Through Hoops to Hope is simple and scalable, economical and effective, and powerful and playful. For more information, contact: James@JiminyWicket.org.
---