Liverpool Project V--
Overcoming growing pains


writing and photos by James Hawkins
layout by Reuben Edwards
Posted October 20, 2014


---

In 2006, Croquet World's co-editor James Hawkins took on the ambitious task of founding a croquet club in his home city of Liverpool. Provision for croquet is patchy in the UK's core cities, and it's hoped that his successes--and failures--may act as a blueprint for future development of the sport. Starting with no money, no facilities and no members, much of the infrastructure work is now done. Now begins the difficult task of recruiting members, and--just as importantly--volunteers to help push the project into its final phase.

---
Back in the 1990s, I played a lot of croquet. I'd hit the road at dawn every Saturday for weekends spent in anonymous and grubby hotels; two days of losses against better players; then back home to wash and iron white shirts ready for more of the same the following week. Occasionally I'd win a few games, but it's a life that eventually bored me. I hadn't the ambition to compete consistently at a high level, so I gave up.
Apparently, sport psychologists have studied people like me. The ones who blame consistent poor performance on the weather, or noisy spectators, or a twinge of shoulder pain. And even that shoulder pain is hardly my fault. It's the guy who designed my uncomfortable car seat. Or the guy who caused the traffic jam which made me tense on the journey to the club.
Future champions learn to suppress such distractions and bounce back ready for next year's competitive campaign, but journeyman players like me just fall by the wayside. I know I'll never have the hunger for top class success. I don't have the resilience to overcome adversity and emerge with the winner's trophy. And that's my story as a croquet player.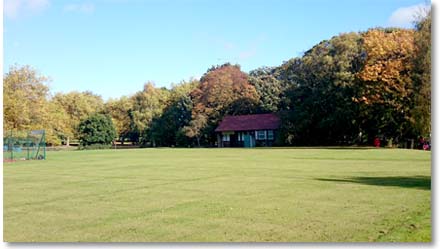 Fall foliage surrounds a sunny site in front of the clubhouse Hawkins helped the tennis club restore in the heart of a Liverpool park.
But this is just weird. In my mind is a master plan for magicking a croquet club out of nothing. Every setback imaginable has come my way--political backstabbing, exploding lawnmowers, catastrophic flooding--and I've continued to push forward. There have been times when I've felt close to quitting, but-- gulp, count to ten--the vision is still there, and as bright as ever. The notbotheredness which afflicted me as a player is, it seems, a non-transferrable state of mind.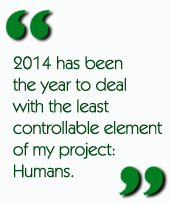 Five years into my relationship with the beleaguered tennis club in Liverpool's suburban southside, all our difficult bricks-and-mortar problems are sorted out. Their tarmac courts are relaid, and I've created usable sportsturf from a mossy wasteland. Their membership is burgeoning, and all I need to do is to sign up the hordes of people wanting to play croquet. Then my job is done. But there's the problem. 2014 has been the year of trying--and failing--to deal with the least controllable element of my project: Humans.
I formulated all sorts of grand plans over the winter. Social media for recruiting younger members, a mailshot for the middle-aged, lecture talks to the affluent retired. A couple of my 2013 recruits had agreed to help with corporate events. The numbers all seem to stack up--I just need to get a green light from each third party, to sort out my message to each group, and stand by for croquet's biggest ever recruiting drive.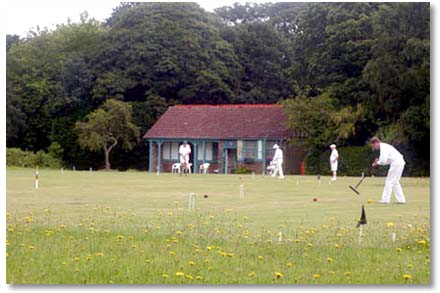 Two full-size croquet courts are set up directly in front of the shared clubhouse.
April and May pass, my social media contacts tell me how enthusiastic they are, and would a feature on me and the club be OK in August? Possibly back end of the month, as they've a full programme of articles to publish. My oh-so-entertaining lecture on the history of croquet is put back until the following year's programme of talks. And Barney and Helen, my keen assistants who are spearheading my drive for corporate hospitality, find themselves prioritising imminent parenthood above my ambitions as World's Top Croquet Impresario.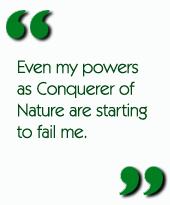 On top of that, the weather's terrible. Well, not terrible exactly, but the early season gives us that typical English cycle of two days of sun followed by a day of rain. Experience so far tells me that I'll never recruit until there's a longer period of dry and summery weather.
Everything goes wrong, and all of it is someone else's fault. Maybe I should just give up.
Oh, hang on. That's loser talk.
At times like this, my coping strategy is to cut the grass. However bad things get elsewhere, I can always work on improving my lawns. But even my powers as Conqueror of Nature are starting to fail me. Bare patches of scalped turf are starting to appear, and I don't know what I've done wrong. A badly adjusted mower blade? Ground too wet? Ground too dry? Lack of fertiliser? I don't know any more.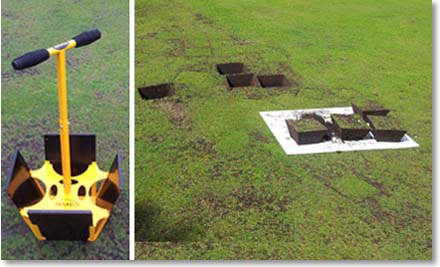 This turflifting device is ideal for transplanting damaged grass. Four blades are hammered into the ground to extract a block of turf, which can be swapped for a healthy one from outside the playing area.
One challenge overrides all others in creating a club. It's not the finances or the hard manual work or the slowness of progress. It's the isolation. I've chosen a location that's the dead centre of the Liverpool Croquet Desert--the furthest point from all my neighbouring clubs. But that means that the day-to-day drudgery of getting things done has to be done by someone here, and not by any of the committed volunteers involved in running the other clubs in the North West.
I'd like to find helpers to lift my burden, but my biggest need is to find people who are going to turn up throughout the season and play croquet. There's no way around it; my first priority is to find members with a higher commitment to playing than to helping. For everything else, I'm on my own.
Even isolation has its solution. At the lowest ebb of my morale, I turned my back on Liverpool for a week. I snuck into a last-minute tournament vacancy at Bowdon and played a few games. Bowdon's my old club, and the template for everything I want Liverpool to have in 20 years' time. A few days away gave me a chance to rekindle my network of contacts, to chat with people who understand grass better than I do, and to be a pain-in-the-arse bore talking about the Glorious Revolution I shall lead from my club.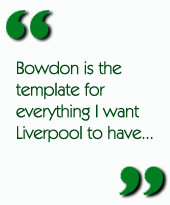 All that focused my mind on what I need to achieve. Everything's in place in Liverpool; all that's changed is that I've lost my nerve. My grand plans for recruitment are still the same. My lack of success is no reflection of the ideas which were put into action; it's because the ideas didn't even happen.
Some things do need to change. I need to accept that other people don't love Liverpool Croquet Club like I do. They'll help, for sure, but no one'll clear diary space to wait for my demands. My strategy needs to be fixed months earlier than I expect. For recruitment to work, it must be delivered on time, and this year it just wasn't. July came and went and I'd made precious little progress in finding new members. By August the days were getting shorter and the weather was threatening to turn autumnal.
| | |
| --- | --- |
| | Croquet can still engage with a younger audience. Could this be the shape of things to come? |
Yeah, right. The randomising effect of climate change wasn't having any of that, and the United Kingdom headed into a late season heatwave. Just as I'd started planning my winter shutdown, potential newbies began contacting me. A cohort of the young professionals who live in the apartments overlooking the park arrived with much enthusiasm. And, on the same day, I made contact with a party of renegade players from my nearest club.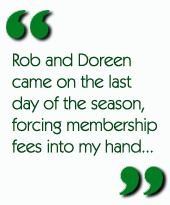 I've made a big thing about the absence of any clubs within a 30-mile radius, but that's not 100% true. Upton Croquet Club is just south of here, on the other side of the River Mersey. They play "Clock Croquet", a long-outlawed version of Golf Croquet with six hoops and two pegs. Adherence to old tradition seems to extend beyond the playing surface, and they've survived since the 1920s in comfortable solitude. But a splinter of their members were eager to see what the croquet orthodoxy offers. Rob and Doreen came on the very last day of the season, forcing membership fees into my hand, and almost cartwheeling around the club in their enthusiasm for the modernity of Association Croquet.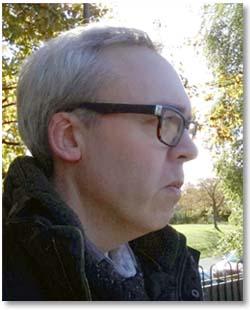 Hawkins contemplates a series of challenges in the development of his new club.

And so a despondent midsummer turned into an overwhelmingly positive season end. Some of my 2013 devotees have drifted away, but late newcomers have replaced them. That goes some way to refreshing my membership, helping to spread word-of-mouth and to building a nucleus of recruits during 2015.

I'd be deluded (which, on most scales of measurement, I probably am anyway) to think that my membership so far isn't disappointing. But--hey--the season's over and membership is in double figures. For the last two years I've had enough income to pay for maintenance costs. It's October, the sun is out, the ground is warm and my grass seed is germinating. I expect fresh growth by the springtime.

James Hawkins came to competitive croquet in 1985 as a teenager. He entered semi-retirement from championship level play in 2001 when he was appointed editor of the Croquet Gazette, official magazine of the English Croquet Association. He has spent much of the subsequent time coaching, and his book, "Complete Croquet: A Guide to Skills, Tactics and Strategy", was published in 2010. If you're based in the North West of England and wish to get involved in the club, contact James via the club website, at www.liverpoolcroquet.co.uk.
---