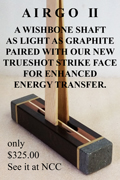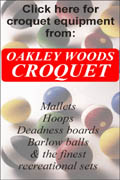 Croquet Festival II:
the annotated brochure


text and photographs by Bob Alman
Posted December 15, 2001
---

A true Festival is an elaborate celebration that goes to the edge of excess. It has everything, and everything must pass the test of more, better, and different. No, you can't possibly do it all, and your biggest problem is choosing. A Festival offers spectacle - like the World Golf Croquet Championship finals; entertainment - seeing the best players in the world in action; the fun of social events in a magnificent clubhouse; instruction, with clinics, lectures, and demonstrations by the world's best.

Project founder Chuck Steuber (left) and Director of Croquet Archie Peck bid you welcome.


A Festival challenges the mind in End Game Duplicate and tests your skills to the ultimate in timeless games that go to the peg. It educates and enlightens - with the newly unveiled display of the Croquet Foundation of America's National Croquet Museum and Gallery. It presents the new and different in America's first major 14-point Association Laws tournament and match-play event. It invites new experience in tournaments like the American Rules Mixed Doubles and the Women's Singles Championship. It adds up to a week-long spectacle at the world's newest and largest croquet venue that honors the traditions of the sport and at the same time previews its future evolution.

---
ANNOTATED Highlights of International Croquet Festival II

SUNDAY, February 17, 2002

Finals of the Golf Croquet World Championship (best-of-five match)
Golf Croquet Corporate Challenge (annual competition for corporate teams)
Gala luncheon for players, Festival participants, Golf Croquet Corporate Challenge teams, and special guests
Media/Celebrity pro/am exhibition matches
At least six courts available for casual play by Festival participants
Sunday is all about publicizing the sport - to the media, to the spectators and VIPs, to corporate groups in the Golf Croquet Corporate Challenge. The best-of-five finals match of the championship shows the sport at the highest level; but the novice corporate teams get their share of the spotlight at noon, to show that beginners can learn to play in just a few minutes and in a couple of hours gain a decent level of competence - and that the spectators in the bleachers can actually understand what's happening. If we have one point to get across, it is this: Golf Croquet is an event planner's dream come true. This game should become a popular staple of corporate team-building and incentive travel. Special barriers protect the crowd from one-pound balls that travel up to a potentially lethal 40 mph. Croquet becomes spectator sport. Stop the presses! This is revolutionary!
MONDAY, February 18

Pro clinic, American Rules (lecture/demo AM, monitored games PM), Johnny Osborn. Various aspects of shot making and strategy - especially the things you do to lose and how to avoid doing them. Event #1, 10AM start
American Rules Open Doubles Round Robin, multi-flights. Event #2, 9AM
MONDAY, February 18 / TUESDAY, February 19 (two-day events)

American Rules Mixed Doubles (male/female pairs only), multi flights. Event #3, 9:00 AM
International Rules Stake-out Championship. Elimination ladder with losers plate. All games go to the peg in winners bracket. In losers bracket, games limited to a maximum of three hours. For handicap five or less. Event #4, 9AM
There are more revolutionary formats on Monday, the start of "serious" play: it's the first major mixed doubles in American croquet history, for male/female couples only. (Uncoupled doubles partners need not worry: they can play in a simultaneous Open Doubles event.) The International Rules Stake-out Championship is only mildly revolutionary. Despite misgivings of many who envisioned midnight croquet, the Stake-Out event in Croquet Festival I (January 2001) did not run overtime. If by chance one of those nightmare marathons should occur, we have the option of completing this tournament on Sunday afternoon - reserved with a clear schedule just in case.
TUESDAY, February 19

Pro clinic, International Rules (lecture/demo AM, monitored games PM), with many-times world champion Robert Fulford. How to play the Association Laws Handicap game properly and successfully; generating power; general tactics. For anyone, but geared to five handicap and up. Event #5, 10AM
American Rules Open Singles Round Robin, multi-flights. Event #6, 10AM
"Toast & Tally", Clubhouse Members Lounge and East Veranda, 5PM.
We have been accustomed so long to thinking of Fulford as the most advanced player in the history of the sport that it seems very odd indeed to refer to him as anything but "world champion Robert Fulford." When Chris Clarke enjoyed his moment in the sun a few years ago, he told me bluntly and modestly that Fulford was the best player and that he (Clark) basically lucked out in a single event. And at the time, Fulford ruled the rankings despite his loss of the world championship. Even now, when Reg Bamford has seized both the championship and the top ranking spot by a hair - proving that he clearly deserves his crown - the new champion take pains to tell you Robert Fulford leads the way, and he is only following that lead. Fulford hardly needs to justify his mastery of the sport to Americans. He has proved over and over again that he understands the American game as well as any American. And he loves to play it. He has scored several milestones in American rules croquet, not the least of which is the first American Rules sextuple in competition. I was his victim several years ago in the Arizona Open and wrote about it in Croquet World Online. When he told me he was playing in the Golf Croquet World Championship and would like to stay on for the Festival, I assumed he would be playing International (Association) croquet events. But no, it's American Rules he was most interested in - because he gets so little chance to play American Rules in Europe.
WEDNESDAY, February 20

American Rules Golf Croquet Doubles - rotating partner Swiss hi-low, two flights. Event #7, 10AM start
Late afternoon: Peeling demonstration by Robert Fulford with commentary
American Rules Golf Croquet is the ultimate social game - so why be stuck with the same partner throughout, even if you win? At every point in this multi-tiered elimination ladder, you have to change partners. The ladder works as usual, but when the teams meet for competition, the "hi's" switch places. Because this is a "hi-low" in two flights, there are actually four handicap ranges to be considered: the top two will constitute one of the flights (or divisions); and the bottom two the other.
WEDNESDAY, February 20 / THURSDAY, February 21 (two-day events)

Women's Singles Championship, American Rules - multi-flights. Event #8, 9AM start
Open Singles Championship, American Rules - multi-flights (higher flights will play handicaps.) Event #9, 9AM start
International Rules Handicap Doubles - rotating partner Swiss. Event #10,10AM
Wednesday is the beginning of two really interesting two-day events. Women's Singles is somewhat controversial. Some people ask, 'Why should you have an event in America that harks back to another century and another time when men and women were separated by law and custom in just about everything?" I have a couple of answers. First, we don't have any rule about separating the men from the women in competition. To nail home the point, we have the Open Singles Championship at the same time, and any woman, man, or child who wants to compete in that event can do so. No, we don't have a Men's Singles Championship, and I would be surprised if any man complains about that. Why? Because any top level competition in croquet is basically a men's event with (maybe) a woman or two in the line-up. Secondly, we should do this event because women never get the same opportunity that men have to play in events against each other. In a Festival that is devoted to diversity and choice, we thought it would be great to provide this kind of choice. Architect Digby Bridges, recalling his Hurlingham days, was a strong advocate of Mixed Doubles and Women's Singles. No, we don't advocate having these event any more often than there is a demand for it. We shall soon see whether there is a demand in America. USCA croquet is justly proud of the sport's egalitarian values. The Women's Singles Championship does no damage and in fact affirms this proud tradition of equality by providing more free choices.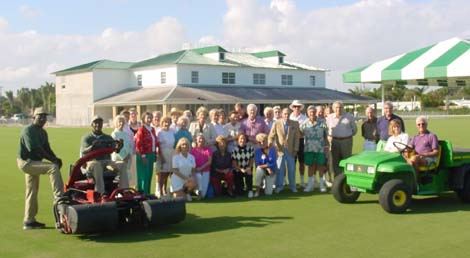 At the organizing meeting of the National Croquet Club on December 5, members and donors formed volunteer committees to assist with hosting players from around the world in the Golf Croquet World Championship and Croquet Festival II.
International Rules (Association Laws) Handicap Doubles is harder to talk about, simply because very few Americans understand or appreciate Association Laws handicap play. They are largely unaware of the differences in the rules for lifts, wiring, and pegging out, for example. High-handicap Americans play the Advanced rules game almost universally, with no knowledge of the very different rules of Handicap play. The reason for this, perhaps, is that no satisfactory system for American Rules handicap play has been devised. The American bisque is a weak bisque that never equalizes play between opponents; it allows "do-over" strokes for your bisques at any time and/or a continuation bisque after an earned continuation stroke; while the "Association" bisque is a new turn every time, and thus more powerful. Knowledge of the "Association" handicap game could help to advance the popularity of the game in America and the shooting skills of American players.
THURSDAY, February 21

End-Game Duplicate singles, American Rules, two flights. Event #11, 10AM
Referee Clinic and Rules Interpretation with Archie Peck. Event #12, 10AM
Late afternoon: 14-point International Rules demo game with play-by-play commentary, Osborn vs. Fulford
"Toast & Tally", Clubhouse Members Lounge and East Veranda, 5PM
Early evening Cookout on the East Veranda Plaza, with trophy awards for events of the first four days
End-game duplicate was well received in Festival I by the 15-or-so people who chose to play it. This is situational croquet: everyone plays the same situations, with the precise location of the balls, the wicket clips, and the deadness board duplicated on every court. After six rotations the game is over. At the end of the event, your scores are compared with the results of others who played the same situations, and there are two winners: Blue/Black and Red/Yellow.
FRIDAY, February 22

Fun & Games with Archie Peck to liven up your social croquet repertoire - contests, party games, novelty formats. Event #13, 10AM
American Rules Singles Round Robin. Event #14, 10AM
FRIDAY, SATURDAY, SUNDAY, February 22-24, 2002

American Rules Stake-Out Singles Championship (multi-flights, but higher flights must play short games, beginning at 1-back) Event #15, 9AM
International Rules 14-point Singles Championship, best-of-three match-play elimination format; with a plate for first-round losers. Event #16, 9AM
Free USCA referee testing and certification (for Thursday Referee Clinic participants). This requires about two hours and can be scheduled with Archie Peck at any time in these three days.
The 14-point Singles Championship is perhaps the most notable innovation of the Festival, combining two American "firsts": the game itself, played to the stake, and the match-play format. The American tradition demands tournaments that run "on time." That argues strongly for a game that usually go to the stake within 90 minutes. As for match play, traditionally, court space has been scarce in America. But not at the National Croquet Center. With this tournament, match-play debuts in America along with the 14-point game that is being championed by many top players and organizers for both advanced and novice play.
American Rules Stake-Out Singles is another repeat of a successful format of the first Festival, having survived trials in the San Francisco Open and a few other tournaments. The longest game noted so far: 150 minutes. The higher handicap players - who seldom get a chance to practice peg-out strategies - will play a 14-point version of the American Rules game, starting at one-back and ending at the peg.
SATURDAY, February 23
* "Toast & Tally", Members Lounge & East Veranda, 5:00 PM
SATURDAY/SUNDAY, February 23-24 (two-day event)

WCF Golf Croquet Doubles - rotating partner hi-low, two flights. Event #17, 9:00AM.
In this tournament, you get to choose your beginning partner and hang onto him (or her) ONLY if you win. If you lose, the "hi" player in your team has to switch places with the opposing "hi" for the next round.
SUNDAY, February 24

The Festival program ends with the conclusion of the scheduled events in the morning, followed by luncheon and the trophy awards. (If some events haven't completed, they will extend to mid-afternoon.) The Center will be open until 5:00 PM for Festival participants who want to stay on and play casual games.
Full Festival fee of $435 ($395 for members of the National Croquet Club) includes entry into all events, sanctioning, trophies, lunch daily and courtside refreshments, Golf Croquet World Championship Finals; Thursday Cook-Out, and much more.
Everything sanctionable by the U.S. Croquet Association will be reported and credit given for handicap tracking and Grand Prix points. The International Rules (Association Laws) scores will be reported to feed into the world ranking system.
In addition to the scheduled events, there will be "wild card" activities programmed throughout the Festival - including tours and lectures on the National Croquet Museum and Gallery newly assembled in the Museum Hall on the second floor of the clubhouse.
Social Festival fee of $175 includes everything except the 17 full-day or multi-day event electives, including all the late-afternoon exhibitions and lectures. If open courts are available, Social participants will have priority in scheduling them for pick-up play for a nominal fee.
Entry to individual events (if available) will be accepted after January 15 at a rate of $65/day.
---
FOR MORE INFORMATION OR TO REGISTER BY PHONE, CONTACT:
National Croquet Center, 700 Florida Mango Road, West Palm Beach, Florida 33406 (561) 478-2300 email: USCA@msn.com.

START YOUR DAY ON THE EAST VERANDA
Morning coffee and tea will be available after 8:00 AM on the East Veranda, where event directors will organize the day's play for each event and make court assignments. All events start at either 9:00 AM or 10:00 AM on the first day. On the second day of multi-day events, the starting time is always 9:00 AM.

PICK-UP PLAY ON THE OPEN COURTS
Festival participants have priority for reservations for playing time on the open courts, made through the Pro Shop. Courts will become available more frequently in the afternoon than in the morning.

ACCOMMODATIONS NEAR THE CENTER
There are no hotels or motels in the immediate vicinity of the National Croquet Center, but a variety of good accommodations are available near the airport about eight minutes away by car, including the Airport Hilton, the Crowne Plaza, Radisson Suites, Hampton Court, and the Holiday Inn, a National Croquet Center sponsor. To secure preferred rates for the Festival or any croquet event, call the Holiday Inn directly at 561-659-3880, or email them at hipba@worldnet.att.net and give them the croquet code: 2USC.

A NOTE ON THE EVENTS AND THE FORMATS
The 12 lawns of the National Croquet Center make it possible not only to run a number of events simultaneously, but also to create flexible formats that (for example) permit players to play as much or little as they like. Although many of the events and formats are relatively new to American players, they have all been shown to be workable and sound, and many of them were successfully tried out in the first Festival, in January of 2001. The Festival is designed for fun, for serious competition, and to offer new sporting experiences. Take this opportunity to play in events you've never tried before on the near-perfect lawns of this magnificent new facility. Be adventurous - in the spirit of Festival 2002!

For more information on the National Croquet Center, see www.CroquetNational.com.

To register for the Festival, request an entry form from USCA@msn.com . 561-478-2300.
---