The Front Page
News & Features
Letters & Opinion
People
The Game
Contact Us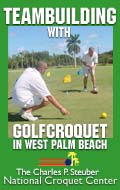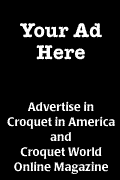 INTERNATIONAL RESOURCES
World Croquet Fed
WWW Links
World Rankings

AMERICAN RESOURCES
USCA Website
National Center
Clubs & Resorts
Games & Rules
Equipment
USCA Calendar
USCA Handicaps

ARCHIVES
1996 Archives
1997 Archives
1998 Archives
1999 Archives
2000 Archives

MARKETPLACE
Advertising

Croquet World Online Magazine Staff & Contacts

EDITORS


Contact the editors with article or editorial inquiries, referrals, submissions, suggestions or corrections. Send email correspondence related to Europe to and other correspondance to .

The postal and phone contacts are:

James Hawkins
Croquet World Online Magazine
17 Dudlow Drive, Liverpool
L18 2HB, United Kingdom; 0151-722 4207


Bob Alman
Croquet World Online Magazine
National Croquet Center
700 Florida Mango Road
West Palm Beach, FL 33406; 561-833-3179


ADVERTISING
Click on this link for complete information on the various kinds of advertising available and current rates; email questions and further inquiries to either editor.


LAYOUT AND GRAPHIC DESIGN


BULLETIN BOARD Postings
Anyone may post directly announcements and reports on croquet events of any kind, in any country, at any time - simply by clicking here and following the menu. The contents of the Bulletin Board are clearly indexed and remain online, freely accessible indefinitely via the programing that organizes this now-massive online database of events stretching back to 1998. Readers are invited to freely use this Croquet World Online feature to publicize and report croquet events locally, regionally, and internationally. Major events reported on the Bulletin Board are often given banner links from the front page. If you have questions about this feature or if you want to propose special banner treatment for a major event you propose to report, contact the editor.


COLUMNISTS AND CONTRIBUTING WRITERS
Croquet enthusiasts around the world contribute email reporting, advice, and hands-on assistance without which this online magazine could not fulfill its mission as gateway to the croquet world. We welcome inquiries, news tips, ideas for articles and editorials, and feature submissions from all quarters of the croquet world.

PAST AND FUTURE DEVELOPMENT OF CROQUET WORLD
This Website was designed by Adam Stock and programmed by Bob Henry in the mid 1990's. Reuben Edwards now designs and lays out most of the new content, serves as Webmaster, and co-owns the domain www.CroquetWorld.com. Croquet World Online Magazine was the recipient in the late 90's of a long-term grant from the Croquet Foundation of America funded primarily by Ellery McClatchy, without whose assistance for more than a decade this labor-intensive enterprise--begun in 1996--could not have continued to cover the croquet world in this medium to a high professional standard. In its first 20 years, Croquet World has amassed a near-encyclopedic wealth of site-generated materials on all aspects of croquet, all of it still easily accessible onsite.

In 2015 at the age of 75, Bob Alman, the founding editor and owner of www.CroquetWorld.com, created the CROQUET WORLD ONLINE TRUST, to be endowed with his entire estate. Although modest in financial resources, it is organized to provide for the continuance of the magazine after is no longer managing it. The European editor, James Hawkins, has agreed to be the provisional editor overseeing whatever transition of editorial and management authority is necessary following the passing of Bob Alman, and Bob's long-time friends Nadja Krylov and Edith Hall Friedheim have agreed to be directors of the TRUST, assisted by prominent figures in the croquet world on her board, including Rhys Thomas, Mike Orgill, Ian Plummer, the then-current Secretary General of the World Croquet Federation, Hawkins, Edwards, and perhaps others.

As the magazine continues to evolve as a universal gateway to the sport for both serious competitors and the interested public, it will continue to explore the culture of croquet in all its facets, whenever and wherever we can report it, or link you to it. In this process, we invite your comments, suggestions, and support.


Croquet World Online Magazine provides timely news, information, reference directories, topical articles and entertaining features on the people, the events, the games, the organizations, and the innovations in our favorite sport - wherever and however it is played.