CALIFORNIA AND BEYOND
Part Three, Spooner Memoir


by Neil Spooner
Photos courtesy of Mike Orgill, Neil Spooner, and Bob Alman


---

Persuaded by Brice Jones to run his croquet program at Sonoma-Cutrer Vineyards in Northern California, Neil and his wife arrived in California in 1987 for what would be a seven-year sojourn, as the "Wine Country Invitational" morphed into the sport's first world championship. Spooner had an enormous impact on American players during his time in the USA. He is partly responsible for the rise of the "Western Killers," a gang of California players who became the most visible champions of the sport in America during the late 80's and early 90's. He introduced tactics for the American game that no one had ever seen before, including the "Chernobyl opening", the "rout", attacking to build breaks from anywhere on the court, and the American killer leave. A top-ranked American player has described his playing style as "fiery" in admiring Spooner's rare ability to combine a very fine touch with raw power on the court.

---
The earlier years of the Sonoma-Cutrer tournament were not without their challenges. Initially sponsors were slow to support the new event. Brice first solicited companies with which he did winery business. Wine distributors, insurance companies, car dealerships, and wineries were the initial sponsors.
But when airlines were approached, he learned they wanted only one thing—media exposure and publicity. That was the reason Brice felt the words "World Championship" needed to be incorporated in the tournament's title. (Brice registered the title as a trademark to protect his interests—not to prevent others from using similar titles.)
Brice's reasons for having the tournament were two-fold: To gain publicity for the winery and to to raise money for childhood charities.
At Sonoma-Cutrer in 1986, Neil played this break in his losing finals against Steven Mulliner. Note the small crowd at this first international tournament.
Starcross Community was the first charity to benefit—a religious order caring for babies born with AIDS. In 1987 and 1988 the tournament did not generate sufficient funds to cover costs and Sonoma-Cutrer underwrote those years, including writing checks for a donation to the charity. After the 1988 event, Starcross Community withdrew as the beneficiary of the event because Brice had asked them to announce an inflated amount as the contribution from Sonoma-Cutrer.
Courting sponsors and cultivating socialites
The 1989 tournament saw a new charity emerge—the Bay Area Make-A-Wish Foundation. So by securing a major sponsor, the tournament was able to show a genuine profit in its third year, all of which was passed on to the charity.
By the time I left in 1994 the event had raised more than one and a half million dollars for Make-A-Wish Foundation. The seven years of my involvement with this event were very satisfying indeed.
During my time at Sonoma-Cutrer I was able to travel and participate in other croquet tournaments. The Arizona Open, staged in Phoenix, was a high standard American Rules tournament. I played the Arizona Open four times from 1988 to 1991, winning in '88 and '89. (I was the first player to successfully defend an Arizona Open title with back-to-back victories.)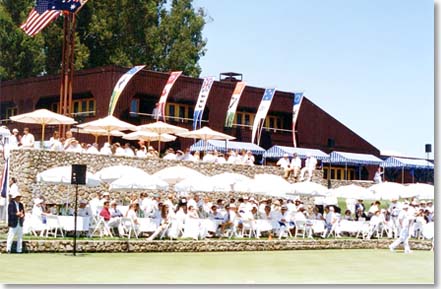 By the third year of the event, it was producing enough income to pay for itself and provide funds for the charity. Sonoma-Cutrer winery got an outsize portion of local publicity for the event, which was to become one of the "must-do" annual events for the social elite--and everyone who aspired to that elevated position.
In 1989 Rory Kelley, a Phoenix resident, sponsored an international player to come and compete in Arizona. Reg Bamford was that player, and he won his way into the final against me, held on the lawns of the majestic Phoenician Resort in Phoenix between a South African and an Australian. Reg went on to win several World Croquet Federation world championships.
Triple peeling for Rhys in Arizona
At the 1991 Arizona Open my last block game was scheduled for play at a small community called Wig Wam, somewhere west of Phoenix, against Rhys Thomas. Prior to starting the match Rhys commented that he had never seen any triple peels performed in American rules croquet. I told him if the opportunity came during our match I would attempt the feat. The lawn was of good quality, and circumstances allowed me to set up and subsequently complete the triple peel.
After the game we returned to the lawn at the home of Ren Kraft, where players gathered at the end of play each day for the "toast and tally." We arrived there in time to see the American pro Ted Prentis perform a triple peel—so Rhys had now seen two in one afternoon.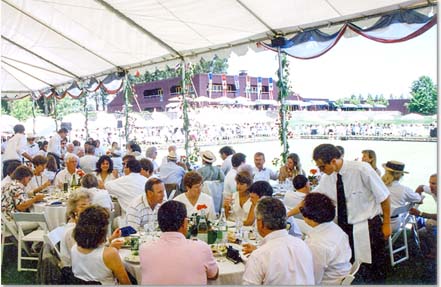 At the tournament's height, when there were almost 1000 patrons surrounding the courts for the final game, a small percentage of whom might have been trying to follow the action. There was always an expert commentator describing the action and explaining the tactics and strategy. Damon Bidencope provided commentary for the first tournament. Rebo Rebuschatis--the winery tour leader who became, himself, an expert player--announced more than once, and Kiwi Tony Stephens. Brit Stephen Mulliner tag-teamed with someone else at least once at the microphone. The players were glad to pitch in for this kind of public exposure, because the experience of being a sporting star, on this scale, was available nowhere else in the world.
In 1988 my long-time partner Barrie Chambers teamed with me to win the Meadowood Classic and share first prize of $6,500. We defeated experienced American duo Archie Burchfield and Ren Kraft. Barrie and I did not know at the time that this would be our last competition as a doubles combination.
Surviving the Masters scam
In 1991 a group of three non-croquet playing men, led by someone named Doug Kauffman, created a new money tournament—"The Masters of Croquet"—the first to be held in Greensboro, Georgia. Matches were played at two venues—Port Armor Country Club and the beautiful property of Linda and Tom Guthrie, who were very welcoming and generous hosts. Hans Peterson from Berkeley was the tournament director, and he had assembled a strong field to compete for a substantial purse.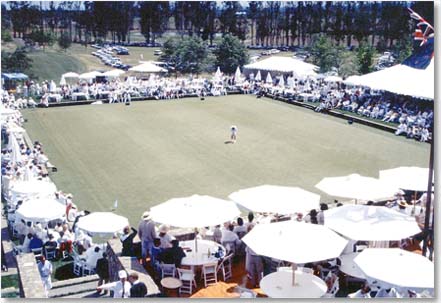 During the final most of the swells garbed in their white croquet-themed outfits turned their backs to the courts as they sipped their wine and chatted about this-and-that with their table companions. In later years, fewer and fewer paid attention, and why should they have? The wine was flowing, the schmoozing was in full force, and, like it or not, Association Croquet was not interesting to watch, for most people. Golf Croquet had not achieved the stature it aspires to in the 21st Century, as a spectator sport.

THE SONOMA-CUTRER CHAMPIONSHIP

For its first three years--1986, 1987, and 1988--the championship was underwritten by Sonoma-Cutrer Vineyards. Beginning in 1989, the event supported itself with increasing profits each year. In Neil's last year at Sonoma-Cutrer, 1994, the event raised more than a million dollars. Every dollar raised through the live and silent wine auctions was passed on to the charity. SPONSORSHIPS covered player accommodations, airfares, and player entertainment. TICKET SALES to the finals day courtside luncheon almost covered catering costs for the entire tournament. PLAYER FEES ($250 per player) filled in the gaps. NEIL'S DUTIES were mostly invisible and behind the scenes: selecting and inviting the 30-odd players (except for New Zealand, whose association made its own selections); choosing an international tournament referee; creating the playing schedule with honorary tournament director Stan Patmor; liaising with sponsors on benefits and match day requirements and privileges; organizing and arranging airline bookings and player accommodations; creating player activities for tournament week--including "baseball night," a special dinner and player meeting; assisting selection and coordination of entertainment and caterers; overseeing provision of player breakfasts and lunches; appointing the courtside announcers; and troubleshooting for an enormous event in which anything could happen at any moment.

In one semi-final Damon Bidencope was a surprise loser to Michael Watkins. The other semi-final was between Jerry Stark and me. Jerry had gained total control of the game and was leading 23-2 with his clips on peg and rover. He had left me with a shot on one ball only which was nine inches in from the boundary 25 yards away. As this was an American Rules event a roquet would not count if the target ball was knocked off the court.

Luck was with me. I hit the roquet successfully and Jerry did not play another shot. Rather than allow him a chance to roquet I peeled his backward ball (and next in order of rotation to play) through rover and pegged it out. This deprived Jerry of his next turn and I was able to complete the match 26-23 and go on to win the final (against Watkins), earning the cash purse of $6,000.

Hans Peterson was unable to continue as Tournament Director for the 1992 Masters, and I was asked to replace him. The tournament was produced at a new housing development in Sag Harbor on Long Island, New York. My part in staging this and the 1993 event was limited to the playing side only. Doug Kauffman was the promoter who arranged all other aspects of the event, including the provision of lawns.

The instant lawn turned to mush when it rained

In Sag Harbor there were no croquet lawns at all and no tennis courts were available so Doug had a vacant block of land leveled and (only ten days before the first game) installed a lawn by rolling out many 2 x 40 yard strips of pre-grown lawn. The result was not good. Initially the lawn turned brown. Green dye was applied two days before play was scheduled.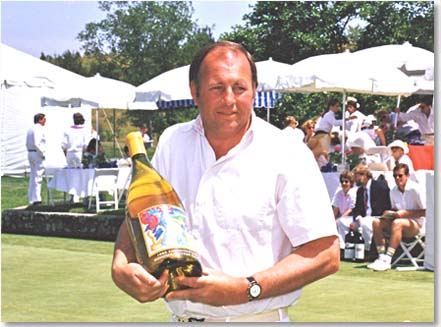 With a break in the play over lunch, the annual wine auction produced the main source of funds for the charity. Non-finalist players were glad to parade auction bottles around the court while the vintage was described as the patrons were encouraged to bid higher and higher--for the charity. Neil displays above Sonoma-Cutrer's 1986 Founders Reserve Chardonnay as the announcer tells the thousand-or-so spectators that the label was designed by a child supported by the Bay Area Make-A-Wish Foundation. The original artwork for the label, each year, was framed and presented to the successful bidder.

TRIBUTES OUT OF CONTEXT

I have been fortunate to play in an era with a number of very talented and skilled players. I will not attempt to list them all here but I will nominate two outstanding players, John Prince and Keith Wylie—both legends of croquet—as the best I have seen. Their ball placement during break play was excellent; and their demeanour and sportsmanship have been second to none. - Neil Spooner

The following day it rained all day and because drainage had not been taken into account the lawn became a very large green sponge. A Super Sopper was used to remove the excess water and play commenced on a lawn only one-third of regulation size. Ted Prentis won this event, as I recall.

Despite the many organizational disasters of the previous year, the 1993 Masters of Croquet went ahead in Dallas, Texas at a luxury hotel. Doug Kauffman was still in charge (though not in control, as it turned out) of all non-croquet related activities.

About a month prior to the tournament I became suspicious of Kauffman because I had not received confirmation of prize money being deposited into a bank. I called Kauffman, who assured me the money would be deposited the next day. I received a copy of the deposit slip via facsimile. A few days later I called the bank to confirm the deposit only to be told the check had not been honored due to insufficient funds.

A FINAL "'GOOD IDEA"

I believe there should be an Ultimate World Croquet Championship decided by a best-of-three, two-life event. The best-of-three would comprise one game each of Association, American Rules, and Golf croquet. They could be played in any order or perhaps the order could be decided by the toss of a coin. This format would, in my opinion, deliver a complete and valid World Croquet champion. - Neil Spooner

So no prize money was available, and a dozen international entrants and as many American players were due to arrive in Dallas in a few days. All of them had purchased airline tickets and booked their accommodations. I contacted all the players concerned advising them of the situation and asking if they would like to withdraw from the tournament. To my surprise, only two withdrew, and so the competition went ahead.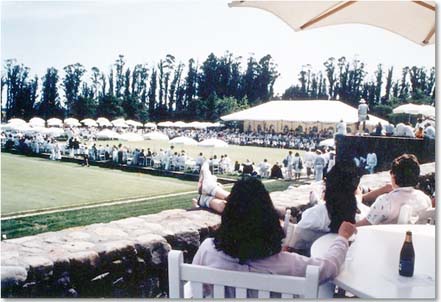 Croquet fans could find a comfortable elevated perch at the winery and watch with understanding the action on the main court. Associated croquet players were not required to produce the substantial entry fee for the finals day event, which tended to grow in tandem with the event's popularity in later years. The final international tournament at Sonoma-Cutrer was in 2002, several years after Brown Forman bought took over the winery, and after Make-a-Wish had withdrawn its sponsorship. The World Croquet Federation's own annual world championship started in 1989, organized for many more players and courts representing all the croquet-playing countries in the world. The WCF event is also "sponsored," but national associations always have to foot the bill for what is, for the most part, a players' event.

At a cocktail party held on the evening prior to the final day of play an impromptu "Calcutta auction" was held to provide a purse for the finalists. The funds raised by auctioning the surviving eight contestants were divided equally between prize money for the players and a purse for the successful bidders of the Calcutta. The money was held for security reasons by the brains behind the auction, local croquet member Joe Yoder.

On the day of the finals there were bizarre scenes as suppliers of spectator chairs and the public address system tried in vain to track down Kauffman in an attempt to be paid. During the final match, being described to a small courtside gallery by way of the sound system, chairs were being folded and removed. Eventually the sound system was disconnected and repossessed, and the match was completed in silence.

Englishman Mark Avery became the third and last winner of the Masters of Croquet, defeating me in the final. Doug Kauffman and his two accomplices left a number of large unpaid debts in Dallas and have never been heard from again.

Farewell to California

After the 1994 Sonoma-Cutrer croquet tournament the time had come to go back to Australia. There were a couple of contributing reasons for this decision: my mother was not well and my father was having difficulties taking care of her alone.

The second reason is the complicated one. A member of the winery office staff who was also a good friend (she was the godmother of our daughter Samantha, born in 1990) had been dismissed from her job in 1992 while on sick leave after back surgery. The woman was now suing for wrongful dismissal and as I was privy to some pertinent information potentially damaging for the winery, Sonoma-Cutrer paid for our family airfares to Australia. By the time the complex legal matter was settled out of court in 1996 the Spooner family had been well settled for two years in Adelaide, South Australia.

I am constrained for comments on other reasons by non-disclosures agreements. The summary comment on my departure was: It was time to return to my native soil!

Re-acclimating to Aussie life

Since returning to Adelaide I have had very limited time on the court. Late in 1994 I played against Colin Pickering (a former Australian team member) in a demonstration game of American Rules croquet. The game was played at the Glenunga club before a large crowd. I won the match after Colin inadvertently ran through the rover hoop from the wrong direction. That was my last game of American Rules croquet.

With moderate success I played Association doubles in the South Australian championships early in the new millennium, and filled in for a few Monday night games one summer to help make up the numbers for a state team.

I retired from competitive croquet at the end of 1994 and spent the next few years transporting my children and their friends to their own sporting activities.

As a member of the WCF Hall of Fame Selection Committee for five years, I have still taken an interest in croquet. In 2015 I attended the Brighton Croquet Club to celebrate their 100th birthday, where they also unveiled four inscribed pavers at the main entrance to the clubhouse to honour the club's WCF Hall of Fame members—Tom Armstrong, Jean Armstrong, Creina Dawson and Neil Spooner.

I was hoping to finish this story before it finished me. I have succeeded!

NEIL SPOONER'S TOURNAMENT RECORD

South Australia

Open Singles: 1984
State Singles: 1972, '82,' 84
Open Doubles: 1975, '78 (with Chambers) '84 (with Elaine Winning) '85 (with Mark Prater)
Gold Medal: 1976,' 80, '81, '82


Australia

Open Singles: 1975, '77, '79
Open Doubles: 1975, '76, '78, '79 (with Chambers) '86 (with George Latham)
Men's Singles: 1976, '78
English Silver Medal: 1976


United States

San Francisco Open: 1987
Arizona Open: 1988, '89
A.C.A. U S Open: 1988
Meadowood Classic (doubles): 1988 (with Barrie Chambers)
Masters of Croquet: 1991
California Open: 1990


Team Representation

South Australia: 1973, '75, '76, '78, '85, '86 (as captain)
Australia: 1974, '82, '86 (as captain)


HONOURS

Life Member - Brighton Croquet Club (1980)
World Croquet Federation Hall of Fame (2010)


SPOONER FROM THE SIDELINES

One of the great pleasures at a croquet tournament is sitting on the sidelines with a legendary player who is willing to share valuable insight on tactics and strategy. In all my years in the game no one was better sideline company than Neil Spooner.

It was during one such courtside visit at the Arizona Open in 1991 that I asked Neil if anyone had ever completed a triple peel in American Rules. We were having lunch before playing our final block game in the tournament. Neil was the top seed, I was second, and we were both undefeated and assured of advancing to the knockout round going into our game, so the stakes were relatively low, other than being croquet players who love to win and hate to lose (and really, does anyone like to lose?).

I had met Neil a couple years before at the Meadowood Classic and instantly became one of his West Coast "killer" croquet disciples. If you wanted to learn something new in the game in those days, you just watched Neil, especially American Rules. He studied them and exploited the weaknesses he found in them, causing in more than one instance change to the rules. And contrary to what others may say, he was the original devisor of the out-ball or "Chernobyl" open and mastered it with his cunning and expert shot-making. In our American lore, he's the namesake of the "Half-Spooner" and "Full-Spooner" games scores, 26-1 and 26-0 respectively.

Being seeded in a block with Neil at Arizona gave me plenty opportunities to enjoy his quick wit and sponge off his deep reservoir of croquet knowledge. And it occurred to me during that lunch that I'd never seen nor heard of an American triple peel. Neil said, "I've done one, a three-ball triple," and he told me about it. We talked it over some more and he asked if I wanted to see one in our upcoming game. I said, "Sure."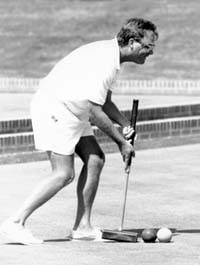 Rhys Thomas taking croquet.

We made a gentleman's agreement: He'd go first and camp in Corner One, with a line rush to #2. I set up in Corner Four. On the fifth turn he attacked #2, made the hoop, and rushed partner down to #4, dropped that off going to my two balls in the corner, got the rush to #3 and was on his way to 4-back, where he stopped, leaving his striker ball in the jaws and his partner and cold ball set up a yard short of Corner 3. I took the obligatory 100 foot shot he left me and missed—not on purpose, but I didn't mind. I was about to see a show.

Neil picked off my errant shot, got a rush to #2, and ran a textbook triple on time. Final score: 26-2. As losses go, it was one of my best. I learned a lot from that game.

Today, Neil's distinctive Australian Croquet Company flat-bottomed barrel mallet, which he used for both his American triples, is in the USA's Hall of Fame trophy case at the National Croquet Center in West Palm Beach. It's the one with his name on it.

– Rhys Thomas
Neil Spooner is retired and living in South Australia, in Adelaide. Although constrained to some extent in the writing of his croquet memoir by nondisclosure agreements, he is experiencing no such contraints in composing a family memoir for his grandchildren. He no longer competes in croquet, but enjoys interacting with other great players and keeping abreast of the sport via the internet. Sonoma-Cutrer Winery was sold to Brown Forman some time after Neil departed. Brown Forman decided to abandon the international tournament at the same time that Make-a-Wish Foundation withdrew their involvement. The Sonoma-Cutrer Croquet Club still hosts two annual national tournaments--the North American Open and the North American Amateur--in addition to their local and club tournaments. The USCA Regionals have recently been held there. The winery uses the courts extensively for croquet groups and business functions.
---