David McCoy is making sure
the sport's International showcase
will continue to thrive.



Photos courtesy of David McCoy and friends


---

Just in time to stave off an impending financial disaster, David McCoy got hooked on the sport of croquet, and then on the National Croquet Center in West Palm Beach. As the man keeping the York Theatre Company afloat for many years, he regarded raising a mere $130,000 child's play, and quickly organized sweeping changes in organizational structures and finances aimed at making the Center a permanently self-sustaining showcase of the sport, unrivaled in any other country. Life-long habits of hard work keep him at it at the age of 81, with no end in sight, although he has recently turned over the presidency of the Croquet Foundation of America to another competent and industrious man who is only 75. The editor begins with an easy question before asking the really hard ones.

---
BOB ALMAN: When or how did you ever take up USCA croquet?
DAVID McCOY: I took up croquet in 2000 at the insistence of Mary Pat Pace, our neighbor in Palm Beach Polo and Country Club. She worked on me for several years after we moved there to try the game. Finally - knowing that I was Chairman of The York Theatre Company in NYC (an off-Broadway professional musical theatre), she said, "You know David, a lot of interesting, wealthy people play croquet! I bet some of them would help your theatre company!"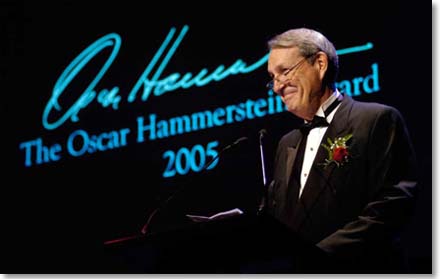 McCoy emceed the York Theatre Company's presentation of their Oscar Hammerstein Award for Lifetime Achievement in Musical Theatre in 2005 to Angela Lansbury.
That set the hook, and she reeled me in! I joined the club and started playing... and winning, and soon gave up trying to improve my golf game. I was totally hooked. As she said, I also ended up finding in the croquet world a president, four directors, and numerous audience members for the theatre company... and a few croquet players from my theatre friends, as well!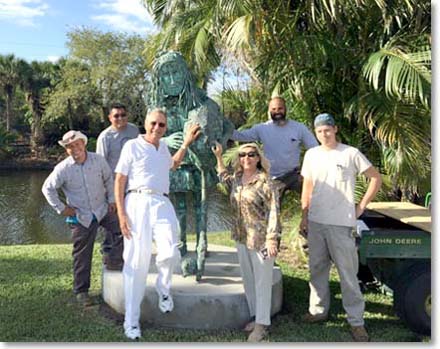 Donor Howard Sosin's magnificent Alice was installed by the Center's lone Acacia palm, where players and spectators share her shade in the afternoon south of Court Two. Center Manager Marie Sweetser smiles at the camera with David and the grounds crew who did the work.
BOB: My dear friend Edith Hall was one of them. I told her she should play croquet, and she told me about her connection to your theatre company. I enrolled us in a member/guest event at the Center - I guess it was in 2007 - after which she decided to join. I believe she donated her daughter's catering to your theatre company for special occasions. She kind of bonded with another newcomer in our first game, and they decided, on the spot, that they could both join because now they had somebody to play with.
DAVID: Yes, Edith has been wonderfully supportive of York and the Foundation and Center as well. It's the generosity of people like Edith that allowed me to stabilize the financial position of the Center.
And I want to highlight what you said about new members and the importance of matching them with others at the same level. Marie Sweetser, the Club's Membership Manager, does a great job with that individually, and numerous National Croquet Club members run doubles games in both American Rules and Golf croquet where you just show up and get two games several times a week. Having all those opportunities for a pleasant, competitive, social interaction is an essential element of building and keeping membership. Many great new friendships (and a few marriages!) have come from that.
McCoy's frequent partner Bob Chilton included this photograph in his book SERIOUS CROQUET, which is entirely about the special style and ethos of the American sport. The precision needed for this peel requires dead-on accuracy, which can only be gauged by the player on the ground, eying the edges of both balls as they line up to both clear a tightly-set hoop. And then the stroke must be equally precise for the shot to succeed.

BOB: Having someone to play with is a big consideration; in my case, if I hadn't met Mike Orgill at a party for the Werner Erhard & Associates staff in my huge flat in San Francisco in 1975, I have no idea what my life would have become. You must have a similar story….

DAVID: My coach and mentor who encouraged me to get more involved and play in tournaments was Gary Weltner, the President of the Croquet Club at Palm Beach Polo, followed by the infamous Mik Mehas, who later "adopted" me and took over as my instructor and good friend. In 2006 (checking this date), I became a Lifetime Member of the Croquet Club at the National Croquet Center, then operated by Croquet Enterprises - the for-profit subsidiary of the Croquet Foundation of America which owned the Center and was set up to manage the entire operations.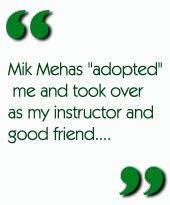 BOB: Gary Weltner did an essential job in the last year or so of my stint as organizing manager of the Center. I think he was the head of Croquet Enterprises. He was a very laid-back guy, and sometimes apologized to me for some quite-dubious instructions from on high, which I had to deal with in some way. I was wholly absorbed in managing the Center and publicizing it with the press and being out in the community, and acting as House Manager for all the events we managed to capture. And Gary handled the things I wanted nothing to do with: the financial stuff! Your strong suit!
DAVID: Soon after I started playing at the NCC, Gary began telling me that the Center was in financial trouble. I started offering advice because I was in disbelief that such a gorgeous place could possibly have financial problems. I heard that the event business was dropping both due to the impending recession and because rumors had spread outside to the community, that the Center was in trouble and might close. Obviously, no one wanted to book a big event or wedding and have the place fold before it took place. And we even lost some members out of the same fear.
BOB: Uh-oh. Sounds like Gary is hooking you on more than croquet games....
DAVID: Yes, hooked again! I started working with Gary to try to come up with ideas to close the $130k operating deficit projected for the summer of 2007. Gary asked me to join the Board and I agreed. I also joined a task force of volunteers that formed to try to save the Center. Ruth Summers and others helped with a letter campaign requesting donations to cover the shortfall.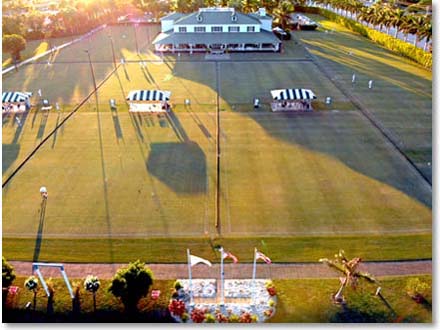 The Center--the world's largest--is still growing. More potential court space can be created in the upper left hand corner of this photo, along with expanded parking. Photo by Sherif Abdelwahab.
BOB: So I think it was in 2007 that you were TOTALLY hooked on saving the Center, David. You wouldn't have said that, no one would have, in retrospect, but that's when I think it happened. At that time, I was asking specific people with money and influence, "Are you willing to be responsible for having the National Croquet Center survive?" and they would say things like, "Well, surely we wouldn't let a place like this go under...." but not one of them would make a personal commitment. Although you didn't say it, my guess is that you knew, yourself, that you were the guy who would do that. If I had asked you that question in December of 2007, what would you have said?
DAVID: Well, I thought to myself, a $130,000 deficit isn't so bad. We have that problem in the theatre several times a year for almost every show! But the other thing I noticed was that there was no effective and organized development plan to ask people to help, and to give them recognition when they did. So I agreed to take over as President of Croquet Enterprises (and General Manager of the Center) after Stewart and Josie Jackson left, following their two years as volunteers as general manager and receptionist/Pro Shop manager, after the departure of the previous GM.
I had almost no background in the history of the Center or croquet. I just knew I loved the game, the people and the beautiful Center. The person who helped me understand the history and what had been tried and either worked or failed, was you! As you will recall, I spent many hours on the phone and in copious emails asking you for advice, despite warnings I received that I shouldn't talk to you for fear you might report it on your website and make our financial matters worse!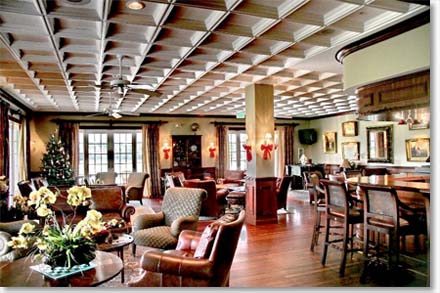 The extraordinarily beautiful interior spaces of this Center--including this club room--are major assets for corporate groups and private parties.
BOB: Yes, I much appreciated that, too. It was like, "Somebody who understands, is listening and can actually DO something! I remember I also arranged a long lunch with Joe Dillon, the caterer I had hired who had invested so much of himself in having the Center succeed, only to be so totally frustrated with the disastrous Jenner reign as general manager that Joe had to quit, himself.
DAVID: The most obvious issue I saw was the organization structure. The legal advice given to the CFA Board at the outset was that almost all of the Center's income-generating activity (outside events, Pro Shop, and croquet club) was "unrelated business income." That would cause the not-for-profit Foundation, as owner, to lose its tax-exempt status. So they needed to have the Center be operated by a for-profit subsidiary. That meant the for-profit operator of the Center paid about $50k/year in property tax, plus sales taxes on all of its purchases. It also meant that donations to support the Center's deficit were not tax deductible. That was a disaster!
The "Club" at that time was in name only, operated by Croquet Enterprises, instead of having its own board, although it did have an effective Social Committee, headed by Lee Little, with Ruth Summers and others, as I recall.
BOB: One of the really strange instructions I got from above, early on, was that we didn't need a croquet club. So be it! I enlisted Lee Little to head a "Social Committee" which actually did almost everything a "club" would do in that period; including interact with the South Florida Host Committee, composed of liaisons to other South Florida croquet clubs for incoming groups from England, and to help with two editions of our International Croquet Festival. We named the committee the Ambassadors, and they all did a great job for a long time.
I knew NOTHING about finances, but I did know about managing croquet clubs, and I knew about publicity, and even though the San Francisco Croquet Club had achieved the kind of 50l(c)(3) status it needed as a channel for donations, it was mostly through the hard work of an attorney at the club, Warren Hernand, that it happened. Jack Osborn called me in the early 90's I think it was, to get the precise language to use by the USCA and the CFA. But you're there now in 2008 as General Manager, and you're focusing on organizational structures....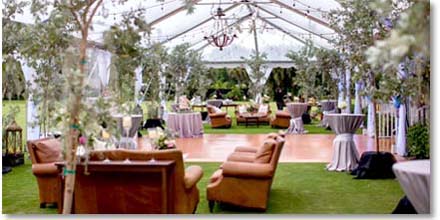 DAVID: And one of my first steps as General Manager was to find and hire Jay Fleischer, a lawyer with experience in organizing not-for-profit corporations, to help us restructure the Foundation and the Center. I gave him my rationale about the related nature of much of the income previously thought to be unrelated, and asked him to research it. He did, and wrote a 45-page, "clean opinion letter" supporting those positions. He determined I was correct that there was a clearly legitimate basis to restructure the operations and to return operation of the Center to the Foundation.
BOB: So that's the beginning of all the necessary restructuring that happened - which people can read about in your Hall of Fame writeup: setting up a business plan, developing a cash-flow analysis tool, and the various fundraising activities – all of which you had done as part of your experience with the York Theatre Company.
But David, I want to ask you a difficult question now, about the Hall of Fame. It seems to me it's too much about "popularity" and financial donations, and too little about other genuine contributions to the sport and the culture. I'm thinking of two people which the Hall of Fame has declined to induct: people who really did make fabulous contributions, one of them in the financial/organizational arena, and one of them as a player.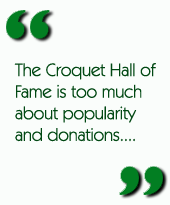 Mik Mehas, in any other sport, would be in the Hall of Fame for his achievements as a player, as a competitor, as a personality, perhaps even as a teacher - because he took on many, many people, and gave them intensive instruction over time, without payment. Mehas was truly the most interesting player we have ever had. He cultivated the press, which was good for the sport. He tried his best to look "sporty," with a costume that made him look like a baseball player. You are one of his successes as a teacher. Gary Weltner, with a personality as opposite to Mehas as possible, is another highly under-appreciated figure. How does that happen?
DAVID: I think it has to do with process. Nominees for the Hall of Fame are submitted by USCA members, and up until this year were elected by a vote of the Croquet Foundation of America Board. As the Board changes over time, those elected have varied greatly over the years. They have run the gamut from movie and other celebrities for the publicity and membership they could attract to the sport (e.g. Harpo Marx, Richard Rodgers, Daryl Zanuck); to people who were just beloved by the electors at the time because of their dedication and ambassadorship for the sport (like Margaret Mihlon); to USCA staff members who went above and beyond in their dedication to the sport (Anne Frost Robinson, Shereen Hayes); and to some who supported the sport through major financial commitments in addition to their substantial participation in the sport. The balance is largely made up of very-high level championship players plus many of the officers of the CFA and the USCA for their years of volunteer efforts and contributions to the management and development of the sport, most of whom were also championship players.
There's a clear case to be made for those who have been supporters financially, in addition to their long-term dedication and other contributions to the sport. Neither the CFA nor the USCA could be effective in promoting and developing the sport without the help of major contributors, dedicated to the success and future of the sport. The sport has benefitted greatly in many ways from those few people whose financial support played a prominent, but by no means exclusive, role in their induction.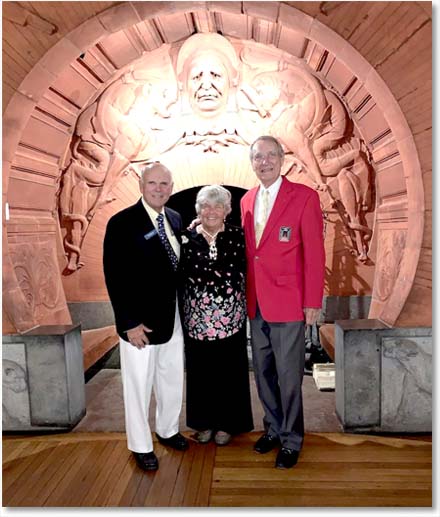 McCoy says "Fundraising is one of my least favorite things, but people know that I'm doing it for a good cause, and they've been extraordinarily generous." Whenever he plays in a tournament and the Club approves, he makes a short appeal. David and Marty Ekstrom, who run the Lenox Croquet Club Invitational, have always been supportive.
BOB: Well, Mehas was very poor, so you were never going to get any money, directly from him.
DAVID: Yes, but all the things you mentioned about his outstanding achievements were correct. Mik Mehas was a wonderful teacher and friend. He wanted me to win, and always watched and critiqued my play. (During my games, however, I had to avoid him like the plague to keep him from sneaking me advice.) I miss Mik and wish he were here now to consult and "fix" my deteriorating game (or maybe if I just had the time to practice...)
Mik was known as "The Bad Boy of Croquet" for good reason. He liked and promoted that image. He seemed to go out of his way to go against authority and push the rules beyond their limits. He had a ferocious temper when challenged, bordering on the physical on numerous occasions, in competitions and otherwise – but never directed at me. I often wonder if the brain tumor that eventually killed him didn't impact his personality that way. It was in that part of the brain that controls aspects of personality and impulse control.
BOB: I looked up that possibility, too, because there was no rational explanation for those violent extremes, which, however, were part of what made him interesting. I was the guy, incidentally, who publicized him as "The Bad Boy of Croquet" when I did an interview with him early on at Sonoma-Cutrer. I told him what I was doing, and remember telling him he actually NEEDED to create a sporty persona around all those antics. I think he understood, because he told me later that in his finals game in Cairo, when he just barely lost to an Egyptian for the world championship, very early on, the voluble crowd shouted "Bad Boy, Bad Boy, Bad Boy" as encouragement. He told me at one time, "I don't know whether to kill you or kiss you for the Bad Boy thing." I asked him to please do neither!
DAVIDMCCOY: Yes, that persona did work for him in a way, but the sad thing is that he had, at some point in time, fought with or pissed off just about everyone in the management structure of croquet, plus most of his croquet peers, some of whom accused him of cheating. For me, however, he was always a great, unselfish teacher, and always fun and interesting to be around. And he had a million stories...
People seemed to fall into two camps: either they hated Mik, or they liked him despite his obvious faults. I was in that latter camp, but I was in the minority.
BOB: I will say that I was with you in the minority, not for liking him exactly, but for forgiving him for some of the bizarre extremes. I guess the worst time was when he was on the USCA Selection Committee for the 2002 Golf Croquet World Championship, and actually requested Tony Hall, president of the WCF, not to communicate with me at all! Tony, to his great credit, emailed back to him and the USCA Selection Committee something like, "There's no way that I'm going to fail to communicate with the host of the facility with whom I negotiated this event, so Bob will be copied in all our correspondence."
So, it makes sense that Mehas is not in the Hall of Fame.
DAVID:Far as I know, despite his amazing croquet skills and achievements, no one ever nominated him to the Hall of Fame, due to his reputation.
BOB: And Gary's case? Was it just his sort of self-effacing style, or what?
DAVID: Yes, Gary was always very low key in his approach, quietly getting things done, as best he could under the difficult circumstances. He and his wife Barbara did an amazing job of running croquet at Palm Beach Polo for years, including the highly-popular Laura Heart Invitational, and when they moved away, the program just withered and died. At the Center, Gary volunteered a great deal of time and I think he did the best he could under the difficult circumstances. Given the extreme financial stress of the Center, I think tensions existed between some members of the CFA Board and Gary but I don't really know the details. After he resigned, he and his wife Barbara refocused their croquet activities at PGA, where they lived. As with Mik, to my knowledge, no one ever nominated him for the Hall of Fame, either.
BOB: I've guessed that the reason you and your delightful wife Millie chose Wellington as your southern residence has to do with Millie's horse, and you just happened to choose Palm Beach Polo, which just happened to be USCA headquarters, with those four croquet courts right at the entrance. Our individual lives seem in retrospect to have been governed by sheer accidents which, looking back, appear most significant and consequential…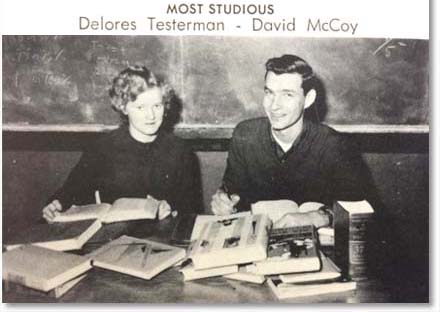 This high school yearbook photo doesn't look nearly as dorky as it might, but he needed to look good at the University of Virginia, which prepared him to begin a successful career at Exxon International. He retired in 1995 with sufficient resources to significantly support the National Croquet Center, the York Theatre Company, and other worthy ventures.
| | |
| --- | --- |
| McCoy's proposal of marriage was accepted by an appropriately smart and gorgeous bride as shown here in a snapshot that records it for croquet history | A number of years later, they bought a summer place in Summit, New York (one hour west of Albany) where a suitable (stray) dog appeared and a very tall son was raised - a place where Millie's horse could happily run through the meadows and forests, as well. |

Millie displays her good health beautifully at formal occasions, especially when they join potential donors with a virtually invincible presentation like this, at the Hall of Fame Ball.

DAVID: Yes, Millie's trainer in New York talked her into coming to Wellington to train with her during the winter... first we rented for a couple of weeks, then a month, then we built a house in the Polo Club and while Millie commuted back and forth four days a week, until she retired from the executive search firm that she co-founded.

David's wife Millie is a serious student of dressage. Here she is training her favorite horse, Rio, at their farm in Summit, New York. It was Millie's horse who led them to choose Wellington as their winter residence, where they were introduced to croquet at Palm Beach Polo Club, formerly the headquarters of the USCA.

For the first few years, as we passed the croquet courts, I would chuckle and say "Look at those old farts over there in whites playing croquet!" ... "Now I are one" as Pogo would say. Does anyone know who Pogo is these days? Google it!

Eventually the Albany residence would have to include a croquet lawn, to be surveyed from an elevated deck overlooking what used to be a soggy, hilly horse paddock. This is a favorite summer gathering place for the McCoy family, whose primary residence is in Wellington, Florida.

So much of my good fortune in life has just occurred by happenstance, as you mentioned.

David and Millie with the grandkids, Tom and Beckett, on top of the ski slope in Jackson Hole, Wyoming, near where their son Dan and his wife got married.

BOB: The Center and the lawns look great now, but what is the Strategic Plan for the NCC's long-term survival?

DAVID: The place looks great, but the building is now 17 years old. We're looking at numerous options to continue upgrading the site and assessing our priorities: upgrading the overall appearance and functionality of the grounds, additional security cameras, including live-stream capability, maybe more night lighting....

BOB: I've heard about adding an upstairs balcony…?

DAVID: Chuck and Digby Bridges, the architect, originally envisioned a balcony. We'll do it eventually, and include an upstairs bar and kitchen. That added veranda space will allow us to accept 400- person events. We now have to turn down at least four of those events a year, and the income from them would be sufficient to carry a mortgage of over a million dollars. The total cost of the doing all that is estimated to be two million.

BOB: I know the Palm Courts - the dry retention area - are being restored to pristine playing conditions, too. That will give the Center a 15-court capacity.

DAVID: We'd like to buy the adjoining church property to expand our parking capacity.

BOB: I've paced it out. You could add more parking and get two more full-sized courts there, too, just barely.

With abundant additional space for multi-sports, the Palm Courts are being rehabilitated to expand to 15 the Center's full-court capacity. Bob van Tassel photo.

DAVID: And with "serious croquet" still being a largely unknown sport, more and better outside events allow us to educate and impress visitors from around the country and around the world about the sport. Outside events are a key element in achieving the CFA's mission of promoting and developing the sport.

BOB: As you know, I'm at the Center every Saturday morning to do whatever is needed, and mostly that's the free Introduction to Croquet, and the game is always Golf Croquet. A huge percentage of guests are from out of town, and I always direct them to a croquet facility near where they live.

DAVID: And visitors love it! Both the game and the Center. Some return to their home towns and join a local club. A number from this area have joined local clubs or our resident National Croquet Club. The rest just leave with a new appreciation for the sport.

The Center is a favorite for weddings, and they even include croquet sometimes.

BOB: When is all the new development going to happen?

DAVID: We shouldn't undertake the architectural ones until we can do them without jeopardizing our financial stability. We need to build reserves to make sure we can survive an eventual economic downturn.

The other factor in the strategic plan is to continue building the strength and dedication of the CFA board to assure depth and continuity. As far as I know I'm in good health and have no plans to "retire," unless the Board requests it, but one never knows what's coming down the pike…

BOB: But without doing any of the enhancement, the National Croquet Center is still a unique international showcase for the sport. Is there any other place in the world where something like the National Croquet Center could possibly happen? I don't think so. And I think that's probably because Jack Osborn decided to adamantly promote croquet as "the sport of the elite class" - even though the cost of playing the SPORT of croquet is dirt cheap, compared to golf.... Nowhere else in the world was there established this kind of croquet culture. Melbourne was an accident of history and real estate values and that facility, compared to the NCC, is sterile and industrial in style, décor, and available social space.

The lighted courts were first used in a major event to allow Mulliner the Brit and the American Maloof to finish a marathon decider for the world championship. More lighted courts are planned.

DAVID: All it takes is someone or a group of individuals with the resources, location and dedication to make it happen. If it's going to be self-sustaining, though, it has to have what I call the "wow factor" to attract corporate and other events to a facility open to visitors and the general public that want to see it and be there.

BOB: What is your all-time best experience in croquet—either in a game or at an event, or otherwise?

DAVID: That's pretty easy. It was an American rules singles championship, and without telling a croquet story here, I'll just say it was a perfect game. As I pegged out I thought, "Nice... that was easy!" and assumed there would probably be many more like that. That was years ago and it never happened again!

BOB: If there's one thing that MUST be done before you retire, what is it?

DAVID: I have to complete implementation of our Heritage Fund strategy. That Fund will, when eventually realized, guarantee the financial security of the Center. Croquet players can leave a personal legacy to the sport in recognition of the significant role that croquet has had on their life – the friendships, fun, exercise and mental challenge that croquet provides us, all of which contribute significantly to our health and well-being.

The nighttime "look" at the Center's entrance is impressive.

Leaving a legacy gift in your will or estate plan is easy and "painless." I'm thrilled to announce that so far, we have commitments of approximately $1.5 million, without issuing a broad, official appeal. I've now set a personal goal of reaching at least $3.0 million. That's a level that can make us debt-free and lets us complete all those projects. That significant reserve fund for emergencies will make the Center truly secure.

One other "last" objective I have is to bring the USCA and the CFA closer together by providing a greater level of support to the national organization's activities, financially and otherwise. When the Center was opened in 2002, the CFA's ability to help financially was cut short from its original intent to be the USCA's fundraising arm.

BOB: At this point, I have to remind you that the Center was actually alive and operating in the year 2000. John Curington and I produced the club's first party and playing event when the courts became playable. The precise date was December 7, 2000, and about 80 people who were already members and donors came to play and party, out of the Maintenance Shed. Chuck Steuber and his wife Peg were among the guests, along with Pat Supper and many other donors from that generation of "founders." And the first of two International Croquet Festival attracted about 60 people from around the world, and a couple of incoming groups from Europe came to gawk and play....

DAVID: Keeping the Center "gawk worthy," though, is expensive. It was the Center that refocused the CFA's attention on protecting its beautiful, new, but greatly-underfunded asset. The CFA currently supports the USCA by underwriting grants for Croquet News; by discounting our court fees; by supporting USCA silent auctions and other fundraising activities; and by helping the National Croquet Club build USCA membership. (The Center membership fee includes USCA dues; and NCC members supply a significant portion of the players in USCA tournaments everywhere.)

It's been a long, hard road to get where we are, but I'm very pleased with what we've achieved, with the help of so very many people who contributed their time, effort and financial support. It's been a real team effort. We should all be proud!

As a new octogenarian, McCoy's intense competition schedule includes other local clubs, not just the National Croquet Center. Just across the Intracoastal, in 2018 he won the Beach Club Doubles Championship in Palm Beach with Preston Stuart. Other favorite partners are Bob Chilton, Mike Gibbons, and Hal Denton (golf croquet).

BOB: So when are you going to give up competition—because you say you're unsatisfied with your game?

DAVID: Having Hal Denton take over the bulk of the operating issues, as President and COO, has been a real blessing. Before that, for the last few years, I just couldn't afford the time to practice, so I started just playing a few of the major tournaments, which resulted in much-diminished shot making ability and a resultant loss of confidence. That in turn started me fiddling with my grip and swing, which made everything worse. Last year I had a short lesson with both David Bent and Danny Huneycutt to try and recover my grip and swing. I've recently started to play and practice a little more, between tournaments, and my skills are slowly returning. The competition just keeps getting better.

BOB: So, to put it bluntly, you're still not "too old to compete," David? (I confess, I feel that I am, and I'm not quite as old as you are.)

DAVID: I have no plans to give up competition, assuming continued good health. I need to find more time to play and practice. I'm sure people have no idea how time-consuming this job is. I'm often working 8 to 10 hours days, seven days a week, most of that on CFA business. Usually, that work is from home to avoid distractions and interruptions at the Center.

BOB: Your wife wants you to do a lot less work, David. But since you really HAVE saved the Center from financial ruin, I'm not going to vote with her. I'm just going to thank you, as formally as one can do in a casual interview, in the name of croquet players everywhere, for preserving and improving croquet's international showcase.

To contribute to the HERITAGE FUND, please contact David McCoy at mccoy1165@gmail.com or at (646) 342-3221. For free legal work or questions about creating or modifying a will naming the Croquet Foundation of America, Inc. as a beneficiary for any amount, contact Connor Helms at conner@helmslegal.com or (405) 319-9991. The Heritage Fund also welcomes outright contributions of any amount. All funds so designated will be held as restricted funds - primarily for capital expenses, reserves, and other extraordinary needs, requiring approval by a two-thirds vote of the CFA Board.

---