Judith Hanekom of South Africa
on her world championship triumph



Interview by Tim King
Photos courtesy of Judith Hanekom
Posted November 27, 2014


---

Dr. Tim King, the director of the fifth Golf Croquet World Championship in Cairo in November 2014, recorded this conversation with the player who took the top trophy in a dramatic come-from-behind victory, contrary to the expectations of most observers. Judith had barely emerged, in fourth position, into the knockout round from one of the eight qualifying blocks of five. She went on to defeat four Egyptian women on the way to a best-of-five finals match against the top-ranked female player in the world, Jenny Clarke of New Zealand.

---
TIM KING: Congratulations, Judith, on becoming the latest WCF Women's Golf Croquet World Champion. How did you feel when you woke up this morning and remembered what you achieved yesterday?
JUDITH HANEKOM: I'm still not quite sure that it's sunk in, to be perfectly honest. I feel a bit stiff. I've never played a best-of-five match before, and I am definitely physically tired.
On finals day, Judith, Hanaa Aly and tournament director Tim King pose overlooking the championship venue in Cairo. Hanaa was eliminated in the first round of the knockout by Marwa Moustafa, who was beaten by Judith in the second round, so she never got to play against Judith. Marwa had beaten Judith by a big margin in the blocks, but Judith used those block games--from which she just barely emerged--to focus and improve her play sufficiently to defeat four Egyptian ladies in her march to the finals through the knockout round, beginning with Marwa. Such a dramatic come-from-behind may be unprecedented in any WCF world championship.

TIM: I know you're good friends with many players you've met from across the world in both Association Croquet and Golf Croquet events. But for those readers who have not met you before, would you like to introduce yourself?

JUDITH: I was born in Cape Town and moved to Somerset West when I was about four, where I've lived ever since. I started playing croquet in my second year of High School. I used to attend a Friday evening youth group and one of my friends there was Charles Barlow. One day, I was walking past what I had never realised was the Somerset West Croquet Club and I saw Charles practising what turned out to be Association Croquet. I was teasing him about how well he was playing, so he challenged me to come to try to do better. At that time, the club had several young members and we naturally formed into a group of friends who had great fun together. One night we camped at the club and had forgotten that the sprinkler system would come on at 05:00! We all had to rush away from the jets of water. We held weekend tournaments where we excluded the older members of the club. I did play Golf Croquet back at that time but only in interludes during Association Croquet competitions; our most important rule was that if you could see the hoop then you had to attempt the shot.

TIM:: Am I right in thinking that Reg Bamford was one of those youngsters? We'll talk more about him again, but what are your first memories of Reg?

JUDITH: Yes he was. Reg is a couple of years of older than me. He could be rather serious but once he got going he was always good for a laugh. On the croquet court, by the time that I first met him, he was already a very accomplished player. But I do remember beating him at AC once in Pietermaritzburg. His father was kind enough whenever I met him to encourage me by reminding me of that day. Reg has always been one of the inspirations for me to improve my croquet.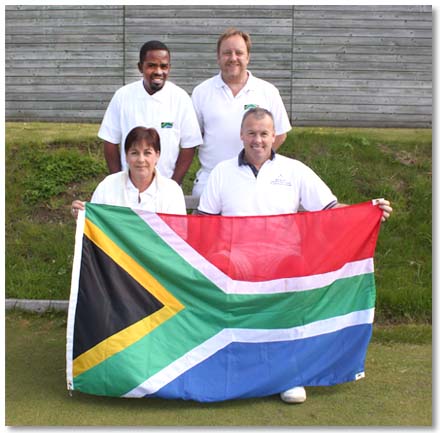 The 2014 South Africa team in Dublin included Reg Bamford (currently open Golf Croquet world champion) holding the South African flag with Judith. Reg, who has known her for 30 years, commented after Judith's victory, " She combines a friendly exterior with an inner steel. She has a great fighting spirit, and can play inspired croquet."
TIM: So, you have been playing croquet for almost thirty years. Have you always played to the same extent over that period or have other commitments interfered with your availability to play?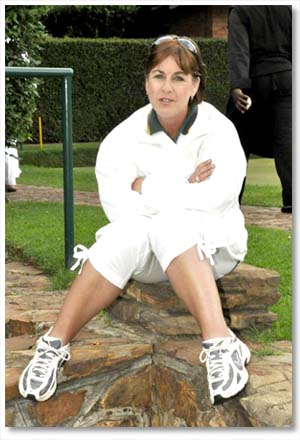 Judith relaxes on the corner of a court at the Johannesburg Country Club during the Golf Croquet world team event.

JUDITH: I have a son Daniel, who is now eight. When he was little, I perhaps played not quite so often but otherwise I would class myself as someone who has kept my eye in, so to speak. Living in South Africa does mean that I don't have access to the same number of top-level competitions available in some other countries, especially England.

TIM: Indeed. Checking the rankings databases, I see that Jenny Clarke has played 1734 games of Association Croquet and 309 games of Golf Croquet, while you have only 270 and 76 respectively. Even Rachel Rowe [2011 champion, from England] had played 131 games of Golf Croquet before the start of the 2011 Women's GC World Championship. How prepared did you feel before arriving in Cairo this week?

JUDITH: I'm sure I benefited from playing in the open Golf Croquet World Championship last year here in Cairo. The courts are not especially unusual but the Egyptian hoops demand a lot of respect. I also confronted local players on that occasion. They're wonderful people but tough opposition, especially when the crowd is behind them. The atmosphere can be amazing, but having got used to potential distractions like the call to prayer, I actually find a sense of calm amidst the general excitement. My Pidcock mallet was not always ideal because the sheen of the carbon fibres sometimes seems to cause confusing reflections under the floodlights when I'm casting. With respect to my standard of play, I was coming from the off-season in South Africa and have mainly only been able to practice on my own. I concentrated on Association Croquet for many years. I played in the Association Croquet World Championship in England in 2005. But then I was selected for the South African team in the Golf Croquet World Team Championship in Johannesburg in 2012. In a singles match, I played Sherif Abdewahab, who is originally from Egypt but was representing the USA. His style of play suddenly made realise that Golf Croquet had a challenge I had not previously appreciated.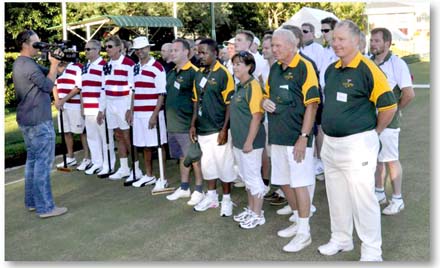 Judith is third from the right in this photo of all the participants in the Golf Croquet world team event at Johannesburg Country Club last year. She was the sole female not just on her team, but in the entire event.
TIM:: You were the only woman to play in that event. And you also partnered Reg Bamford in some of the doubles matches. How was that experience for you?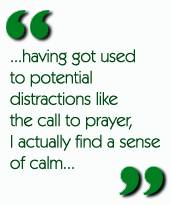 JUDITH:: Reg is such a precise player, very different to the way I felt about my own play. He would ask me to play certain shots. I would like to think I didn't let him down very often, but I didn't always immediately understand the reason for his choices. The camaraderie among the players was also extremely special and this helped me to realise that I wanted to try more Golf Croquet in addition to my Association Croquet.

TIM: I was the manager of that event and I remember you playing some great shots, including some brave and effective jump shots. I saw some definite signs that you knew you could improve further. This week was the first opportunity since then for you to play in a Women's Golf Croquet World Championship. Was it inevitable that you would compete for your first time?

Women's World Champions
of Golf Croquet

2005 - Hahed Hassan (EGY)
2007 - Iman El Faransawi (EGY)
2009 - Alix Verge (AUS)
2011 - Rachel Rowe (ENG)
2014 - Judith Hanekom (ZAF)


JUDITH: I enjoyed my previous visit to Cairo so much that I had absolutely no hesitation to accept my place from the South African Croquet Association. I began my preparations as soon as I knew I would be competing. I was optimistic that I would live up to my seeding of being in the top 16. But then disaster almost struck. I arrived at the airport in Cape Town to discover that I had failed to obtain the necessary visa to enter Egypt. Since the Championship last year, Egypt and South Africa seem to have fallen out over these matters and I had not been warned. The President of the World Croquet Federation, Amir Ramsis, was a total hero. He used to play croquet with the Egyptian Ambassador to South Africa. A quick telephone call cut through all the potential red tape and the only challenge was for me to re-arrange flights and travel to Pretoria to get my passport endorsed. I was very lucky and was able to arrive in Cairo only 24 hours later than planned.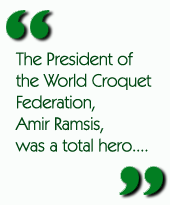 TIM: I have heard stories of players in the past who are not using their own mallet when they go on to win tournaments. Perhaps the feeling at the check-in counter must have been worse than anything you felt at any stage while you were playing this week. But how did things go once you started to play?
JUDITH: It definitely took me a while to settle in. My play during the block stage was certainly not an ideal start. I scraped through with a single win in fourth place and was one game away from not even qualifying. I have not said this to anyone until now, but after the block stage I took a step back. Amir had mentioned to me that I was dropping my knees as I played my shots. I consciously avoided this in the second half of the Championship, except for when needing to put extra power in the shot. I also had a re-think on the basis of watching other games, especially the Egyptian players. Marwa Moustafa, in particular, made me realise that approaches must consistently be to a position from which running the hoop is possible. She also manages to achieve a wired situation as the result of many of her clearances.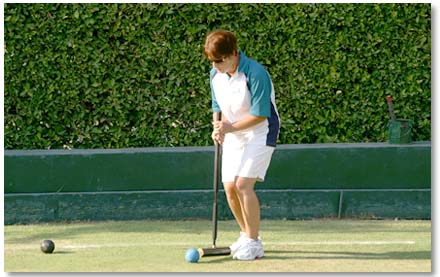 Judith uses a standard grip for most shots, but no longer bends her knees noticeably as she is doing in the photo from the Cairo championship in 2013-- except when extra force is needed. She stopped doing that in November 2014 at the Cairo, upon the advice of WCF president Amir Ramsis!
TIM:: You've already told me that your first Golf Croquet experience was to shoot on sight. I saw you playing on the first two days of this Championship and felt you were too aggressive. How do you feel this aspect of your game evolved during the week?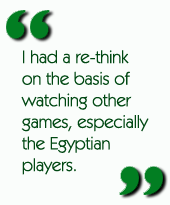 JUDITH: By not thinking about the best results for my approach shots and the subsequent position of the balls after the opponent plays a clearance, I feel that I was often having to chase the situation and use my big shots too early and too frequently. Not every player has such shots, and they are not a guarantee of success in the game. Lawn conditions play a major part in determining how confident one is when shooting at distance. As my results began to get better, I felt much more relaxed about clearing from greater range, and by the final I was achieving a level of success that far exceeded those first two days. I still can't quite believe I beat four Egyptian players in a row to reach the final. I'm full of admiration for their tactical awareness and clean ball striking. They are such sweet people though, and I'm going home having so many new friends, too.
TIM: One of the key features of the final was ten hoops where the opponent peeled the ball through. Some were failed jump shots, but four were definitely unlucky in terms of the ball not having been directly in the jaws. What went through your mind as these swings in fortune took place?
JUDITH: [laughs] I'm not quite sure you'll be able to print that! You know what you feel like when you peel an opponent through. But at the same time one has to forget what has happened because one cannot undo what has been done. If one lets those things hang around in the mind then these can affect the next two hoops or more.
She played against England's Tobi Savage in the 2013 Golf Croquet World Championship in Cairo--the event that made her South African countryman Reg Bamford the first ever "double champion" in both Golf Croquet and Association Croquet.
TIM:: So having fought your way through the final, South Africa now holds both the open and Women's GC World Championships. Is that just coincidence or is there something in the South African mentality that has contributed to this success?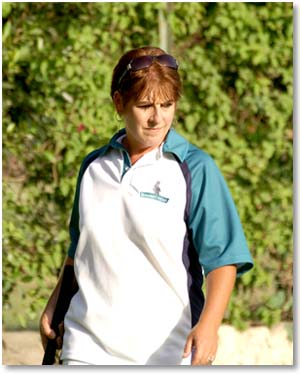 Judith is a study in concentration in the Cairo championship in 2013.

JUDITH: I don't believe this is coincidence. For me, the fundamental factors are sheer determination and belief in oneself. I was extremely grateful that Reg offered me words of encouragement by e-mail before both my semi-final and the final. In particular, when he wrote about the final, he included a simple, single-word sentence: "Believe." A good few times during the match, I reminded myself of that sentence. Beyond that, another key mantra for me has been "One shot at a time."; so simple to say and yet so difficult to execute. Jenny was a tough opponent, and she was very gracious in congratulating me as soon as I had hit the winning shot. Her husband Chris Clarke gave me a big hug too, despite the disappointment of having to sit and watch with no opportunity to influence the result.

TIM: Since winning the 2011 Championship, Rachel Rowe has gone on to further success, including becoming the first female player to win the European Golf Croquet Championship. What ambitions do you now hold for your croquet career?

JUDITH: My dream match would definitely be to play Reg in the final of the open Golf Croquet World Championship. But perhaps that is rather large for a first step. I really need to let what has happened sink in, returning home to see my family who have been so wonderfully supportive of my love for the game. I'm sure there are many players back in South Africa who will now be determined to beat me, so in the first instance I'll have to live up to my new-found status. On a final note, there are many people I need to thank for their encouragement and good wishes. They're too numerous to list, but they know who are; big hugs from South Africa!

TIM: Thank you, Judith, for sharing your story with me. I'm sure there will be many players in the croquet community who will be delighted and inspired by your success. Well played, and we wish you well in all your future adventures in croquet.

ABOUT THE INTERVIEWER: Dr. Tim King is the recently elected Chairman of the Council of the Croquet Association, leading development of policy for the governing body in England. He was in Cairo to serve as Tournament Director of the Championship, having previously managed the open Golf Croquet World Championship in London in 2011 and the inaugural Golf Croquet World Team Championship in Johannesburg in 2012. He plays both Association Croquet and Golf Croquet, having been a member of the English Croquet Association since 2004.
---