You will find
the ultimate croquet cake
somewhere below

by Bob Alman photos courtesy of Carla Rueck
Posted April 18, 2014


---

When Carla showed me a few pictures of her sister's croquet cakes in February on the veranda of the National Croquet Center, I said immediately, "Let's do an Easter story," imagining that it would be simple. Now, I have to confess, I can't control this story. Usually I have a brief profile of the writer or major subject at the end of the story, but this time, that didn't work: Every question I asked Carla elicited an answer I found irresistibly compelling. So the second half of this distinctly bloggish story is mostly about the thoroughly croquet life of Carla Rueck. The first half, however, is still mostly about expertly decorated cakes. When a croquet event is celebrated with one of these creations, you can both have your cake (documented here in pictures) and eat it, too.

---
Carla's sister Ginny Luongo is a golfer who lives year-round at Palm Beach Gardens. Carla gives her sister a lot of well-deserved business in cake-making, because Carla herself is a member of four croquet clubs and into almost every aspect of croquet, working on committees and tasks for the Croquet Foundation of America (Hall of Fame Committee), the USCA (as secretary of the Management Committee) and the National Croquet Club (the Golf Croquet Ladder), not to mention competing in as many as 21 invitational tournaments a year.
But that's the second half of the story. For the first half, let's set the scene by visiting Carla's kitchen table, with a spread that celebrates the birthday of Carla's husband Bill.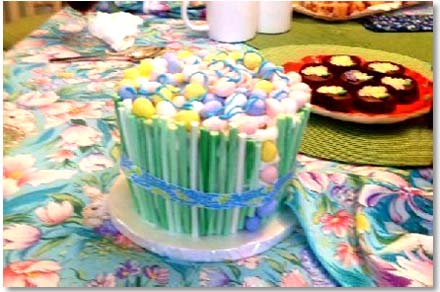 This birthday cake is an Easter basket in an eight-inch two-layer barrel cake design--a dark chocolate cake with a vanilla butter cream filling, iced in vanilla butter cream, with sides decorated with homemade fondant straws, manufactured with a clay gun. The top was decorated with vanilla butter cream and covered with Cadbury mini chocolate eggs and handmade fondant roses.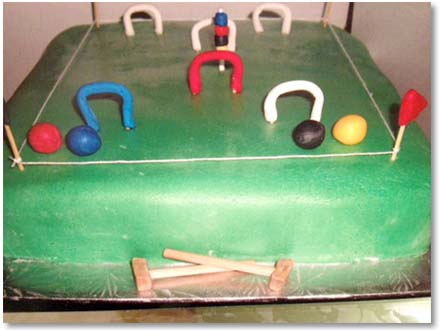 This croquet court is actually a chocolate cake covered in fondant. Wickets, balls, flags and mallets are made of chocolate. The inedible corner pegs and string are for presentation only, and can be quickly removed.
| | |
| --- | --- |
| | It's a real wooden box, sitting on top of a chocolate cake made for the 2013 Peyton Ballenger invitational tournament, but everything else--including the chocolate clips and the balls inside the box-- is edible. |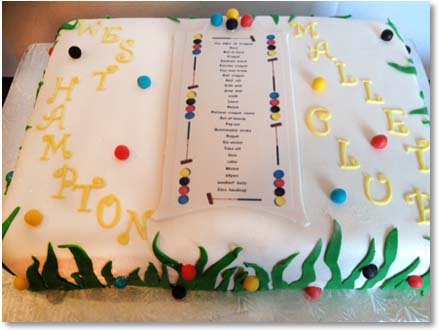 This wholly edible cake, made for the 2012 Westhampton Mallet Club Invitational Tournament on Long Island, is actually two cakes side by side, one chocolate and other white but covered in identical fondant. (Yes, the ABC of Croquet is an edible image.) This cake, measuring 12 x 18 inches and five inches high, would serve between 75 and 100 celebrants. According to Carla, Ginny's cakes stay fresh for several days or if there are any leftovers they can be frozen. Ginny made a similar cake for the buffet dinner at the 2014 Peyton Ballenger tournament. The leftovers were devoured courtside at lunch the next day.
Here's Carla's sister Jinny, putting finishing touches on one of her cakes. Jinny and her family recently became year-rounders at PGA in Palm Beach Gardens.
| | |
| --- | --- |
| | The Flamingo/Snowbirds cake celebrated an event organized in February 2012 at the National Croquet Club to raise money--$4,000 to be precise--for lighting a few of the courts with a relatively low-cost system. The first trial didn't work, and the installer is preparing a second experiment. |
This masterpiece of realism was crafted of brownie cake in the guise of an American Rules deadness board for the 2012 Peyton Ballenger tournament, an annual invitational of the croquet club at PGA National in Palm Beach Gardens, Florida.
This four-cake collection embraces croquet, Easter bonnets, and spring blossoms and celebrates the birthday of Robin Sweet, known for the festive hats she wears on and off the croquet court. These four birthday cake hats all reflect Robin's interests and hobbies. Left to right is a flower hat, a Lilly Pulitzer hat, a cat hat and a croquet hat.
The second half of this story is titled,
"Carla Rueck was actually not a flower child"
But she was a huge rock and roll fan, and can prove with the picture below, taken from the movie, that she was actually there, in the flesh (though never naked!) at the legendary Woodstock festival in 1969. Carla Rueck is shown below as the most normal looking figure in the group, wandering the Friday morning crowds.
Carla recalls, "We decided to go to Woodstock because the previous summer we had gone to the Newport folk festival where we first heard Janis Joplin and the Big Brothers HoldIng company. My sister Jo and I drove to the Woodstock concert with four other friends in two cars, her 1965 Mustang and my 1968 Karman Ghia convertible.
"We left New York City on Thursday night and arrived in the concert area midday on Friday and were able to park in a farmer's field for $10. (Look for the scenes about eight minutes into the movie.) We hung out at the field all day and went swimming in the lake with our clothes on. I spent most of the day searching for my future husband Bill, who I just started dating. Bill was leaving from Westchester, with two friends. The three of them were driving up in a 1963 Corvette--yes, three guys in one corvette, which we still own. But with all the heavy traffic, we later found out, they never made it off the New York State Throughway.
"Late on Friday afternoon we were upset to hear that it was a free concert, because we had actually purchased tickets for the three-day event, at $19 each, which was a lot of money for a teacher in 1969. The only spot where we could find a place for our blankets was near the helicopter landing area, so we missed some of the music.
"By early evening the concessions had already run out of food. Our group was probably the only one not to do drugs at the concert because DRUGS were everywhere. People had huge boxes of pot and were giving it away. The police had decided not to arrest anyone for smoking pot. The air was thick with it.
"There were constant announcements not to take the blue pills or for people to pick up their friends at the medical tents. People were giving away food and drinks, but we were afraid to drink or eat anything that we hadn't brought with us. By Friday night there were many people wandering around naked and dazed. I was 23 that summer and my sister was 28. We felt older than most of the other people at the concert. We stayed through most of the evening until the rains came.
"At that point we went back to our cars and slept in them. The next morning we awoke wet and very hungry, having finished our food supplies the previous evening. By midday Saturday we were ready to head home, so we approached a police officer to let him know we wanted to leave, and he arranged for the roads to be cleared for us and arranged for us a police escort to the nearest Throughway exit. Amidst the bedlam of the over-crowding, the police where more then willing to help out anyone that wanted to leave.
"It was an interesting experience. I'm glad I went, but like many other people, I didn't get what I expected," Carla says. We're glad she went, too, so we could pass on one croquet player's version of "I was at Woodstock."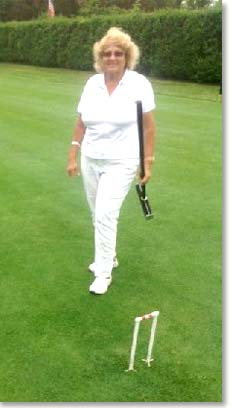 Carla on the lawn of one her favorite croquet clubs: Westhampton.
In 2014, Carla is a snowbird who lives in Merrick, New York in the summer (on the south shore of Long Island) and Palm Beach Gardens in the winter. She came late to croquet, but once she got started in 2007, she quickly made the game, her four clubs, and the tournament circuit the center of her life. She brings into her orbit as many friends and family as possible--including one who makes cakes.
Carla has recently been asked to be secretary of the USCA management Committee Meetings. So as a member of the CFA's Hall of Fame Committee, she plays a part in both the American national organizations, as well as the National Croquet Club and three other clubs.
The first club was PGA, where she was introduced to croquet in the winter of 2007: "From the first time I picked up a mallet, I knew that croquet would be something I would love. That year I was a social guest at the Peyton Ballenger tournament, where I met Doug Moore from the New York Croquet Club, who talked me into entering my first tournament, the Clayton Cup in Manhattan's Central Park. I had played croquet only nine times before that tournament. I was awful but had wonderful partners, to whom I have since apologized.
"Because of a medical problem, I was not able to play croquet again until the spring of 2008, when I began playing in multiple tournaments. Each year I play in about 18 sanctioned tournaments, five unsanctioned tournaments and direct about five additional (unsanctioned) club tournaments. I've already played in eight tournaments in 2014 and have signed up for another five between April and June.
"After the usual five-day tournament, I just veg out and relax for a couple of days. I recently made a new rule for myself: No more than two weeks in a row. Three consecutive tournaments is too much!"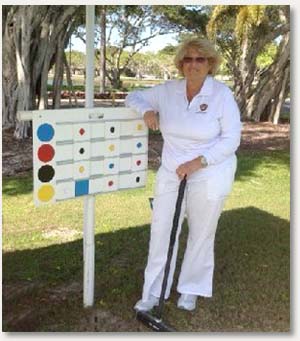 Carla actually looks for opportunities for games with much stronger players--without bisques! Her caption for this picture is, "Action photo of me in a game against a minus 1 1/2 handicap player."
Carla'a four clubs are: Croquet at PGA National, New York Croquet Club, The Westhampton Mallet Club, and the National Croquet Club. Carla reports, "At PGA National I have had various board positions including Outside Clinic Chairperson, both recording and corresponding secretary, and intra-club tournament chair/director; and I'm an active member of the Peyton Ballenger Committee.
"I'm social co-chair of the New York Croquet Club, helping to organize the food for the Clayton and Osborn Cup and running events such as Fun Nights in the Park. I am inter/intra club tournament chair at the Westhampton Mallet Club, where I direct mini tournaments each month of the croquet season, including a sanctioned Club Championship which I direct and play in each August. I am also in charge of the club ladder, which has had two successful seasons.
"I have just begun to become involved in the organization of the National Croquet Center. This season I was tournament manager of the Snowbirds vs Flamingo tournament, which raised $8000 for the Center, and have re-introduced ladder play for Golf Croquet at the club. I have been on the Hall of Fame Committee for the past two years and am on the 2014 Hall of Fame Committee."
And those are all "official" posts, which hardly begins to describe the breadth of Carla's commitment: "For the past few years I have organized $100 50/50 raffles at the NCC Club teams event, bringing in a profit of between $5000 and $10000 each year for NCC and the CFA. Sadly, Florida Law now prohibits charitable organizations from conducting raffles so I no longer have that job--but then again the other players did not hide from me this year." (If this were the blog it increasingly appears to be, a winking emoticon would be inserted here.)
"Now that I've retired from teaching the primary grades in Port Washington, New York, my husband and I are true snowbirds, spending half the year here in Palm Beach Gardens and the rest of the year on Long Island. I am truly addicted to the sport. When we're in Florida I can be found on the courts at least five or six days a week. (I do need a day to do my white laundry.)
"In New York, I have to travel an hour to the Westhampton courts and an hour and a half to the courts in New York City, so during the summer I only play three or four days a week. My husband is a golfer, but this winter I've gotten him to take up golf croquet and he has even won a tournament."
What about supporting the croquet pros? "I have taken lessons from almost every croquet pro, and my handicap is now a nine. Now that my handicap is a single digit I have to relearn the game. When you move from third and fourth flight to second and sometimes first flight you are playing a vastly different game. I am working on mastering the art of break play. Last season I took a first in third flight in the Stueber and this year I took a second in second flight in the same tournament. I was very proud of my game.
"I've had some wonderful experiences. For the past several years I have mentored the New Paltz College Croquet team, who have won the US Collegiate Championship several times. I did not help them with their play, I just found housing for them and encouraged clubs to give the students lower rates on tournament fees."
If Carla could be cloned, the USCA would be rich, and there wouldn't be enough courts to handle the demand--and the USCA recognizes that. She was profiled in a recent issue of the official magazine. "I was joking all season that I really wanted to be Miss April in Playboy, but instead I was Mrs. November 2013 in the Croquet News."
---