In April it was usually rainy. Often it was cold, too. Signs of spring were the green blur of new leaves on early budding trees, and the yellow flare of daffodils. Towards the end of the month there was a softness in the air, and walking home from school, even in the rain, was pleasant. There was a smell of wet sidewalks, mud, and flowers.
By May, I began to feel that spring was imminent. In Oregon, it isn't always spring in May, but we hope, even if lilac blooms are turning brown in the rain. There are always at least a few good days, and sometimes a lot of them. May is the month of the first lawn mowing of the year, tulips splaying open in hot sun then being pounded by the rain, of anticipation of June.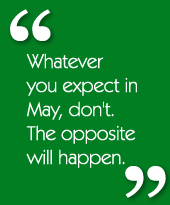 May is a month of frustration: It's May and it has rained every day so far! It's May, but the frost got the cherry blossoms last night! It's May, but those hot days burned by transplanted seedlings!
Whatever you expect in May, don't. The opposite will happen.
I know this now. May was just more or less an extension of April; somewhat warmer, somewhat drier. It was a long, long haul until June, which was really spring. School was out in June. This made it about a two-week month. But still a long month, edged into by the best of May.
Coats came off, cotton clothes went on. There was always expectation in the air. Gym class moved outside. We played field hockey, baseball. School days became extremely long, and yet we girls dallied all the way home from class. We stopped at each other's houses on the way, the group getting smaller as we went along, carrying our books and sweaters. I lived the farthest and rarely got home before 5:00. I could have taken the bus, but rapid transit held no appeal.
This was the time of the year for painting, spring cleaning; lightening up. After months of apathy I scrubbed my room as if I were cleaning an aquarium, and I rearranged my furniture. Extra blankets disappeared from the beds, flannel pajamas replaced with seersucker.
Daylight Savings Time further lengthened the lengthening days and stretched evenings into reluctant bedtimes. During grade school, this was a time of planning and anticipation for the school picnic; later this dance or that focused the same attention. School days became interminable, windows open wide to the drone of a lawnmower and the overpowering scent of cut grass.
So the school year lollygagged to an end. There is no grown-up equivalent to that feeling of weightlessness brought on by the close of the school year and the accompanying forward view of a summer without end.
Those last couple of weeks in June were a time suspended. It was "only" June, so summer had not even begun! School was out, and summer hadn't even begun! What a richness of time!
By now, the weather had stabilized to sunny and fairly warm. It was time to start toughening my feet for the long summer of shoelessness. Grass was easy, sidewalks a snap; the rocky driveway was the true measure. To hobble over to it in June, my soles soft and pink, was acceptable.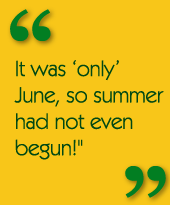 By August I was proud of being able to run barefoot on gravel. That was an achievement of the truly tough.
Those several weeks between school's out and the beginning of summer (to me, the 4th of July) were truly ones of rest. Nine o'clock was about the right time to get up in the morning. If my mother was home from work that morning, she was likely to be just getting up too; having coffee and toast in the living room, reading Time or working on the daily crossword puzzle.
After eating a bowl of cereal, I would mosey outside to take a look. My orange tomcat would follow me as I checked to see if there were still a few strawberries, if the sweet peas needed picking, whether the nasturtiums were up, and so forth.
After a while, I would flop face down on the grass, smelling the earth, observing the forest of foreshortened blades, waiting for a bug to walk by. The cat would curl up on my back and we would remain immobile until the morning sun got too hot, when we'd roll over and get up.
The family usually went on a picnic on the 4th of July. Childhood picnics were not the gourmet efforts we have now been taught to favor. No baguettes, pate, or cold sorrel soup then! Into the grocery box would go the iron frying pan; hamburger; hot dogs; buns for each; fixings of tomatoes, lettuce, butter, mayonnaise, mustard, potato chips; pop, beer and watermelon. Those were the staples.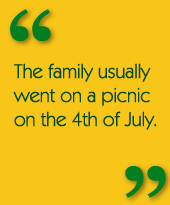 It took less than an hour to get to the picnic spot, deep in the forest. First thing to do was find a campsite. This was easy, since we were the first ones there. We always chose our favorite. Daddy would get the fire going while we kids put the pop, beer, and watermelon into the creek secured by rocks in a pool.
This was truly the woods, and there was lots to do. While the grown-ups sat around the fire chatting and reading the paper or playing cards, we kids had to:
(1) explore the woods on this side of the creek;
(2) explore the woods on the other side of the creek;
(3) wade as far as we could up the creek;
(4) wade as far as we could down the creek;
(5) find a swimming hole and swim;
(6) look for water skippers, frogs, tadpoles, crawdads;
(7) walk along the ditches of the logging road searching for salamanders;
(8) cut our personal wienie-roasting sticks.

When lunch was ready, so were we! These picnics ran fairly late, and grimy and exhausted, we'd return home to a bath and the possibility of watching fireworks. These could be seen from the back yard, or you could walk over to the site at the university stadium a few blocks away, and watch from a side street.
After the 4th of July, we crossed into real summer. Days got hotter, longer. I would ride my bike halfway across town to Sally's house, and then we'd walk over to the pool, where we'd dart and bob and dive and bake all day long, fortified only by a Big Hunk or Baby Ruth at the candy stand around 3:30.
Some days would be spent with books and snacks, ranging from peanut butter sandwiches to exotic fruit punches I concocted from the juice Mother was straining for jelly. There were lots of places to read: the hammock tied to the pear tree; up in the apple tree overlooking the alley; the front porch; my grandparents' front porch; the big chairs in the living room.
Other days Sally and I would go bike riding. I could go down the bumpiest potholed hill standing up, no hands, steering by shifting my weight. Or, we'd take turns roller skating down a neighbor's steep cement driveway, whizzing with high exhilaration into the street.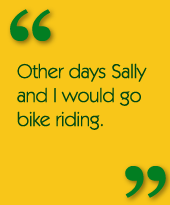 Many summer days were spent with my grandmother, who was always doing something. Whatever she was doing, I would go with her--watering her many flowers, tending the vegetable garden, entertaining or visiting her lady friends.
Further into summer there were always weekends at the beach, long days starting with rising early with low tide to explore tide pools and beachcomb, wade in the surf, take long walks up and down the beach.
Then there was the trip to town for groceries and souvenirs. It was my job to crack the crab, which I did on the front stoop of the motel cabin using a hammer and nutcracker brought from home. In the evening we played cards and watched the sun set. At night the ocean boomed us to sleep.
There were other vacations too, usually to visit relatives but always requiring piling into the back seat of the car ("kids in the back, people up front") and taking off on trips which, no matter what the destination, seemed endless. "How much farther?" began the litany an hour or so from home, and continued no matter what books, games, car games, or number of Burma Shave signs intervened.
Once we arrived at my cousins' house, each day stood alone, a large block of time. Then, each day had a color. Time didn't move. Everything about California was different, alien. However long or short our visit, it was complete. Only on the last day did I ever feel time, as it brought the trip to a close.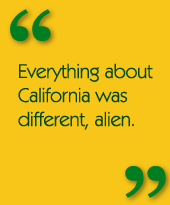 Back at home the summer became August. Always hot. Slow. I hadn't heard of dog days then, but that's what they were. I spent a lot of time lying in the hammock or perched in the apple tree. On days my mother worked I'd sit outside on the sidewalk as shadows from the trees crept across it. When they reached a certain point I began to watch for the car.
I lived hours at my grandmother's just hanging around. She allowed me, bored, to go through any drawer or cupboard in the house. I loved this exploration. Still, I was getting ready for the summer to be over. Once I asked my grandmother why time went by so slowly, and she told me that for her, time flew by. This was very strange. I had to believe my grandmother, but didn't understand.
Then came that first transition day in which there was a golden haze. Still hot, still August; but, at last fall is in the air! An isolated yellow leaf falls prematurely. Soon, shopping for school clothes, and summer is over.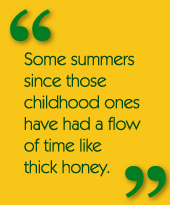 There have been a lot of summers since those childhood ones. Some have even had a flow of time like thick honey. But not recent ones. Recent summers defy description but are subject to simile: they are like being pulled through a knothole by a pickup truck.
Last year, I vowed to would not let my summer get out of control again. I would plan. I would schedule. I would know ahead of time what I was going to be doing. I would prepare. About April, armed with these good intentions, I brought home some blank calendar pages, a form called "Monthly Planning Schedule."
Decision: when does all this begin? When does summer actually start? O.K., let's see. There's the San Francisco Open in May, early May at that. The Arizona Open, February, has already happened, so at least summer doesn't start that early. But San Francisco. A long weekend in May. That's about all for May, except for the Oregon State University Experimental College "Beginning Croquet" class scheduled every Sunday in our backyard croquet court for nine weeks!
Ultimately, rainy weather and disinterest combined to stave off students. Two foreign students from Indonesia came only once. On an island in their country, they said, croquet was played by an aboriginal tribe wearing loincloths and headdresses--a remembrance, perhaps, of British colonials.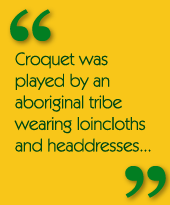 May was a rainy reprieve. I had begun to fill in June's blanks. Another flight to San Francisco. Croquet in Santa Rosa. Home again. Game after game of Golf Croquet as non-croquet friends come to dinner. Turf Seed company field day, an intriguing combination of agriculture and sports. Next, practice for the Western Regionals! The doubles partner, here for a week. Translation: croquet for a week. Dawn to dark croquet. Early to late croquet. Into July croquet.
In July, first, the Oregon Singles Tournament. Next, California croquet pals on their way north to the Regionals. Then a week in Seattle for the Regionals (preceded by a few days ironing). Through the Regionals, into August and home and croquet people returning south from Seattle. Continuing through August, a few weekends of non-croquet house guests, entertained and amazed by the continual activity on the croquet court.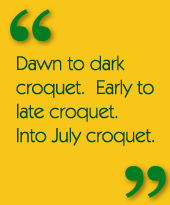 Finally, at the end of the month, our very own tournament! Again, dawn to dark croquet; dawn to get the court mowed and coffee going, dark when the matches are finally over. The tournament leads into September, croquet vibrating at its highest pitch: the Nationals!
Local players are at our court a lot. Doubles partner visits again. A croquet life. More ironing and then the Nationals, which last a week or so. We return home. Another September Oregon tournament is rained out. Am I glad? I am glad.
It is the end of September and I can't look backwards to a summer, but can look forward to a winter, and maybe there is a little of fall left to go. This past summer was five months long, but short.
Yes, right, it sure seems like summer went fast, but what was it like? From the vantage point of October summer was like an eighteen wheeler, brakes gone, speeding down a six percent mountain grade, and "Runaway Truck Must Not Use Rest Stop..." As in, after ironing and packing half the night, up in the morning at 4:30 a.m. to leave home at 5:30 a.m. to get to the airport by 7:00 a.m. to be there in time for our 8:30 a.m. flight which is delayed. To Wherever. Then the flight.
After the flight, the airport, the Rent-A-Car, the motel. No rest. There's a cocktail party. Shower. Dress. Go. Then, me woozy from drinks on an empty stomach, we're all going out to dinner. At 8:00. On my home schedule, this is about bedtime.
Next, driving. Sometimes getting lost. Restaurant food eaten too fast, trying to fill that empty stomach. Croquet talk. Croquet Talk. Then driving. Then "home" to the motel.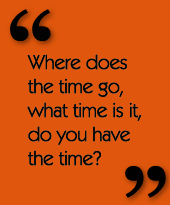 Sleep. Alarm rings. Bathe, dress, go. Is there time for breakfast? Need to get to the court early. Want to see so and so's game. Don't play till ll:00 but we should be there early.
Games begin. Games go on. And on. Time no longer exists. It has turned into croquet. Nothing but croquet. Croquet; and lunch. Lunch, the major milestone, the punctuation of croquet. Friends are there but they are also croquet. They ask and tell croquet. Croquet this. Croquet that, mostly.
Earlier, in tournaments I would read mystery novels. Now, I know people, and my spouse is playing at a championship level. To be immersed in detective schlock seems somehow inappropriate.
Then the games are over and it begins again: drinks--croquet talk--dinner--croquet talk--drinks; motel, sleep alarm clock, bathe, dress--go--sit--watch--watch--croquet talk--watch--stare--gaze--go; drinks, dinner, etc, etc., etc.,
Where does the time go, what time is it, do you have the time?
I used to.
Gail Arkley is the non-croquet-playing wife of Tremaine Arkley, the only American so far to be honored with a Lifetime Membership in the English Croquet Association. Tremaine and Gail have also been awarded lifetime memberships in the Scottish Croquet Association. Their marriage has lasted over 50 years. This article originally appeared in the second issue of CROQUET MAGAZINE in 1987, published by Hans Peterson and edited by Mike Orgill and Bob Alman, with Gail and Tremaine Arkley on the masthead as Consulting Editors. Gail contributed an essay to each issue. Her next essay in this series, "Building the Croquet Court" will appear later this year.
---