Newest artificial turf
in New Zealand


by Chris Clarke, photos courtesy of Chris and Jenny Clarke

---

Chris Clarke emigrated to New Zealand to live with his wife, Dr. Jenny Clarke, at least a decade ago, and has become the most influential voice of the sport in Christchurch and New Zealand . The pair are strong advocates of the Atkins Quadway hoops, adjustable in the ground with firm settings, and much used throughout New Zealand. Chris, a many-times world champion and top-ranked player in both Association Croquet and Golf Croquet, was briefly Secretary-General of the World Croquet Federation. Though only in his late forties, he competes these days only in doubles, frequently as partner to his wife Jenny, the highest rated woman player in the world. This article was first posted on the Nottingham Board and is presented here as an article with photos supplied by the Clarkes.

---
There have been a few posts over the last few years about artificial lawns, so I thought that I would write to say that Jenny and myself played on the best artificial lawn I have ever seen yesterday.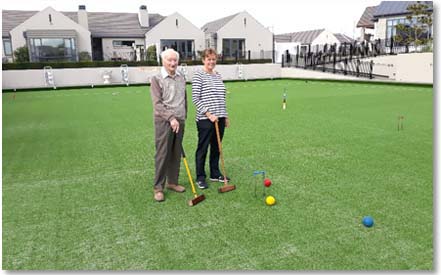 Jenny Clarke with Geoffrey Naylor, the resident of this Christchurch retirement community responsible for getting a first-class playing surface installed on the site.
The lawn is situated at Russley Village, an up-market retirement village in Christchurch. The lawn is 5/7 size and is also used for bowls and crazy golf. We estimate that it ran at about 10 seconds, but was likely to increase in pace as the sand settled into the fibres. It is also possible to increase lawn speed by rolling.
The hoops were Atkins placed in concrete blocks with plastic sleeves. They were set at 3 3/4" and presented an adequate challenge to run for Jenny and myself, without being too difficult. I would recommend hoops at between 3 7/8" and 4" for normal club play.
The turf has an underlay beneath it especially for croquet and this gives a pleasant feel both for walking on and for croquet strokes. We were both able to play jump shots without difficulty.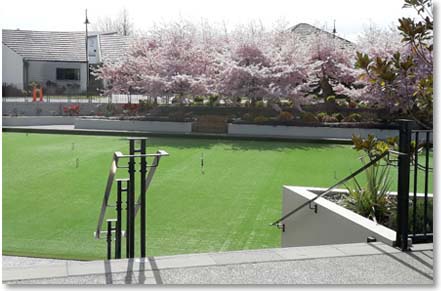 The multi-purpose lawn is ideally located, in full view of the restaurant and bar.
The setting was absolutely delightful. The lawn was "sunken"--a bit like Sonoma--and we were fortunate that it is cherry blossom time, so the surroundings were idyllic.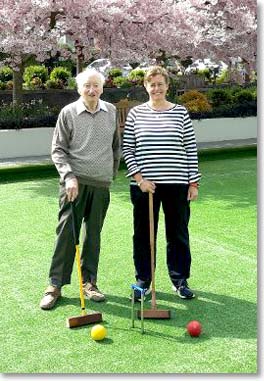 The lawn's location affords a bit of shade and glorious cherry blossoms in the spring. Let's hope Jenny gives Geoffrey enough bisques to compete in their game.

The lawn has been provided thanks to the work of Geoffrey Naylor, who has been a resident at Russley Village for three years. The company responsible is called "Tiger Turf" and they have used their bowls turf (called "Supergreen") but have also included a 4mm underlay specifically for croquet.

From a maintenance perspective, it requires "brushing" at least quarterly and the application of an anti-bacterial spray and/or algaecide. The lawn has a 7-year guarantee and an expected lifetime of 25 years. Only time will tell whether or not there is excessive wear in the hoops that would mean that new patches of lawn would be required to avoid rabbit runs.

The lawn was extremely flat and even paced. It occupies a central location at the Village, visible from the restaurant and bar, and will hopefully become the standard by which artificial croquet lawns are judged.

More detailed information on both Artificial Courts and the Adkins Quadway Hoop can be found in Croquet World's reader Forum, from 2013 and 2014. If you access the sport's technical site, Oxford Croquet, and search for "artificial courts," a wealth of information appears in many articles from numerous sources.
---