Golf Croquet development strategy still working
in the Carolina Mountains


by Jason Macaulay
photos by Lynn Delgado
Posted June 22, 2014


---

When former USCA president Gene Young resigned earlier than I expected a couple of years ago to make room for Johnny Mitchell, he didn't do it from boredom. He told me he wanted to concentrate on what he considered the most promising way to develop the sport of croquet: promoting Golf Croquet for summertime residents in resort communities, in his native North Carolina. Among the General Managers recruited was Jason Macaulay, who agreed to pen this 2014 "update" for Croquet World Online. Everything except one element of the development program is working just fine: how to encourage all the new croquet players regularly playing Golf Croquet on country club lawns to renew their USCA memberships. But while this is being addressed by the USCA Management Committee, the raw numbers of croquet players at these facilities continue to increase. So if it doesn't work ideally at this point for the USCA, it absolutely works for country club management, as shown briefly in the Power Point Presentation that follows below.

---
Our club, Highlands Falls Country Club, in the far western mountains of North Carolina, is still riding the crest of the wave where croquet is concerned. We are now in our third season of croquet after building two lawns in 2011, funded entirely by private donations from "founding" club members. Each year the program has added new players and the overall program has expanded.
Our area of North Carolina has seen a boom in croquet over the past five years, with every major country club in our area adding at least one lawn. We now interact with all of these clubs via Inter Club croquet matches. Our first year we had three of these matches, and this year we have scheduled nine matches.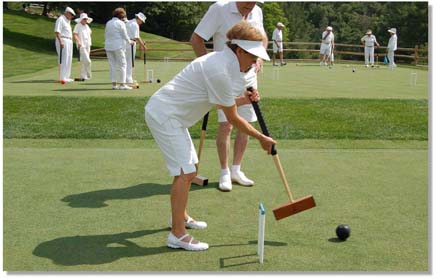 This photo shows three separate arenas of action.
The expansion of these scheduled matches gives an opportunity for more people to be involved and for a healthy social activity between the participating clubs.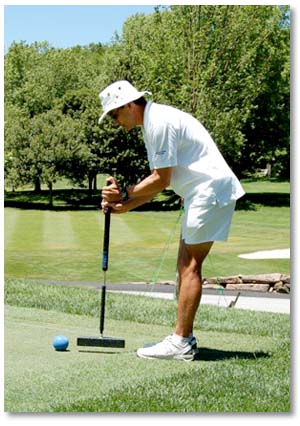 Croquet pro Jeff Soo was a key figure in the early development. Here he's shooting from the corner.

For our club, as with most clubs in our area, we are primarily playing golf croquet. The game is easy to learn and one can become confident in their ability in a relatively short span of time. All of the inter club matches are golf croquet at this point. We do have a small number of members who have shown interest in other games such as six wicket or American Rules, but so far that is a minority as social/golf croquet seems to have taken the lead.

The benefits to a club for adding croquet are numerous, which I have discovered, much to my delight. A few are as follows:
Retention of country club members who could no longer play golf or tennis
Increased sales of clothing and equipment in our Pro Shop
Increased participation in dining events after our social croquet outings
Increase dining usage after inter club matches
A great equalizer for men and women as they are almost instantly equal in skill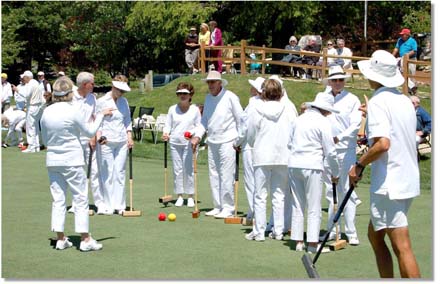 Aileen Soo helped Jeff a great deal in this as in other of his croquet activities. Here, she's pointing into the chaos on the left, and he's pointing into similar chaos on the right.
General Managers presenting Golf Croquet in a "tour" of the Carolinas
In my view, there have been no negatives associated with the addition of croquet to our club. As a matter of fact, another manager and I will soon be heading out to other clubs around the Carolinas to give them a presentation on the value of croquet to a country club. This presentation will include a demonstration of croquet for the uninitiated, which we feel will let them discover how much fun it is to play this style of croquet.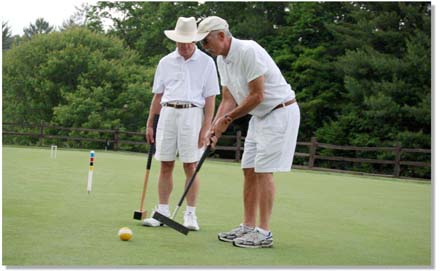 Former USCA president Gene Young was a key element of this development.
Gene Young, former President of the USCA, has had many discussions with me about growing the game of croquet. His advice has been consistent and clear..."let them come out and have fun and enjoy the game. For those who want serious competition, they will find their own way to evolve their game. Initially, we just need to expose people to croquet and make sure they have a great time."
I think Gene is correct as it certainly has worked well for us. Are you considering adding croquet at your country club? Contact me or anyone at the USCA to see how you can make it work.
ABOUT THE AUTHOR:
Jason Macaulay is the General Manager of the Highland Falls Country Club, in Highlands, North Carolina, a "boom" region for Golf Croquet as a development strategy for the sport, and a strong advocate for the game. Jason's email address is jmacaulay@clubhfcc.com, and his phone number is 828-526-4118.
---