INTERNATIONAL NEWSLINE UPDATE
---
KUSHIDA AND HASAGAWA
LAST-MINUTE VICTORS IN JAPAN
OPEN DOUBLES NATIONAL CHAMPIONSHIP
by Pierre G. Dunn, CROQUET WORLD Far East Correspondent
photos by Toro Takano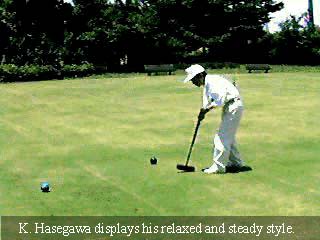 Four points down at 6-10, K. Hasegawa hit a 12-yard roquet to take the innings with five minutes to play in the two-hour-limit final game of Japan's 13th Open Doubles Tournament.
In his usual methodical and patient style, Hasegawa worked his ball around the court from the second hoop through the sixth. He enjoyed a little luck: missing a roquet at two yards, he touched a second ball 14 yards away to keep his break alive; and getting an imperfect cut on a rush, he sent the roqueted ball not into the jaws of number 4, but cleanly through them to roll to a stop a yard from the next target. Hasagawa's break ended when a long, angled jump shot at one-back failed, but not before the "last-ball" signal had sounded.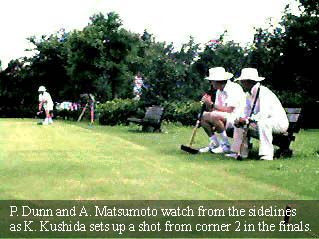 Defending champions A. Matsumoto and P. Dunn had played in first, so were not allowed an answering turn, losing 10-11 to Hasegawa and his partner, K. Kushida.
Six teams entered the tournament, held July 6 and 7 on two regulation courts,located in Showa Memorial Park in Tachikawa, a suburb of Tokyo. The teams were divided into two blocks for the first day's play, with the winners of each block facing the runners-up from the other in the second day's semifinals. The semifinal winners then played for the championship and the losers for third place. Directors of the tournament were T. Nozaki, 1995 Japan Singles Champion, and N. Oda.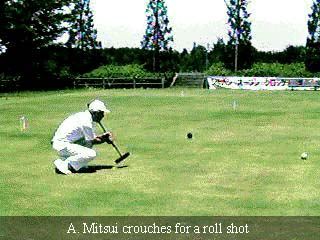 Players continue to improve in Japan's young Croquet Association, partly as a result of increasing international contact. As a member of the World Croquet Federation, Japan sends its champions to the World Championships, and they return to Japan stronger and eager to pass on newfound skills and strategies. Japan has also sent visiting teams to Australia, New Zealand, and in 1995, to a newly re-opened South Africa. The South Africans plan to pay a return visit in October, 1996, with a test match on the schedule.
Japan has also invited several top international players to give clinics and exhibitions. Recent visitors include England's Steven Mulliner (who won the 1989 Japan Singles title during his time in Japan), Bernard Neal, world champion Robert Fulford and Debbie Cornelius; America's Tremaine Arkley; and Australia's Blaise Northey and Kevin Brereton.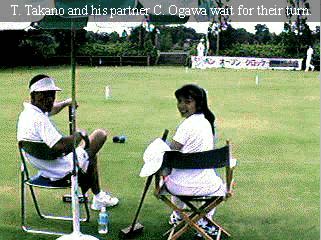 This year's Open Singles Tournament will be held in two stages, with preliminary matches scheduled for the 21st, 22nd, 28th, and 29th of September and the final competition on November 2nd and 3rd.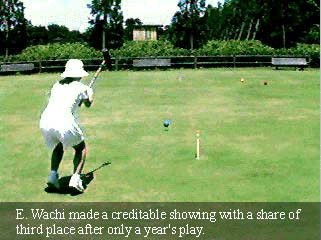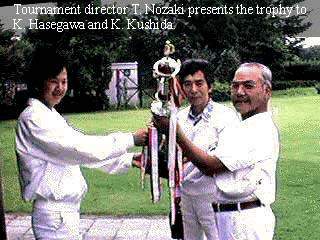 ---
Those interested in reading more about Japanese croquet events (in Japanese!) can check out T. Nozaki's home page, now under construction but anticipated to be fully operational by mid-August, at http://www.uitec.ac.jp:8080/~tnozaki.]
---
OXFORD THRASHES CAMBRIDGE IN VARSITY ANNUAL
The 1996 croquet varsity match resulted in one of the closer 9-0 defeats of recent years.
Cambridge did not get off to the best start when Geoff Bache arrived at 7:30 with his right arm in a sling; he completed the day's play despite exhausting his daily ration of painkillers by 2 p.m.
Hurlingham's lawns were just about as perfect as ever, but were quite easy due to the recent rain. Oxford dominated the morning singles, winning all six, with only one of the defeats in single figures.
FISH AND CHIPS AT EIGHT BELLS
Things stared to get better for Cambridge around lunchtime, when we retired to the Eight Bells for a pint of directors and the second largest fish and chips I have ever seen.
CAMBRIDGE ALMOST BAGS ONE
On returning to the lawns, none of the games were complete wipeouts, but despite the scorelines, we never quite looked like winning any of them, partly due to Phil Rees's amazing ability to hit 30-yard roquets at the most annoying moments possible, i.e. when I'd pegged one of his balls out and my partner was laid up behind rover needing one hoop to win. The last game was wrapped up half an hour later, for a match result of 9-0 to Oxford.
CROQUET CONTACTS FOR OXFORD AND CAMBRIDGE
For anyone coming up to Oxford or Cambridge next year, E-mail contacts for the two clubs are:
Cambridge: Chris Dent (Peterhouse) cjd21@hermes.cam.ac.uk
Oxford: Ian Plummer (Balliol) ian.plummer@balliol.ox.ac.uk
--reported by Chris Dent (a fairly unbiased Cambridge player),
edited from the Nottingham Board
---
U.S. PANEL OF FEDERAL JUDGES STRIKES DOWN LAW REGULATING DECENCY ON THE INTERNET
A three-judge panel of Federal judges in Philadelphia has unanimously declared unconstitutional major parts of a new law intended to regulate "indecent" material on the Internet, effectively blocking the law's enforcement. The U.S. Department of Justice is expected to appeal the decision to the Supreme Court.
The judges called Federal government attempts to regulate content on the Internet a "profoundly repugnant" affront to the First Amendment's guarantee of free speech and granted a temporary restraining order that prohibits the Justice Department from enforcing or even investigating violations of the Communciations Decency Act's ban on indecent and "patently offensive" speech on the Internet.
---

"The Internet may fairly be regarded as a never-ending worldwide conversation....The Government may not interrupt that conversation....As the most participatory form of mass speech yet developed, the Internet deserves the highest protection from governmental intrusion."

--Judge Stewart Dalzell

---
The act established prison terms and fines of up to $250,000 "for anyone who knowingly uses an interactive computer service to send to a specific person under 18 years of age, or to display in a manner available to a person under 18, any comment, request, suggestion, proposal, image or other communication that is indecent."
In this presidential election year, politicians have shown themselves especially diligent in demonstrating to voters their determination to stand for "family values," which in the United States tends to mean puritanical standards regarding all aspects of human sexuality. When Congress passed overwhelmingly last February the Communications Decency Act, President Clinton lost no time in signing the bill, which civil libertarians and and Internet advocates alike loudly excoriated.
The court challenge to the Communications Decency Act was backed by 58 groups, including the American Civil Liberties Union and the Microsoft Corporation. The challenge maintained that the law, reflecting public fears about Internet pornography being available to children, was both sweeping and vague. The law went beyond proscribing "obscenity," which has been rather clearly defined in court decisions as appealing to "prurient interest" and containing "patently offensive" depictions of sexual conduct without any redeeming social, artistic, or scientific value.
This legislation went beyond legally defined "obscenity" to also ban material deemed to be "indecent," a standard which, in the opinion of judges, has not been adequately defined, and which might include novels and short stories, as well as street language and common parlance of ordinary citizens communicating in their accustomed way in the new and democratic medium of the Internet.
The Government argued that the Internet should be subject to more stringent regulation than print media, just as the other electronic media of television and radio have been held to a stricter standard.
The judges retorted that the Internet, if anything, should have even more protecion under the First Amendment than print media.
---

"Just as the strength of the Internet is chaos, so the strength of our liberty depends upon the chaos and cacophany of the unfettered speech the First Amendment protects."

--Judge Stewart Dalzell

---
The relevant language of the First Amendment to the United States Constitution (the first of ten points in the Bill of Rights enacted in 1791) declares that Congress shall "make no law abridging the freedom of speech" unless that law advances a "compelling government interest."
In the recent past, even a relatively conservative Supreme Court has ruled in favor of free speech. In the "dial-a-porn" case of 1989, the court unanimously ruled unconsitutional a court ban on phone messages that may be judged indecent by "community standards" but were not obscene by established judicial standards.
In their written opinions, the judges made it clear that it was parents' responsibility to monitor their children's behavior and regulate their access to materials of questionable value, and that electronic publishers could not be required to undertake this kind of screening. In that decision, the Supreme Court (except for one member, with the same makeup as today's Court) held that mandating that all telephone communcations be acceptable to the level of children was an unconstitutional restraint on freedom of speech.
The written opinion of Judge Dolores Sloviter on this point fairly drips with righteous indignation: "The Government makes what I view as an extraordinary argument in its brief. It argues that blocking technology needed for effective parental control is not yet widespread but that it 'will imminently be in place.'....It then states that if we uphold the C.D.A., it 'will likely unleash the creative genius of the Internet community to find a myriad of possible solutions.' I can imagine few arguments less likely to persuade a court to uphold a crimminal statute than one that depends on future technology to cabin the reach of the statute within constitutional bounds."
"The Government makes yet another argument that troubles me," Sloviter continues. It suggests that...we should, in effect, trust the Department of Justice to limit the C.D.A.'s application in a reasonable fashion that would avoid prosecution for placing on the Internet works of serious literary or artistic merit. That would require a broad trust indeed from a generation of judges not far removed from the attacks on James Joyce's 'Ulysses' as obscene...."
Although Germany recently became the first major power to enact legislation limiting free speech on the Internet, the German law, addressing the issue of Internet porm, has been widely condemned as poorly conceived and virtually unenforceable. Perhaps because the Internet began in the United States, which is still the driving force behind its develpment and expansion, the global Internet community looks to America for leadership in this sphere.
Internet publishers everywhere are celebrating a judicial decision which could, indeed, signal a new birth of freedom in what will be, in the 21st Century, the communications medium most broadly available to ordinary people everywhere.
When the legislation was enacted in February, hundreds if not thousands of Web screens went dark in protest. The issues surrounding passage of the Communications Decency Act have galvanized the Internet community as nothing else before or since. "Before this, the Internet had not been unifed in sentiment about anything," said Mike Godwin, counsel for the Electronic Frontier Foundation in Berkeley, California. "This is the first really large-scale effort to organize politically on the net. I think we've turned a corner."
Full text of the ruling and extensive analysis of its import are available on the Web in the CyberTimes section of the New York Times, at http://www.nytimes.com
--Bob Alman, edited from news reports of the day
---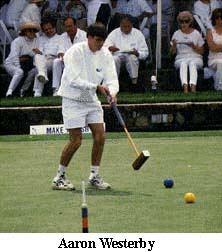 KIWI WESTERBY STORMS PAST
THREE AMERICANS TO WIN SONOMA
CUTRER WORLD CROQUET CHAMPIONSHIP;
OVER $400,000 RAISED FOR CHARITY
Three Americans advanced to the medalist round at the 1996 World Croquet Championship at Sonoma Cutrer, and in a rain-soaked tournament that tested every player's skill and patience, the Americans seemed to hold the upper hand. For the first time in eleven years an American victory seemed all but inevitable at the Windsor, California tournament. But New Zealander Aaron Westerby brushed them all aside and won the championship.

THIRD AMERICAN TURNED AWAY
For partisan Americans who had followed the tournament all week it was a bitter result. In eleven years of trying Americans had come close twice, only to see the glittering prize slip away. In 1991 Jim Bast of Arizona was the medalist round winner, and playing David Maugham in the final was on his way to victory when the third peel of his triple went awry. Jerry Stark of northern California was white hot in 1995, went undefeated in block play and won, but David Maugham (again!) defeated him in a one- sided final.

FAVORED BRITS DISAPPOINT
The English players were favorites this year, with three members of their 1996 MacRobertson Shield team in competition: Debbie Cornelius, Robert Fulford and David Maugham. Maugham was the defending champion and two-time WCC winner; Fulford has won this event twice; and Cornelius was coming off a hot year and boasted a top-ten standing in the world rankings. But jet lag, or bad weather, or the phases of moon conspired to send Cornelius and Maugham into a funk; neither made the cut.

FULFORD SEXTUPLES FOUR TIMES IN FIVE TRIES
Fulford performed magnificently, coming in tied for fifth and completing four sextuple peels in five attempts, a record that truly boggles the mind. Fulford is on a slightly higher plane than any other croquet player in the world. He told this reporter that Sonoma Cutrer is one of the few venues where the sextuple is a winning strategy, and he certainly set a standard for the future, but sextuples couldn't make him a 1996 medalist. Other Brits did better: Mark Avery tied for sixth, Stephen Mulliner tied for seventh, and Lewis Palmer of Wales also tied for seventh.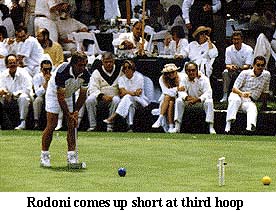 AN AMERICAN YEAR?
But this was an American year. Three of the four block winners were American: Phil Arnold, Michael Mehas, and Wayne Rodoni (the second block win for Rodoni in this tournament). Two other Americans, Doug Grimsley and MacRobertson Shield team member Erv Peterson, were fourth in their blocks and made the cut. An all- American final seemed probable.
A KIWI MARCHES TO THE FINAL
Aaron Westerby seemed an unlikely candidate to change these calculations, especially considering the fact that Bob Jackson, Rober Fulford, David Openshaw, Colin Pickering, Tony Stephens, and Stephen Mulliner were all poised to upset the apple cart. But Westerby, tall and thin, with an unassuming manner, has had an impressive croquet career in a short time -- New Zealand Open, Doubles, Men's Championship titles, as well as the Irish Championship -- and he was clearly white-hot just when he needed to be.
Westerby, who finished second in his block to fellow kiwi Shane Davis, breezed through his first two games in the final ladder. He first disposed of another New Zealander Ian Dumergue 26TP-0, and then knocked off Shane Davis 26TP-0. This brought him to the semi-final where he faced the challenge of an American hopeful, Michael Mehas. Mehas, the most controversial of American players, was passed over for the MacRobertson Shield by the USCA selection committee, but he was showing some of the world's best players a thing or two at Sonoma Cutrer. Mehas took early control over Westerby and had successfully traversed the first two hoops of the triple peel when, shades of Jim Bast, his striker ball came to rest against a wire. Westerby at that time was for one and one. He ended up with 26 points TP to Mehas's 23. Goodbye Mehas.
Westerby next met Phil Arnold, an American player who has made tremendous strides in his game during the last few years. Arnold stunned the tournament by defeating the world's number one player, Robert Fulford, in block play and went on to win his block and place second in the medalist round. Arnold had just defeated the formidable Colin Pickering of Australia 26TP-9 and was clearly on his game. Arnold started out well against Westerby, hitting in, running nine hoops and setting a good diagonal spread leave. But Westerby hit in, as he had been hitting in all day, and finished the game 26TP-9. Goodbye Arnold.
RODONI: THE LAST AMERICAN HERO
The dream of an all-American final was dead, but Wayne Rodoni, the medalist winner and 1995 U.S. national champion, awaited Westerby. Rodoni is now recognized as the most consistently formidable American player, and American partisan hopes were still alive. Rodoni, a metal worker from San Mateo, California, plays with such unflappable consistency that he is called "the machine" by friends and opponents.
True cognoscenti, the croquet players and fans who have seen many of the ten previous World Croquet Championships, knew that Wayne Rodoni was confronting a formidable challenge no matter who he faced in the final game. The format of the WCC made him a distinct underdog in the finals, no matter how well he played in the rest of the tournament.
THE PATMOR DRAW: MEDALIST AS UNDERDOG
As designed by Stan Patmor, the WCC's original tournament director, the WCC consists of four round-robin block of seven players. Four players from each block make the cut. The second, third and fourth players are seeded into a final single- elimination playoff ladder. The top player in each block goes to another round-robin block called the medalist round. The second, third and fourth players from this block are seeded toward the front of the final ladder, while the winner of the block -- the "holder" -- waits for his opponent in the final to emerge from the final ladder.
This is precisely the problem the holder faces: the waiting.
The medalist block finishes play early Friday afternoon; the holder savors victory and waits. He waits for the other three medalists to play their way through the final ladder, he waits for a challenger to emerge and perhaps knock off the other medalists. Most of all, he cools off as he waits. It is as if for him the the tournament is over, as if his joy at winning the medalist round were the real thrill of victory, and he awaited the final game as if it were a coronation.
THE CHALLENGER'S HOT HAND
If the holder awaits the final game like a monarch to be crowned, the eventual challenger has no time to anticipate the delicious ecstasies of the final game. He has faced a minimum of two games against opponents who have been tested and honed against the most successful and tenacious competitors in the tournament. Just as significantly, the eventual challenger has defeated a tough opponent in the semi-final game just an hour or so before facing the holder, who has cooled his heels for an evening and a morning waiting, anticipating the last game.
In the history of the WCC being the holder has come to be regarded as a slight curse, an additional challenge to be overcome before the championship can be won. Jim Bast in 1991 and Jerry Stark in 1995 won the medalist round. Both lost the final game.
And so Wayne Rodoni practiced on the empty lawn while the partygoers lunched under the festive tents. He hit balls back and forth at targets; he practiced hoop approaches and rolls; and nothing he did could compensate for the fact that he had not played for almost twenty-four hours, and that Westerby had just defeated the red-hot medalist Phil Arnold in the semi- finals.
A TENTATIVE WAYNE, AN AARON IN CONTROL
Tony Stephens, the long-time minus player from New Zealand, once said that you know you're on the winning track when you run to the lawn so anxious to play that you drag your opponent to the balk line to begin. As the final game began Aaron Westerby seemed to be in this mode, sharpened as he was by his two consecutive early Saturday victories over Mehas and Arnold. At the top level it all comes down to hitting in, and Westerby was hitting in, right in the guts. From the final game's first shot Westerby seemed relaxed and ready, while Rodoni seemed tentative.
Even though Rodoni hit in with his second shot he could not convert into a full-fledged break. Making the first hoop, he retired to a defensive position, which was an opportunity of which Westerby took full advantage. Roqueting, Westerby ran off his initial nine hoops like clockwork. Rodoni did not give up, however, and roqueted Westerby's leave.
It was here that the difference in their games on this final day became obvious. The drone of 1300 spectators was the backdrop to Wayne Rodoni's nervous tentativeness. He made only two hoops before coming up slightly short on a hoop approach and clanging his ball to the side. From there it was an easy matter for Westerby to begin his second break.
All went smoothly for the New Zealander until rover hoop where, as so often happens, his triple peel went slightly awry. Having peeled his partner ball to close to the non-playing side of the hoop, Westerby could not avoid roqueting the ball as he cleared the hoop. Westerby attempted to peg both balls out from the far side of rover hoop, but the front ball missed and came to a rest just in front of hoop six. He was forced to peg his ball out and retreat.
Rodoni missed his final lift shot, and Westerby pegged out to secure the 1996 WCC crown.
The tournament's charity, the Make-A-Wish Foundation, also scored a major victory: over $400,000 was raised to benefit the foundation in a wine auction attended by over 1300 people after the tournament.
FINAL STANDINGS

		1.	Aaron Westerby		(NZ) 
		2.	Wayne Rodoni		(US) 
		3.	Phil Arnold		(US)
		4.	Michael Mehas		(US)
		4.	Colin Pickering		(AUS)
		5.	Shane Davis		(NZ)
		5.	Robert Fulford		(ENG)
		5.	Tony Stephens		(NZ)
		6.	Mark Avery		(ENG)
		6.	Ian Dumergue		(NZ)
		6.	Bob Jackson		(NZ)
		6.	David Openshaw		(ENG)
		7.	Doug Grimsley		(US)
		7.	Stephen Mulliner	(US)
		7.	Lewis Palmer		(WALES)
		7.	Erv Peterson		(US)

--Did not make the cut--

		 8.	Harley Watts		(AUS)
		 9.	John Surgenor		(SCOT)
		10.	Brett Hewitt		(AUS)
		11.	Steven Ketelaars	(AUS)
		12.	Rory Kelley		(US)
		13.	Don Fournier, Jr.	(US)
		14.	Charles von Schmieder	(IRE)
		15.	Debbie Cornelius	(ENG)
		16.	David Maugham		(ENG)
		17.	Jacques Fournier	(US)
		18.	Ren Kraft		(US)
		19.	Bill Langstroth		(CAN)

---
FEARLESS AUSSIE CHALLENGES AMERICAN CHAMP
IN MAY 11 FINALS OF THE SAN FRANCISCO OPEN
Fellow players and knowledgable spectators watched in amazement as Tony Hall of the Canberra Croquet Club - and president of the New South Wales association - annihilated in game after game some of the top players in the United States.
Hall's performance in the 1995 edition of the tournament had been so abysmal that he wrote on his 1996 application: "I came in stone motherless last in '95, but I nevertheless hope you will put me in the Championship Flight again." He was seeded on the bottom of his block.
In the first game of block play, he seemed bent on suicide. His boundary attacks were not merely bold - they were downright foolhardy. His break-setting tactics were off the charts in any rational computation of risk versus probable gain.
But he kept getting away with it! As he was staking out against his fourth victim in block-of-seven play, a spectator who had been watching for half a day commented, "This man just doesn't know any better! It's the only explanation!"
The spectator was half right. Hall, at 66 a stalwart competitor in Australia who, on a good day, can beat anyone in the International Rules game, was and is well aware that his understanding of the fine points of American Rules play is limited. His strategy in the 1996 tournament was simply to avoid the pitfalls of sophisticated tactical gambits involving deadness and rotation, to take the initiative as soon as possible, make the breaks in short order, and stake out without giving anything away to the opponents. No dancing with the opponent in opposite corners. No elegant American tices. No battles of attrition to trade deadness and gradually gain an incremental advantage. With Hall, it was Total Offence, consequences be damned.
It couldn't work forever, but it almost did. In the final single elimination ladder, after Hall vanquished the formidable Mik Mehas (a member of the U.S. International team at Sonoma-Cutrer), he had only one more game to play to claim the title. It was to be against Wayne Rodoni, who defeated fellow San Francisco Croquet Club member Sal Esquivel to advance (for the fourth time) to the final.
In this crucial test, the redoubtable Hall was finally to fail - but not for the right reason. After seizing the initiative, he went all the way around with blue, and then commited a mental error for which he could offer no explanation, a foul which applies equally in the American and International Rules versions of the sport As rover, he roqueted the same ball twice in succession, his turn was over, Rodoni took control, went around, staked out Hall's rover, and eeked out a sensibly cautious but supremely confident 20-18 victory.
Most players who come to the USCA rules with a background of International Rules Croquet find the carry-over deadness rules dauntingly complex and confusing - even with the meticulous tending of "deadness boards" to keep track. But it is the time factor that Hall finds most distinctly "American" in comparing the two styles of play. More than once, near-simultaneous time calls shouted out by intent courtside officials ("Fifteen seconds!" for the shot-clock warning, and something like "Five minutes remaining in stripes!") sent Hall, observing from the sidelines, into fits of giggles.
Always polite, unfailingly high-toned and cheerful, Hall means no disrespect. He is genuinely delighted and amused by the wierdness of these conventions of American croquet, as viewed from his accustomed perspective in International Rules croquet.
Hall left San Francisco for more familiar territory just 60 miles north. For the third straight year, he is the referree for the Sonoma-Cuturer World Singles Championships, the most important International Rules tournament in America. Rodoni is a veteran of this tourney as well, one of five Americans competing this year in a field of 30.
-- Bob Alman
---
---