LEADING IN SINGLES AT HALF-WAY MARK ARE OSBORN, SHAFFER, BURCHFIELD, MABEE, POWELL, MEHAS, BERNE, NAJARIAN, GRIMSLEY
by Nate Weimerskirch; photography by David Gladstein
---
Full use of 13 croquet courts at four venues continued Tuesday in the 1996 USCA National Championship, with 139 games played at Palm Beach Polo Club, PGA National, The Breakers, and the Beach Club, all within a 30-minute driving radius in the Palm Beach area. About half the Championship Flight singles block games have now been played, all at Palm Beach Polo and PGA National. John Osborn and Archie Burchfield posted three 26's each on the first day of singles play to lead Block 2, but perhaps more notable were two others who narrowly missed. In Block 3 at PGA National, Rick Sheely, who finished the day with a 26-11 victory over Tom Hughes, started by upsetting Harold Brown 26-22. Sheely then had Canadian Derrick Robinson down 24-7 heading into last turns. But Sheely missed the stake-out from 12 feet, sending black out of bounds and leaving blue near the stake. Robinson brought all the balls in play, ran the break with red to the stake, posted black to keep Sheely in his chair, then finished with yellow for a fantastic 26-25 victory. POWELL BEATS NATIONAL CHAMP TO LEAD BLOCK ONE WITH MABEE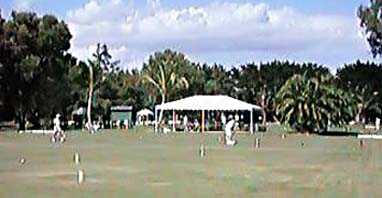 At the same time at Polo, Wayne Rodoni peeled yellow through rover with black nearby, then went through rover with red. Unfortunately, red wound up with no shot on black because of yellow's presence, so Rodoni, wanting a rush to the stake, attempted to jump yellow to get to black. The jump shot cleared yellow, but missed black and went out of bounds. Richard Powell then ran consecutive breaks from number 2 to overcome a 24-2 deficit, winning 26-24.

Powell is 3-0 in Block 1, along with Carl Mabee, a 24-23 survivor over Phil Fusz in the final match of the day, just before sunset (or maybe a little after). Rodoni is 2-1, with 26's over Fusz and Dick Brackett. Osborn and Burchfield are 3-0 in Block 2. Mik Mehas is 3-0 in Block 3, with Sheely, Brown and Rich Curtis at 2-1. ROOKIE NAJARIAN TO PLAY BERNE WEDNESDAY FOR BLOCK LEAD
Mark Najarian beat Jim Hughes, Dwight Mayer and Carl Larkin to lead Block 4 at 3-0, along with Bill Berne. Najarian and Berne meet at 8:30 Wednesday morning. Doug Grimsley leads Block 5. Jim Hall returned from a court appearance to win twice, after missing his first game, a 26-2 loss to Brian Cumming. (Cumming peeled both of Hall's balls into the game to run a 4-ball break.) Cumming also upset Pat Roach to go 2-1, and John Oehrle toppled Roach and John Curington for a 2-1 record. Greg Shaffer is alone atop Block 6, followed by Byron Thomas and John Fournier at 2-1, and Bill Mead at 2-2. A first-day lead in this flight is no guarantee, however, of high placement in the playoffs. Most of the critical matches are scheduled in the second day, when the top seeds square off. Of the starting 42 players, the top four in each block - a total of 24 - will advanced to the elimination playoffs on Friday and Saturday. KOENIG AND STETTNER UNDEFEATED IN FIRST FLIGHT SINGLES
In First Flight singles, Joe Koenig leads Block 1 at 3-0, Chalmers Yeilding heads Block 2 at 3-1, Larry Stettner leads Block 3 at 3-0, and Leon Parker leads Block 4. MALOOF AND FUNK DOMINANT IN SECOND FLIGHT SINGLES
Andy Kozusko beat Ron Eccles 17-15 to give him the inside track for 2nd in Block 1 of Second Flight singles. George Funk continues to lead at 4-0. The top four advance, and have already been determined, Lou Fusz joining the others. The order of finish is yet to be determined. David Maloof is 4-0 in Block 2, already with +28 handicap points. Missy Ramey and Art Parsells will likely advance. Margo Stinson leads for the fourth spot. KOZUSKO/MALOOF LEAD DOUBLES PLAY-OFF AGAINST FUSZ/RAMEY
In Second Flight doubles, Kozusko and Maloof finished 5-0 with two victories today on Tuesday. Meeting them in Winners Bracket Thursday is the Fusz/Ramey team, with a 3-2 record. In the Losers Bracket, the victor of the Birkhead/Parsells and McGonagle/Funk contest will earn a long-shot chance at the top spot with three consecutive playoff wins. Standings in Second Flight doubles after block play were:
| | | |
| --- | --- | --- |
| Kozusko/Maloof | 5-0 | |
| L. Fusz/Ramey | 3-2 | |
| B. Birkhead/Parsells | 2-3 | +13 |
| McGonagle/Funk | 2-3 | 0 |
| C. Cherry/R. Stoy | 2-3 | -18 |
| Basinger/Burke | 1-4 | |
THIRD FLIGHT SINGLES BLOCKS HOTLY CONTESTED
In Third Flight singles, Richard Byatt knocked off Ray Cope 18-17, forming a 4-way tie at 2-1 in Block 1. Cope plays Gene Pearson and Byatt plays Carole Birkhead, with the two winners advancing. Kenny Horne beat Tad Cassidy 18-13, to win Block 2. Tad Cassidy needs a victory over Lisa Parsons Wednesday to clinch second. Carole Birkhead and Cassidy are 3-0 in Doubles, with Cope and Hedy Stoy at 2-1. Byatt and Parsons play Horne and Pearson tomorrow for the third and final spot. DOUBLES FINALS ARE THURSDAY, WITH SINGLES TO FOLLOW ON SATURDAY
On Wednesday, as the tournament passes the half-way mark and the shape of the final rounds becomes clearer, 139 games will be played. With the exception of Third Flight, all the final games in singles will be played at Palm Beach Polo Club on Saturday. On Thursday, the doubles finals will be played in all flights at Palm Beach Polo Club.
---
CROQUET WORLD ONLINE MAGAZINE continues coverage of the 1996 USCA National Championships with frequent updates throughout the week.
---
---