Organizing the croquet team
at the University of Virginia

by Jacques Fournier,
Posted December 23, 2000

---

Jacques Fournier with his British Open trophy at Hurlingham.

At the age of 19, Jacques Fournier is one of the most respected croquet players in the world, for the excellence of his game, his competitive spirit, and his maturity as a competitor. Perhaps the confidence and maturity stem from his many years of competition in the worldof adults, beginning as early as the age of nine. He was America's boy wonder; in the sport of croquet, and by time he hit 17, he was a top competitor in every event he entered. At 17, he was runner-up in the British Open, then winner of the Sonoma-Cutrer World Championship, then a solid contributor to the USA's breakthrough in the MacRobertsonShield world team competition in New Zealand. The prospects for croquet were a big part of his deliberations in choosing a university. Fournier was wooed by several good schools, and the University of Virginia won him justly, largely through the efforts of local croquet booster Daley Craig. But the big winner, as this story shows, is collegiate croquet.

---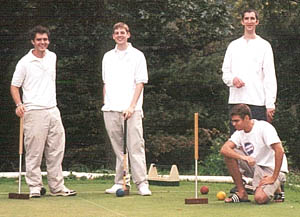 Justin Patterson, Tom George, Judson Frye and Pete Paull (sitting) in "half-whites." Mostly white croquet uniforms are being ordered for the team debut in Palm Beach in March.

In August of 2000 the Croquet Club at the University of Virginia was founded - an event that I believe has a good chance of changing the future of collegiate croquet and possibly all competitive croquet in America.

The first step was to gain official recognition from the University. Once the school year began, this became a much easier task to manage. We were advised to begin by forming a Contracted Independent Organization, one form of which can be a club sport team. The Croquet Club falls under this category.

After filling out all of the necessary forms, we won the approval of the student council and thus official University status as a club sport.

The next step was to recruit some players. William Harmon, Vice President of Student Affairs, made this easy for us by sending out to the entire student body an announcement of the formation of the croquet club along with contact information. Within minutes, my mailbox was flooded by emails. It was reassuring to know lots of students were interested in croquet.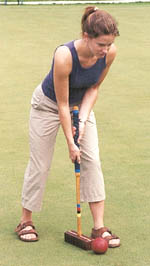 Tyler Smoot is one of the team's best players.

Within two weeks most of the students who had contacted me via email and several I had recruited myself had given croquet a try on the beautiful croquet court nearby at the home of Daley and Dorothy Craig. A few didn't come back for a second try, but the majority of them have stuck with it.

The first game they learned was golf croquet, which I believe is by far the best way to start. It's not surprising that I favor this method, as it is the game I was first taught by my father on our home croquet lawn in Phoenix. New players don't want to bother with croquet strokes, deadness, and complex strategy; they just want to hit the balls and run the hoops. This of course has done wonders for the team's single-ball shooting skills and lagging.

They have begun a gradual transition to Association [International] Rules. Although it is a big step from golf croquet to Association Rules, I find that the students are less likely to get frustrated with the new shots they have to learn when they have already mastered single balls shots in the process of achieving expertise in golf croquet.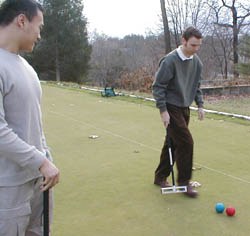 Chong-Tong "Billy" Chen observes Zach Rawling approach a boundary ball. Like Jacques, Zach is a Phoenix native. Jacques taught him to play last summer, and with this edge in experience, he is the team's best player – next to Jacques.

There is definitely a competitive spirit among this team. Every time we go out to play, I'm asked when our first match is going to be, and whom we will play. Because our team is just developing, we weren't ready to play a match in the fall. However, we have big plans for the spring.

The first serious tournament the students will enter is the National Golf Croquet Championships, held March 10-13 at the new National Croquet Center in West Palm Beach. Conveniently, this tournament falls on our spring break, as does the ensuing National Club Teams Championship, March 14-18. Most of the eight or so team members who go to Florida will play in both tournaments.

Both these tournaments should be great preparation for the National Collegiate Championships, held April 21-22 in Wilmington, Delaware. Before the Club Teams we'll do a "crash course" in American Rules and have some tournament experience in that game to further help us get ready to win the Collegiate Championships.

My motivation behind all of this is not just to try to help my school to dominate collegiate croquet. I want to raise the bar for the other schools and create a competitive spirit among them that will spur the advancement of their games. I also hope this competitive spirit will expand beyond the half dozen or so schools that currently participate to span the whole country and a large number of universities.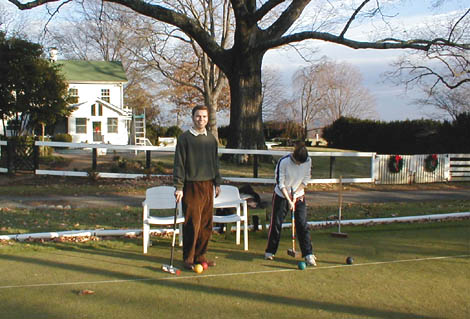 Zach and Tyler prepare to begin a game at Daley Craig's court, about 12 miles from the University of Virginia campus at Crozet, Virginia. Craig, a croquet booster with longstanding family ties to the University, was instrumental in bringing Jacques to Virginia.


More real croquet courts are needed at colleges and universities. We are fortunate to have access to the excellent Craig court so near our school. And we are laying serious plans to build two croquet courts at Boar's Head Inn, a resort owned by the University of Virginia. The General Manager, Jorg Lippuner, who is well acquainted with the success of croquet at several American resorts, is excited about the possibility of croquet there and is working with us to see how we can all make it happen. These courts would make a huge difference in the advancement of the University of Virginia's croquet program. American croquet needs to attract more young players.

We beat Australia by the narrowest of margins in the MacRobertson Shield 2000. This is the sort of player base we need to develop in the United States to rise to the top of the rankings in international croquet competition.

[The croquet club is independent of the University Corporation and stands on its own. Photos supplied by Jacques Fournier.]
---