The fight for third place in MacRobertson 2000

by Bruce Fleming and John Taves
with personal profiles by the American team members
Posted October 25, 1999
---

With this report, all four captains of the international teams to meet in the 17th MacRobertson Shield test matches in Christchurch in January 2000 have made their opening ploys and flung down whatever gauntlets they have been inspired to fling. At this point, a straightforward statistical projection (based on calculations from the World Rankings) would dictate a finishing order of: (1) Great Britain, (2) New Zealand, (3) Australia, (4) United States. But few would rule out the possibility of a New Zealand victory on their home turf in the middle of their southern hemisphere playing season. And most would agree that the closest contest is likely to be between the Americans and the Australians.

---
Reporting for Australia: Bruce Fleming
The selection of the Australian team was finalised at the end of September. The team is comprised of Helene Thurston and Martin Clarke of Western Australia, Colin Pickering and Brian Dawson of South Australia, Max Donati of Queensland, and myself as Team Captain from Queensland.
Our Manager is Peter Tavender from Canberra and our Coach is John Riches from Adelaide. The team is not experienced in MacRobertson Shield croquet, but nevertheless it is still an experienced team by Australian standards. All have had International experience either at Sonoma Cutrer, the WCF World Championships or in the Australia - New Zealand Trans Tasman series. The only player to have played in a MacRobertson Shield team is current Australian Open champion Colin Pickering.
Harley Watts and Ashley Faulkner, who represented Australia in England, were original selections for the team but had to decline - Harley due to business commitments and Ashley due to injury.
There are some exciting new faces in this team. The world has not yet seen the best of Max Donati, who until now has been finding his feet in International croquet. Max is delighted at his selection and knows what he needs to do to be successful. I am expecting Max to put in a determined effort. He is an absolutely scintillating player at his best, with amazingly accurate single ball shots and a complete command of the game.
Another new player who is destined to make his mark in International croquet is Martin Clarke. He impressed everyone in the recent Trans Tasman series with his determination and composure. The occasion will not overawe him and he is a superb doubles player. Martin will do what croquet is all about: hit the shots and go around.
Brian Dawson found out something he did not know about himself at Sonoma Cutrer; he was competitive with the world's best players. Since that cat got out of the bag, Brian has been going from strength to strength. With this new level of confidence the roquets and triple peels will flow as never before.
The more experienced trio of Colin Pickering, Helene Thurston and myself will have the job of anchoring the team. As always Colin will lead by example and the spectators will be treated to some superb shooting and triple peeling. His experience will lend stability and guidance to the less experienced players.
Helene Thurston has succeeded whenever an International opportunity has been presented to her. Her steady play and fighting qualities were on display at the most recent Sonoma Cutrer World Championship where she made it to the last five. She was runner up in the WCF world championship plate played in her home state of Western Australia and has represented Australia in a number of Trans Tasman series.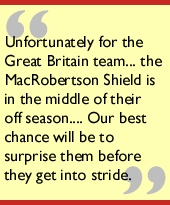 The team leadership is experienced and professional, and I am confident the Australian Team will be ready to play from day one. The Great Britain team is very strong and will be expected to defend the MacRobertson Shield successfully. I think the only problem they will have is the timing of the contest, which unfortunately for them is in the middle of their off season. We play them first and our best chance will be to surprise them before they can get into stride.
I believe the Australians and the Americans have made some ground on the New Zealanders, and close results can be expected between these teams.
In order to arrive at a prediction I have done some simple calculations based on the World Ranking list and have arrived at the following results.

GB   def  NZ    12   9
GB   def  AUS   14   7
GB   def  USA   16   5
NZ   def  AUS   12   9
NZ   def  USA   15   6
AUS  def  USA   14   7

Of course these predictions are based on current form four months before the event and cannot take account such factors as the home ground advantage to New Zealand, the competitive spirit of the Americans, the experience of the Great Britain Team or the enthusiasm of a rebuilt Australian Team.
Reporting for America: John Taves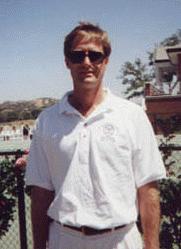 John Taves, American team captain.

The United States team has two returning Shield veterans.† Jerry Stark and I played in 1996 in Great Britain. Don Fournier, Jacques Fournier, Mik Mehas, and Jeff Soo all have International team experience.

Jeff Soo is the least experienced member of our team. He is very good, though. He represented the United States at the Solomon in 1999. He is a solid player and not one to falter under pressure. He is relatively new to croquet, having played for only a few years, however he continues to impress at every tournament he competes in.

I played with Don Fournier in the '97 Solomon Trophy in Thousand Oaks, California. The Solomon is run very much like the Shield. We had an excellent team and I played doubles with Don. This was the first time I had played with him, and I didnít know what to expect. I thought it was going to be a long week for him because he started out by dropping some breaks and blowing some easy shots. It looked like the pressure was getting to him, and I feared he was going to spiral downward. My fears were unfounded. In one key game he was running the second break. I figured he would play it safe and just run the break. Instead, he did some difficult shots to get the triple going and finished the game on that turn. From then on, his error rate went down to a very low level, and he went on to beat David Openshaw in a best-of-five match. He showed me that he knows how to deal with pressure, and he knows not to change his game because of past errors.

Mik Mehas is a controversial player. Some donít like him at all, and would rather not have him on the team because of some perceived transgressions. I'm certain that the other teams would rather not have him on the U.S. team, either. I'm glad he's on the team, because he wins. And I like him. He is always a deadly shot, and frequently wins with two breaks. He has played in many tournaments with the best in the world, and has done quite well in them. He has the mental thing under control; after all, he continues to dominate the American croquet circuit.

Jacques Fournier is well known in the croquet world. He is still in high school and canít legally drink in the USA. He won the 99 Sonoma-Cutrer World Championship and finished second to Fulford in the '98 British Open. To say we have confidence in his game would be an understatement. He and his brother Don (see above) regularly play at their family court. The United States has never had a team with such a highly ranked player.

Jerry Stark is a veteran of the '93 and '96 USA Shield teams, and numerous Solomon teams. He's the croquet pro at Meadowood Resort. He has been a top ranked international player for years. There is no doubt that he will win matches for us. As Chris Clarke has said, "His good stuff is difficult to beat."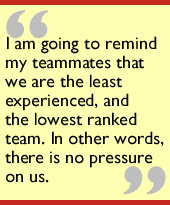 At the '96 Shield matches in Great Britain my wife, Anne, and our son, Jay, joined me. This year we will show off another addition to our family. Our second boy, Chris, was born October 7, so he will be 4 months old in New Zealand. I expect he will add considerably to my game.
I am not going to make a prediction on the outcome of the tournament. The other team captains have unanimously predicted that we will finish last. I am going to remind my teammates that we are the least experienced, and the lowest ranked team. In other words, there is no pressure on us.
In their own words - profiles of the American team
The editor requested each American team member to send a profile organized around these five questions:
1. What is your playing record?
2. Where do you live and play croquet?
3. Describe your work and family life and explain how you can afford to be away from home and work for more than three weeks to play the MacRob.
4. Will you play in the New Zealand Open as a warmup?
5. Any other thing you'd like to say that bears on your croquet career, achievements, and aspirations.

Here are their self-revealing answers:
DON FOURNIER, JR.
My major tournament wins include the 1996 U.S. Open and 1997 Arizona Open. I have had numerous runner-up and third place finishes in other AZ Opens, U.S. Opens, and the San Francisco Open.
I live and work in Phoenix, Arizona, and my home club is the Downtown Croquet Club.
I am a Real Estate Appraiser/Business owner and am able to participate due to an understanding wife (prenuptial agreement) and two understanding business partners.
I have three beautiful daughters: Nellie 5, Sarah 3 and Jennifer 6 months, who I will miss terribly.
I won't be able to attend the NZ Open.
JACQUES FOURNIER
1) Major Tournament Wins:

    1995 Meadowood Croquet Classic
    1997 Meadowood Croquet Classic
    1998 Meadowood Croquet Classic
    1998 US Open
    1999 Arizona Open
    1999 Arizona International Open
    1999 WCC World Croquet Championships

(2) Home Club and Where I Live. The Downtown Croquet Club 86 E. Country Club Dr., Phoenix, AZ 85014
(3) Profession/Work Life - and how I can get away for that long! Student at Brophy College Prep (a Jesuit High School). I can get away for three weeks because I am ranked in the top 5% in my class and I am a Senior.
(4) NZ Open. No, I am not playing. That would be too much time off.
(5) Any other thing I would like to say: I am really looking forward to kicking some Ozzie, Kiwi, and Brit ass.
MIK MEHAS
1) Major Tournament Wins:
1999
1999
1998
1998
1998
1997
1997
1995
1995
1995
1995
1991
USCA NATIONAL GOLF CROQUET DOUBLES CHAMPION.
USCA NATIONAL GOLF CROQUET PRO-AM CHAMPION
USCA PLAYER OF THE YEAR
USCA INT'L RULES NATIONAL CHAMPION
USCA AMERICAN RULES NATIONAL CHAMPION
USCA INT'L RULES NATIONAL CHAMPION
USCA AMERICAN RULES NATIONAL DOUBLES CHAMPION
USCA AMERICAN RULES NATIONAL DOUBLES CHAMPION
EAST COAST GRAND SLAM, WINNER (Intl team qualifier)
WEST COAST GRAND GRAND SLAM, WINNER (Intl team qualifier)
US OPEN CHAMPION
USCA SENIORS NATIONAL CHAMPION
2. I am a member of The Merv Griffin Croquet Club in Palm Springs. I live in Palm Springs and Hollywood.
3. I Package and Produce Feature Motion Pictures in Hollywood. I am the Croquet Pro for the Merv Griffin Resort and Givenchy Spa.
4. I anticipate playing in the NZ Open.
5. It is about time the politics are out and The BADBOY was selected to this team! I can now move on in peace and fulfilled!
JEFF SOO
(1) I've never won a major tournament. I've never won a middling-piddling tournament. I am the current Stoneridge Croquet Club Champion, although I may lose that distinction this weekend.
(2) I live in Chapel Hill, North Carolina, and play at the Stoneridge Croquet Club. Did I mention that I am Club Champion?
(3) I am a freelance recording technician and musician with a very understanding spouse.
(4) I would love to play in the NZ Open. I am still negotiating this (see "very understanding spouse", above).
(5) I can't think of an answer to this question that doesn't sound trite, egotistical, or ridiculous.
JERRY STARK
(1) Your major tournament wins. None, a whole lot of second place finishes.
(2) Your home club, and where you live. Meadowood Croquet Club, Ink Grade Group & Sonoma Cutrer Croquet Club; Santa Rosa, California.
(3) Your profession/work life - and how you can get away for that long! Croquet Pro at Meadowood, Napa Valley; January and February are a good time of year to get away!
(4) Whether you're playing in the NZ OPEN as a warmup preceding MacRob. No plans for that as of now.
(5) Any other thing you'd like to say that bears on your croquet career, achievements, and aspirations. Make Association Rules more respected in the USA, help Team USA win the Mac and Solomon tests and win the World Championship.
JOHN TAVES
1) 1999: Resort at the Mountain - 2nd to David Openshaw. 1998: Association Nationals - 3rd. Played in 1996 MacRob, 8 and 7 record. Only American player to have a winning record at the MacRob. (Maybe the only American winning record ever at Solomon or MacRob event?) Played on 2 Solomon teams.
(2) Hometown of Redmond, Washington. Puget Sound Croquet Club
(3) Software Engineer, have own company, Pacific Northwest Software (www.pnwsoft.com). Have wife, Anne, 3 year old son Jay, and new baby Chris. How can I get away for that long? Who knows? Maybe unemployed at that point? Not happy the tournament takes that long. A better format could be done in less time.
(4) Not playing in NZ Open, see answer to 3.
(5) Think this the best MacRob team... and am really looking forward to being a part of it.
Profiles of the Australian team and all the teams will shortly be available on a new and comprehensive MacRobertson Shield Web page in preparation for Croquet World Online Magazine.
---