Highlights of the 1998 British Open Championships

by Richard Hilditch
Posted July 24, 1998
---

Before there was a world championship, there was the British Open, and for most of the last 40 years, it has been played at Hurlingham, the heart and soul of British croquet. For ten years, the tournament has been managed by one man who has become almost as prominent a fixture in the croquet world as the Open itself - Richard Hilditch, just about everybody's first choice as tournament manager and/or referee. For the 1998 British Open Championships, July 12-19, he volunteered eight consecutive twelve-hour days (not counting two hours commuting) overseeing every aspect of the event. Along the way, he managed to note highlights of play and put it all in perspective for the British CROQUET GAZETTE and our online readers. Using eight of Hurlingham's ten lawns (reserving two for daily play by members) and two at a nearby sports club, Parson's Green, double-banking was not necessary in any of the main event singles or doubles. Best-of-three matches were played in singles and doubles qualifying rounds, switching to best-of-fives for the singles quarter-finals and doubles finals, and best-of-seven for the singles final between Robert Fulford and Jacques Fournier.

---
Robert Fulford won. No surprise there; indeed, with Chris Clarke he also won the doubles. However, there were quite a few interesting events along the way, including some excellent performances that I'd like to share with you.
More than anything, this event marked the coming of age of the United States players on the world scene. Although they had previously done well at the Sonoma-Cutrer world croquet championship, this was the first time their players had really looked to be in contention in international competition abroad.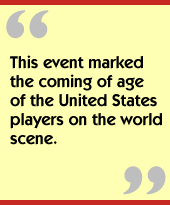 Two players from the Solomon trophy team - Jacques Fournier and Mik Mehas - stayed on the extra week and, one must assume, exceeded their wildest dreams in taking home the runners up and plate trophies respectively. I would venture to say that any sport in which the USA can compete will be better off than a sport without them.
The week started with quite strong rain falling onto already damp lawns and the weather forecasters showing nasty pictures of fronts queueing up to hit us all week. In fact, soon after lunch the rain cleared up and we only had the odd shower and a little drizzle later in the week. However, overnight rain, overcast conditions and high humidity kept the lawns playing much slower than usual. These conditions made the hoops very difficult to get firm, so that it was quite simple to smash or even stroke one's way through from awkward angles.
This year also was the first since Hurlingham had introduced a watering system on the cricket pitches (principally for the benefit of the cricketers, apparently). As a result, the grass there (on the back four lawns) was slower and of a better quality, not quite the same as on the front greens, but getting there. The two lawns at Parson's Green were again used for part of the plate event.
This year the entry was down again to 37. Although this does not make for a poor event, it will be necessary for the tournament committee to consider this drop despite attempts to bolster support. As a comparison, the years from 1984 through 1994 never had less than 48 entries. We were able to attract this year eight out of the top ten ranked British residents, so this is still the event to win.
Wipe-outs and upsets in the first round
The pick of the first-round draw saw David Openshaw taking on Phil Cordingley. The match was spoiled by the rain, but David was able to convert his opportunities better than Phil in a scrappy encounter. Play was finished early partly due the reduced entry, but mainly so we could all go home to watch France beat Brazil +3. The London Underground had called a traditional tube strike so their drivers could watch the soccer match and then have a day to recover; however this did not affect many people, with the District line reporting 100% service on Monday morning.
Monday saw the return after many years absence of Adrian Saurin, no longer as small as he was when he played at the age of 14. Unfortunately he had been drawn against Robert Fulford, the number one seed, and after taking off the lawn in the first game he did not offer enough resistance. Also returning after a long absence was Roger Tribe, who last played before his 16-year-old opponent Jacques Fournier was even born. Roger made just enough errors to allow Jacques to run out as an untidy victor.
Another player making his Opens debut was 18-year-old Matthew Burrow from Jersey, who unfortunately was to succumb to Fulford in the second round. The presence of these two youngsters only served to expose the state of mainland croquet in Britain, with no strong young players.
Over on the cricket pitch Pete Trimmer beat Steve Comish exactly as he did at this stage last year (although on an adjacent lawn). Neither player made an error, and Pete won the hitting contest getting a couple of triples to knock out the first of the seeds. Also struggling on the cricket pitch was David Openshaw, who was very lucky to win his first game by +1 when his opponent Gary Bennett rolled up to the peg and had one ball off with Openshaw only halfway round.
More upsets in the second round
The second round saw further upsets as David Maugham was again knocked out of the opens on lawn 9, this time by Jacques Fournier. David made a couple of errors trying to run hoop 1, but Jacques also played very well to capitalise on those errors. Mark Avery and Jeff Dawson produced a tight three-triple match which Mark won in the third +3tp after Jeff failed to finish his triple.
An even better match was in progress between David Openshaw and Pete Trimmer. In each game players hit in the 3rd and 4th turns and after dropping the first game to a 6th turn triple, David narrowly missed finishing the next in the 6th turn too. He corrected his error to win the third game with a 6th turn triple.
Down on lawn 1, Stephen Mulliner was playing Mik Mehas and managed to get himself into trouble with wrong balls (as he so often has in the past). Stephen rushed a ball from corner 2 towards hoop 2 and picked up his nearby partner ball. Before taking croquet he noticed that his shot after hoop 2 was going to be longer than expected and convinced himself that he had played with the wrong ball in a previous take-off. He explained things to Mik and placed the balls in contact and placed his clip and left the lawn. Just before Mik played his stroke, George Noble (a spectator referee) intervened to say that Stephen had not done the correct thing and that in fact his turn should not have ended (the ball was misplaced).
What was to be done? Stephen found himself in a slightly awkward position, since he was referee of tournament and this was the sort of thing that the ROT would normally have to rule on. He decided that the limit of claims for the misplaced ball had passed as he had left the lawn and so his turn had ended. Mik was allowed to continue play. Of course George could have intervened as soon as Stephen spotted a problem, but he had turned away assuming that Stephen would correct it in the right way.
Few surprises and some spectacular play in doubles
With the quarter-finalists readied in the singles, attention turned to the doubles, where there were few surprises. Holders Reg Bamford and Stephen Mulliner were delayed in starting their match as George Noble had to be in new Covent Garden, where the minister was making a visit prior to the closure. (Apparently it was actually very amicable, as he did not come back covered with tomatoes.) The delay was only brief as Reg and Stephen only conceded three hoops.
The most spectacular result was achieved by Steve Comish and David Maugham against Alex Leggate and Andy Symons. When one of the opponents stuck in 2-back, David checked with his partner before calmly quintupling the ball out. It must be difficult to say no to Maugham; in this case they had already won the first game comfortably, so Steve was probably happy to give him his head.
Tony Mrozinski and Chris Williams did well to reach the semi-finals, beating Mark Avery playing with a reliable Alex Jardine (replacing Keith Aiton, who had to withdraw from the tournament). Tony produced a very adventurous TP in the third as Avery looked on in disbelief.
Clarke and Fulford were careful rather than spectacular, as Chris had to be nursed round since he had picked up a viral infection (possibly from me).
Over in the plate, Jeff Dawson produced a nice 4th turn TPO against Phil Cordingley but then spoiled it by splitting a ball off the lawn in a finishing break.
A Maugham/Mehas impasse adjudicated
As I walked past lawn 7 going to Parson's Green, I noticed that David Maugham and Mik Mehas were having a two-ball game (David had done a TPO and pegged both balls out). Returning, I found that both players had reached penultimate and were lurking on opposite boundaries unwilling to approach the hoop or shoot at each other. This constituted an impasse; how would we get the game finished? (There was a 3.5 hour time limit, but if it passed the players would still be level.)
I fetched the ROT (Referee of Tournament) and he gave the following ruling: Each player would take five shots at the peg from a side boundary (alternately) - like a soccer penalty shoot-out. The winner would advance one of the clips and select whether to go first or second from baulk. As expected, David won this shoot-out 2-1 without taking his last shot. He advanced his clip and went second. Mik got in and made both his hoops but missed David's ball from 7 yards. David made his hoop and trickled to the peg. Mik narrowly missed, for a +1 TPO score.
Classic rematch in the best-of-five quarter-finals
Friday saw the singles resume with the best-of-five quarter finals, including a classic rematch between David Openshaw and Stephen Mulliner of a quarter-final match in the 1989 world championships. Naturally, I allowed (or forced) them to play on lawn 4 again. This match saw David regaining some of the form he had in 1989, when he was able to beat Steve (as he was then called) by a score of 3-1, including a 5th turn triple in the last game. Throughout, David was able to hit in and Stephen had trouble with his shots, particularly down the east boundary.
The match between Reg Bamford and Jacques Fournier was a close affair, with each player playing well at times and making errors at times. It went all the way to the 5th game, where Jacques sealed it with his first triple of the match.
Mark Avery was able to take advantage of Chris Clarke's virus, but still played well to get his three triples to Chris's one. Robert Fulford was trying sextuples against Colin Southern but did not complete any. Colin had the satisfaction of hitting the tea lady shot from hoop 1 to corner 3 in the first game. Each time he got control, however, Robert just hit back in.
Easy wins for Fulford and Fournier in the semi-finals
The semi-finals saw Jacques Fournier claim the scalp of another previous Opens winner as he despatched a very below par Avery in three straight games. To be fair, most of the players present would have beaten Mark on that form; Mark would have made more than the six errors I recorded if he had needed them.
The other match was in a wholly different league. Fulford beat Openshaw in three straight games, playing virtually perfectly, winning in five, six and five turns only. David actually played well himself, hitting a couple of long shots, but was eclipsed by croquet's best player playing like Michael Jordan.
Top seeds reach the doubles finals
The top seeds Clarke/Fulford and Comish/Maugham found themselves in the doubles final without too much trouble. Following on from his performance in the singles it was not surprising to see Robert still playing like a master, hitting at will and finishing delayed triples without breaking sweat. Chris had recovered from his infection and hit a lift and did a TP. Given an error from David Maugham, Clarke and Fulford were able to win with three straight triples to regain the title which they feel belongs to them in the 90s.
Fulford finesses the final in four games and 30 turns
The final day produced the best of the weather for a modest crowd. Towards the end of the day we could feel the lawns hardening up, so we could see what we had missed all week. As an experiment I decided to make the players play a best-of-seven match for the final (this has been used a couple of times before in lesser events). It seems that this was not a great idea; either one player will run away with it and tire out himself and the spectators or it will go on too long for everyone. Next year I think we will revert to best-of-five, starting a little later in the day.
The match itself was historic for more reasons than the number of games to be played. At 16, Jacques was the youngest contestant and more importantly he was the first representative of the USA to reach the final match. It was disappointing that this had not drawn more media interest.
The match saw Robert carry on from his semi-final form with strong hitting openings and controlled triple peels from any position of the balls. Robert opened with a super shot, placing his ball 11 yards up from A baulk and two yards west of hoop 5. Jacques missed it and Robert hit and went to 4-back, finishing with a TP on the 5th turn.
The second game saw Robert going second and using a duffer tice (near hoop 6) to get a ball round on the 4th turn. Jacques hit the lift but showed increasing nerves, misapproaching hoops until he failed at the 5th, allowing Robert to finish on the 6th turn.
The third game also went to Robert, on the 7th turn. At three nil the players stopped for lunch, but it was clear that there was only one possible winner.
The fourth game saw an unusual standard tice opening that satisfied the older spectators. It also brought the first error from Robert as he failed hoop 1 after rolling up from corner 1 to about 18 inches at 10 degrees. This game lasted an enormous 12 turns before Robert completed his fourth TP.
Jacques must not get disheartened by the result. Robert would have beaten anyone in the world on that lawn on that day.
Mehas brings home the plate
The plate was run with the same format as last year, a 9-round progressive Swiss leading to a knockout, with four players getting two lives. This year's top four did not last very long. Matthew Burrow and Tony Mrozinski lost both their games, and only Jeff Dawson and Steve Comish survived to the final day. The winner, however, was Mik Mehas, who included a revenge win over David Maugham as he beat Michael Heap in a final that was typical of his play. He is careful to the point of slowness, and hits very well to recover from any error he happens to make.
It is likely that we will change the plate format again next year to try and get more games for players who in the current format are waiting for others playing doubles matches.
And finally: a note on the catering
On the catering front, I would like to compliment the Hurlingham club on their change of caterers. A special mention must be made of the 'Monster Chocolate Muffin'; at a cost of one pound, this kept many of the players going during the week. Make sure that you choose the one with the white chocolate top; although it may look less attractive than the brown chocolate top, it is far nicer.
---