"Left Coast" croquet at the 14th San Francisco Open
text and photos by Bert Myer
Posted June 04, 1998
---

Rain, drums, public courts, the work ethic, and skilled players are all part of the unique melange of San Francisco's annual tournament as journalized here by Bert Myer, editor of the USCA Croquet Bulletin. Myer visited the tournament for the first time in May of 1998, wrote this story for the bi-monthly Bulletin, and gave us permission to reproduce his text here - as well as a few of his photos.

---
Wayne Rodoni was late. Wayne Rodoni is never late...where was he? It was fifteen minutes past the scheduled start of our doubles match. Wayne's partner, Mik Mehas, with whom Wayne had won numerous titles, including the last two San Francisco Opens - not to mention the 1995 USCA Nationals - was here. Their opponents, Mike Hanner (Oregon) and I (New Hampshire) were here. Where was Wayne? Tournament Registrar Ed Breuer was fretting...should he start our match? He consulted with his partner, Tournament Referee Mike Weimerskirch and, over on the other court, with Tournament Manager Bob Alman. This was very unusual. This was serious. "Five more minutes," Ed said. "Please bear with us."
Wayne was supposed to be over at Golden Gate Park, fifteen minutes north of the Stern Grove courts, setting up the three courts there before coming to the Stern Grove courts for his 8 a.m. doubles match - to begin his and Mehas' defense of the San Francisco Open championship flight doubles. Wayne lives in San Mateo, twenty miles south of San Francisco, so he had a lot to do that morning - miles to go, wickets to set, boundaries to lay down.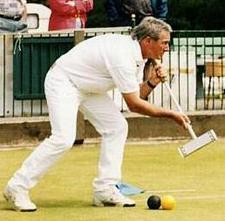 As Tournament Manager, Championship Flight Director, Equipment & Grounds manager, and defending doubles champion, Wayne Rodoni played several critical roles at the 14th San Francisco Open.
Suddenly he appeared, in his whites, his metal mallet in hand, ready to play. "Sorry I was late. Things took a little longer than I had anticipated." The match began, perhaps twenty minutes behind schedule. And, in no time at all, Mehas had set a break for Wayne, who promptly ran it through Penultimate, set for Mik...and it was soon over, 26-3. Our block, the "Bully Block," was back on schedule. Wayne and Mik won their other two doubles matches in the next two hour-and-a-half hour time blocks and advanced to the semi-finals. Just another day for Wayne Rodoni, Tournament Director, Championship Flight Director, Grounds and Equipment manager, National Champion. Amazing.
El Niño pays a call, then bows out
The invitation read: "We are planning on good weather, which is the norm for May, but in this El Niñ year anything can happen...be prepared for showers." As I drove to the Stern Grove courts from the airport on the Tuesday before the tournament for some well-needed practice, the heavens opened. A few stalwarts were finishing a game when I arrived, but the courts were, for the most part, under water and it was pouring. Showers in California, like everything else, are bigger, I guess.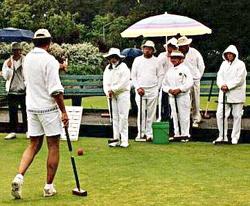 USCA Director of Croquet Mike Weimerskirch makes a point during his One-Day school in the rain at Golden Gate Park.
More rain on Wednesday. A dozen or so "students" - most dressed in white rain gear - turned out for the USCA One-Day school on "tactics & strategy" conducted by USCA Director of Croquet Mike Weimerskirch at the Bowling Lawns in Golden Gate Park. (The rest of us found dry, comfortable places for long lunches in downtown San Francisco.) By early afternoon, the on-court instruction had become an in-mobile-home seminar, courtesy Rosemarie and John Taylor, who had parked their RV near the courts.
The weather was winning.
Carriage house, Chinese food, courtside lunches, California cuisine, camaraderie & confrontation
We ate well in San Francisco. Not only does the Bay Area have hundreds of fine restaurants; fortunately, its reputation for excellent cuisine has not been lost on the San Francisco Croquet Club. Continental breakfasts courtside...consummate box lunches...and exceptional hospitality most evenings made participants feel welcomed and satiated.
Rick and Jocelyn Stone hosted the opening night reception and dinner buffet at their exquisite carriage house near Golden Gate Park, originally built for John McLaren, creator of Golden Gate Park - and its "jewels," the lawn bowling greens where much of the tournament took place. A casual Chinese dinner was served in the clubhouse of the San Francisco Lawn Bowling Club (founded in 1901) in Golden Gate Park on Thursday, with SFCC Clubhouse Dinner Host, Elaine Fong, and SFCC Catering Manager & Social Director, Karen Collingwood, doing most of the heavy lifting and serving.
On Saturday evening, participants rendezvoused for dinner at the Lakeside Café near the Stern Grove courts, where tournament manager Bob Alman provoked his flock into grilling USCA president Mahoney and Bulletin editor Myer about policies and procedures (which ended amicably!). On Sunday, a full buffet luncheon appeared courtside at Golden Gate Park, a perfect complement to the beautiful day and surroundings.
Critical logistics - finding the key and turning left
The San Francisco Open is played at public venues, and so, naturally, there are no private rest rooms. The tournament program provided ample warning, but at Golden Gate Park, knowing that Wayne Rodoni had a key to the Lawn Bowling Clubhouse was important "inside information." At Stern Grove, Tournament Manager Bob Alman was so impressed with the renovations to the adjacent facilities, he commented, "We could serve lunch in there now." The facilities were nice but, thankfully, they didn't.
There is a 4-mile stretch of 19th Avenue, the main thoroughfare between the courts at Stern Grove and Golden Gate Park, where drivers are prohibited from making a left turn. Ever. Many of the side streets, similarly, have such prohibitions, not to mention one-way streets, insurmountable trolley tracks, confused tourists, bridge jumpers, and every-other-block stop signs. What has this got to do with croquet? Well, everything in San Francisco. Sometimes you simply cannot get there from here. (No wonder Wayne was late.)
The beat goes on...and on...and on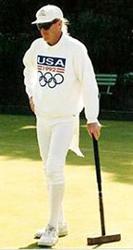 Mik Mehas, three-times straight SF Open doubles champion, runner-up in the championship singles.
The drums began about mid-morning on Saturday at Golden Gate Park and never stopped. The sounds came from the base of "Hippie Hill" just north of the lawn bowling greens. Incessant. Exuberant. Continuous, all morning, afternoon, and evening. Mik Mehas set out with his brother after the Saturday matches to explore the scene. The next morning, Sunday, as he sat on a bench watching Mike Zuro run a long break in the semi-finals that could knock Mik out of the singles, I said to him, "Listen, the drums are starting up again. It may be a good sign for you." He laughed...and later won. Mik is a man of the drums.
From VW Bugs (the 60's version), beat-up old Volvos, and tie-dyed T-shirts and long skirts in Haight-Ashbury, to the musicians near the courts in Golden Gate Park, San Francisco lived up to its billing as a city of free spirits. I think for once WE were the freaks! After all, we were inside the fence.
Media moguls & Digerati: Taking Stock on the Web
The San Francisco Croquet Club is the brains and brawn behind the USCA Web site and CROQUET WORLD ONLINE MAGAZINE, both edited by Bob Alman. Adam Stock is the computer wizard who turns ideas and concepts into HTML and ultimately into the Web pages themselves. (Reuben Edwards also designs articles for the Websites and is editor of The Game Department of CROQUET WORLD.) In one of several meetings on USCA communications, Adam demonstrated a dramatically re-designed USCA home page to USCA president Dan Mahoney, Bert Myer, and others interested parties. The new design is scheduled to go on line this summer.
Rising Arizona
They came to play. Don Fournier Jr., a -1/2 USCA handicap, and brother John, a 1/2. Good players, from a prominent croquet family in Phoenix - THE croquet family anywhere, if you know Jacques, and Don Sr., and the rest of them! We all had heard about them - and they lived up to their billing. Don made it to the semi-finals in championship singles, losing eventually to tournament winner Carl Hanson, and to the quarter finals in doubles with Mike Zuro, losing again to the eventual winners, Mehas and Rodoni.
John Fournier made it to the quarter finals in singles where, ironically, he was defeated by his brother Don, 22-11. Don was third, John was fifth overall. They were still talking to each other when they departed on Sunday. John got to the doubles semi-finals with the up-and- coming John Leonard of Sacramento.
"A" Flight: A Dilly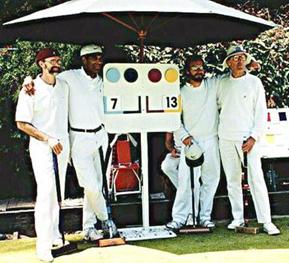 "A" flight doubles winners and runners-up immortalize the final score. L-R: Marc Batten, Reuben Edwards, David Dill, Simon Eccles.
David Dill of the San Francisco Club played against Web baby* Reuben Edwards of the same club in the "A" flight singles final and doubles final - probably the 100th time they had played each other. (Reuben had received a "Rookie of the Year" award at the opening reception; Dill was "Rookie of the Year" in 1996.) Dill had beaten Simon Eccles of Boston, his doubles partner, to reach the final, which he won 22-11. Previously, Edwards, who had beaten Don Heerens of New Jersey, to get to the singles final, had paired with fellow Web baby Marc Batten of the San Francisco Club (fellow Rookie of the Year), and they were defeated by Eccles and Dill, 13-7. Sounds pretty cozy to me.
(* "Web baby" is a term coined by USCA Website editor Bob Alman, and refers to players "recruited" to croquet via the World Wide Web. See USCA CROQUET BULLETIN, Vol 9, No.4, Fall 1996, p. 17 and/or CROQUET WORLD ONLINE MAGAZINE.)
The local dress code permits on-court fashion statements
| | |
| --- | --- |
| | |
| SFCC's "best dressed" - the dapper Alan Taylor, winner of the "B" flight singles crown. | Sharon Gordon, retiring "Rookie of the Year" was second in the "B" singles final. |
In the B Flight, dapper Alan Taylor (best dressed member, topped off with a boater) of the San Francisco Club won the singles championship. He had his hands full with relative new-comer and fellow San Francisco club member Sharon Gordon (SFCC "Rookie of the Year" in 1997), winning 16-12.
In "B" doubles, Roesmarie Taylor (no relation to Alan) paired with San Miguel de Allende (Mexico) member Frank Stuart and defeated Californians Ted Strong (SF) and Sid Cantwell (Palo Alto).
Jeanne Strong, Ted's wife, has promised to write a letter to the USCA CROQUET BULLETIN in the hopes of initiating a new forum for USCA members' opinions. She and her husband have been key contributors to the San Francisco Croquet Club as affiliate members from the small Oak Creek Club, south of the city. Fun people, committed to croquet...I look forward to hearing from her! (Next time, bring more wine!)
Mehas scores a total of ten wickets in two finals - wins one, loses one
Mik Mehas, one of this country's best players (e.g. current USCA American Rules doubles champion and USCA International Rules singles champion), scored one wicket in the doubles final against Bob Alman and Carl Hanson. No big deal. Wayne scored 12, and that was more than sufficient to win, 13-7, in an unexciting game - in which neither team took chances, nor did anything of note. Alman's position shots (rather, "non-position" shots ) at #3 and, with twelve minutes to go and leading, his disastrous, missed, five-foot rush, proved to be the difference. (Ho, hum...lunch was good, it was a beautiful day, the company was nice....) The drums in the nearby park were playing, however, and Mik had a few more shots left in him.
(In addition to Mik's three consecutive SF Open doubles championships, he has three third-place finishes and three second-place finishes in the SF Open Championship singles over the past six years.)
Carl: Calm, cool and collected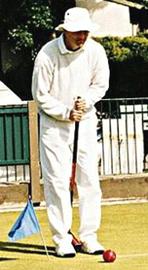 SFCC member Carl Hanson won his second consecutive SF Open singles title. Carl's unusual, specially-built Pidcock mallet has a 45-inch long shaft and a 15-inch head.
Carl Hanson, a cardiologist from nearby San Mateo, defended his San Francisco Open championship singles title with a cool, calm, deliberate game against the always formidable Mik Mehas - despite the drums, the reputation, the accomplishments and Mik's waggish skills. Carl's was a consummate victory - of exquisite control, superb shot-making, thoughtful strategy. The result was never in doubt, though Mik Mehas can never, ever be counted out, as he proved in "last turns", roqueting boundary balls, desperately seeking a final and conclusive break, which never came together.
Late on Sunday afternoon the sun faded (it had not rained a drop during tournament play; was this divine intervention or California dreaming?)...polite applause replaced the muted, distant drums...the victors took their prizes and their pride - not far, as it turned out...and, suddenly, it was over.

Final results of the 1998 San Francisco Open

Championship Flight Singles:

 1. Carl Hanson
 2. Mik Mehas
 3. Don Fournier Jr.
    Michael Zuro
 5. John Fournier
    John Leonard
 7. Ed Breuer
    Dan Mahoney
 9. Ron Lloyd
    Johnny Mitchell
11. Mike Hanner
    Joe Koenig
    Bert Myer
    Mike Weimerskirch

Championship Doubles:

 1. Wayne Rodoni/Mik Mehas
 2. Bob Alman/Carl Hanson
 3. Don Fournier Jr./Michael Zuro
    John Fournier/John Leonard 
 5. Ed Breuer/Mike Weimerskirch
    Joe Koenig/Ron Lloyd
 7. Mike Hanner/Bert Myer
    Dan Mahoney/Johnny Mitchell

A Flight Singles:

 1. David Dill
 2. Reuben Edwards
 3. Simon Eccles
    Don Heerens
 5. Ken Shipley
    Karen Collingwood
 7. Marc Batten
 8. John Stauffer

A Doubles:

 1. David Dill/Simon Eccles
 2. Marc Batten/Reuben Edwards
 3. Karen Collingwood/Don Heerens
 4. Ken Shipley/John Stauffer

B Flight Singles:

 1. Alan Taylor
 2. Sharon Gordon
 3. Sid Cantwell
    Nancy Feldman
 5. Ben Rothman
    Yves Hentic
 7. Jim Bleakley
    Ann Simms
 9. Carter Crane
    Rosemarie Taylor
11. Wanda Lee Smith
12. Hope Harmon
13. Frank Stuart
14. Elaine Fong
15. Mary Klubec
16. Edith Wiggins

B Doubles:

 1. Frank Stuart/Rosemarie Taylor
 2. Sid Cantwell/Ted Strong
 3. Bryan Gammil/Ben Rothman
    Elaine Fong/Alan Taylor
 5. Ann Simms/Yves Hentic
    Jim Bleakley/Carter Crane
 7. Mary Kloubec/Edith Wiggins
    Nancy Feldman/Hope Harmon


[This article and photos are reprinted by permission of the author and photographer, Bert Myer. A somewhat longer version - with many more photos - appears in the July 1998 issue of the USCA CROQUET BULLETIN.]
© 1996-99 Croquet Bulletin & Bert Myer 1998
---