Fulford dominates
1998 Arizona Open
in both singles and doubles
by Bob Alman
Posted March 14, 1998
---

For the Arizona Croquet Club, it was a comparatively small tournament, with only 47 players. For the players, it was one of the best Arizona tournaments ever: the weather was near-perfect; the relatively slight numbers made possible a workable schedule for the five single lawns scattered across the valley; first-timers lent an air of high spirits and excitement; and world champion Robert Fulford came to display the full range of his mastery of the sport.

---
The Arizona Croquet Club is one of the oldest in the country, and when the first Arizona Open was announced in 1983, there were few other serious tournaments on the circuit, so everybody who was anybody in croquet came to play - all the champions, all the pro's, all the ambitious rookies. It rivaled the Nationals in the breadth of its appeal, as it still does in the strength of its player field.
But in 1998, when every major club has a tournament, the paucity of players from the old-line East Coast croquet establishment in Arizona was striking. Only Dan Mahoney, president of the USCA, was there to represent "Palm Beach" croquet. Making up for the lack of East Coast players, however, was a host of up-and-coming rookies from the South and Midwest - from Texas, Oklahoma, Mississippi, Illinois, Minnesota. A smattering of players from the West Coast, a strong local contingent, and a quartet of players from Useppa Island (on Florida's West Coast) rounded out the field. Add to that, of course, Robert Fulford of England, making the most of his croquet travels before settling down to a nine-to-five job in his native England in June. (Fulford, at 28, recently completed his studies in accounting.)
Fulford likes to play American Rules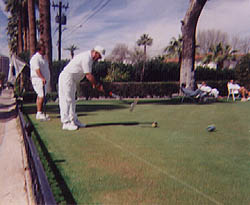 The frontyard Fournier court within a walled development near downtown Phoenix looks more public than it is. Ron Lloyd of Tulsa watches partner Johnny Mitchell of Houston make their opening attack in one of their Championship doubles games.

Fulford, by his own accounting, is rare among top players from British Commonwealth countries in his willingness to profess a genuine appreciation of the American Rules game. Among those he names who have played American Rules often are Phil Cordingly (who lived in Delaware for a time) and David Openshaw. Tony Stephens of New Zealand, Ireland's Simon Williams, and Reg Bamford of South Africa have also played American Rules often and well. But I am willing to assert, having watched Robert Fulford for seven days under the Arizona sun, that none of those players equals Fulford in his mastery of American Rules.

Fulford habitually plays the "balls out" strategy, which often produces a protracted two-ball contest around the lawn while the other two balls contest at the first hoop. This can lead to scores most unusual in the American game - such as, at the extreme, a 26-0 score once achieved in competition by the Australian Neil Spooner and forever to be known as a "full Spooner." It seems most improbably, and the details of it are lost to croquet history, but it actually did happen. Fulford came close to matching Spooner's achievement in a "balls out" contest which involved two- and three-ball breaks coordinated with a series of cannons to knock the fourth ball out of scoring position at the first hoop. He thus achieved a rare "half-Spooner" - a score of 26-1 - against Jacques Fournier in the first round of the playoff ladder.

There was in Fulford's week-long performance the occasional misfire of a wicket split, but if he made any error of tactics or strategy, if he suffered even one mental lapse in forgetting deadness or sequence, if he failed even once to calculate the right move given the state of the game, I am not aware of it.

It's too bad that Fulford's playing exploits in the blocks were seen by so few people, given the nature of the tournament, played on widely separated single lawns:
The Kraft court in Paradise Valley, in Ren Kraft's back yard, scene of the after-the-games "Toast and Talley," where the master results board is displayed, and the home court of the Arizona Croquet Club.

The Chatham court, in East Phoenix, home court of the Camelback Croquet Club, in the back yard of Margaret and Hood Chatham.

The Gainey Ranch court, in North Scottsdale in the center of a very large development built around golf courses and numerous amenities of the leisure life of Arizona's "snow birds." This finals venue is flanked by tennis courts, a clubhouse, swimming pool, and golf links.

The front yard Fournier court, in another and smaller development near downtown Phoenix, seat of the Downtown Croquet Club.

One of several bowling greens in Sun City, Northwest of Phoenix - the lawn most distant from the other courts.
In my own words: being sextupled in Sun City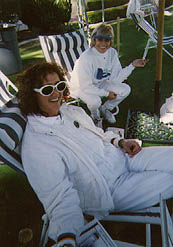 Carol Cherry of Atlanta and Patty Dole of Scottsdale, the lowest ranked Championship doubles team, engineered an upset victory over U.S. national champion Britt Ruby and partner Aaron Cawley in block play.

Croquet history was to be witnessed by only five players in preliminary block play on the Sun City bowling green. I was both a witness and a participant.

There were four 7-person blocks in the Championship Flight, and in my block were both Fulford and the current USCA national champion, Britt Ruby of Texas. It was both my privilege and my misfortune to be the victim of the first American Rules sextuple peel in the history of our sport. I am sorry that I cannot give you a full, factual, objective play-by-play account of this feat. Let me explain.

The third day of the tournament was scheduled to be, for me, by far the most arduous. I was to play four consecutive games on a fast lawn bowling green in Sun City - one of the largest and best-known senior retirement developments of the post-war era, a full 45-minute drive west from the Arizona Croquet Club for those who know the route. I arrived one minute past the 9:30 starting time, and my opponent Pat Roach, a zero handicap Arizonan, was anxious to start. Other players in my block were there as well - Stuart Brodsky from Kentucky, Patty Dole of Arizona, and Robert Fulford.

Somehow, I got an early advantage in the Roach game and because of an accidental roquet of my partner ball on the boundary was forced to execute a "rout" which gave me a successful three-ball break with my second ball. As game time approached, my opponent was very dead with one ball and needed three hoops to win with the other one.. In last turn, all I had to do was shoot off the lawn, and I did something I had vowed never to do again. In shooting for the corner of choice, I ran into the peg and left a ball on the field. Final score: Pat Roach 21, Bob Alman 20. I had thrown away my chance for an upset.

Cursing myself for this single but fatal lapse in concentration, I nevertheless managed to win my next two games by narrow margins by taking advantage of my opponents' deadness. After three games, I had won two and lost one by a single point - a good day so far for the lowest ranked player in the block. (People tell me I am capable of good play, and I win surprisingly often. But in my own experience, winning against an opponent of equal or lower handicap always seems like a miracle. And I get nervous. Sometimes very, very nervous.)

By 4:00 in the afternoon, I had soaked my skin with multiple applications of SPF 15 lotion and my face still felt like a piece of old leather. I was tired after five hours of near-constant motion, and now found myself confronting Robert Fulford, the world champion, in the final game of the day.

I am sorry I can't tell you exactly what happened. I think I was a bit dazed. Somehow, playing blue and black, I kept Fulford's red ball out of the game (or maybe he kept himself out, who can say?) for almost half an hour, and successfully advanced my blue ahead of his yellow. I ran up seven points! Then I made the terrible mental error of hitting a dead ball, and I was done. Fulford was in the game, in control, and going around with yellow. Yellow stopped after #6 and set a break for red.

Resigned to my fate, I was hardly even paying attention as red rush-peeled yellow through 1-back in the process of making its own hoop #2, then sent yellow careening down the court to 2-back while advancing to my black ball, waiting at pioneer. Soon it was obvious that something unusual was happening.

I watched the ballet of the balls for a while, as a bowler sat down and started chatting:

"Have you played here today?' he asked pleasantly?

"Actually," I replied, "I'm playing right now."

"Really?"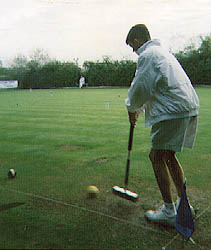 Jacques Fournier shoots out of the notoriously unattackable "safety zone" in the corner of the home-base court of the Arizona Croquet Club in Ren Kraft's back yard.

"Yes. In your sport, no matter how bad you are or how good your opponent is, you each get to roll the same number of bowls down the lawn in every game. In croquet at the top level, if you don't do well, you sit on a bench and pray that your opponent will make a mistake."

"Maybe he'll make a mistake," the lawn bowler said.

"The man on the lawn is the world champion - and right now, he's playing like the greatest croquet player of all time. I think maybe I've been lucky to get seven points - it's more than most of his other opponents have gotten against him."

"Seven points. That's very good," said the lawn bowler encouragingly.

"Actually, it means very little, but it does give me something to say about the game on my own behalf, if anybody asks."

At this point, both Fulford's balls were bound for penultimate. His rush came to rest about 2 ½ feet directly in front of the hoop. The extreme care he took setting up his peel yielded a result which still seems to me near-miraculous. Yellow wound up virtually in the jaws of rover. (It should have hit the peg, shouldn't it?) Red sailed through penultimate, and the realization began to dawn on me that with the straight peel of these final two hoops, I was about to be sextupled.

"I'm going to be sextupled," I told the lawn bowler, who nodded gravely.

It was soon over. I rose to shake Fulford's hand and congratulate him on such a fine display of control on a lawn everyone considered treacherously fast.

"It's not really that fast," Fulford opined.

"It was risky, though, and if it went wrong, the deadness could cause you to lose the game." We both knew that multiple peels in the American Rules game are hard to justify strategically, as the risk of accumulating deadness is too great should anything go wrong. I couldn't resist asking a rude question: "Why me? People will say you did this to Alman because he's a pushover!"

"Not at all," Fulford replied graciously. "I had already won my block, so there was no risk."

A good answer from an unfailingly gracious 28-year-old Brit. I nodded as if to conclude the conversation. Then he said, mildly, "You know, it was the first American sextuple."

"Oh no," I said, "I think John Osborn did one last year."

"That was a quintuple," said Robert.

"Are you positive?"

"Well, I'm ninety-nine percent positive," Robert said.

That's all I can say about the first American Rules sextuple. I should have been taking notes instead of talking to a lawn bowler - but that's the difference between a champion and a social player. I'd rather be talking with someone courtside than totally concentrated on my game. And I'm not about to practice.

Most of the rest of my tournament was experienced courtside after that Tuesday in Sun City. I had only to be beaten soundly the next morning by Britt Ruby, USCA national champion, to be knocked out of the finals ladder. Ruby was off form for much of the tournament, but he found perfect form against me. (Ruby spent much of the tournament wired to his Walkman. I had to ask what he was listening to - motivational speeches? Not at all. He started out with Jackson Brown's "Pretender," then later switched to "Les Miserables.")"

The Arizona Open is organized for three and a half days of qualifying play in the blocks, followed by another three and a half days of final rounds. A few people go home when they lose in the first three and half days. Most stay - to watch top-level croquet, to play pick-up games on the open courts, to enjoy a full measure of the hospitality that is part of the Arizona Open tradition - not just courtside lunches, but also dinners most evenings, if you include the popular "Toast and Tally" at the Kraft court in the late afternoon and early evening, typically featuring lots of beer and chips with hotdogs or hamburgers on the grill. "How do they do this, how can they afford it?" I asked one member. "By going over the budget," he replied.

Arizona's uniquely beautiful triple-elimination playoff ladder
Robert Fulford tosses the coin at Camelback for the first of his three confrontations with eventual runner-up Mik Mehas of Palm Springs.

The final rounds take a long time because the Arizona Open features, uniquely, a triple-elimination ladder for finalists - 16 in the Championship Flight and 8 in the First Flight. It's a beautiful ladder, emphasizing the drama of victory and defeat. If you plan to win the tournament, it's definitely a good idea to enter the final round on the TOP tier of the ladder (for first - and second-place finishers in the blocks of seven). Third place finishers go to the SECOND tier, while fourth place finishers are consigned to the dreaded THIRD tier, on the bottom. Thus block winners have three lives in the ladder, while fourth place finishers have only one.

"You fall into the third tier of the ladder, and you don't come out," commented Carl Hanson of San Francisco. For the most part, that is true. (Hanson defeated 16-year-old Jacques Fournier of Phoenix in the second tier, but then was beaten by him in their second confrontation in the third tier; Jacques was then eliminated by his brother Don Jr., who earned the right to confront Fulford in the semi-final.)

But once in a while third-tier players do emerge and go all the way to the top. This year, it happened in the First Flight to George Funk of Minnesota, who had to win seven consecutive games to stay alive and finally take the top trophy from Sinia Beckstead of Useppa Island. In the Championship Flight ladder for 16, ten games in a row would be required, and that has never been done. (Arizonan Rory Kelley came close some years ago, but didn't quite make it.)

By the morning of the fifth day, only eight players remained. Four of them had only single lives remaining, in the third tier: Carl Hanson of San Francisco, Jacques Fournier, Arizona's Paul Bennett, and Doug Grimsley of Virginia. Mike Zuro, Mik Mehas, Don Fournier Jr. and Fulford maintained their hold on the upper tiers.

The Championship singles finalists never had to descend to the dreaded third tier. Although Fulford knocked Mik Mehas down into the second tier early on, Mehas fought his way all the way through to the end of the second tier and thus won the right to play Fulford again, until that point undefeated at the top of the ladder. On the basis of a single failed wicket split, Fulford had to retire in mid-break, and it was all Mehas needed to play out his win and thus become the "holder" at the top of the ladder, while Fulford fought through the second tier. Pre-finals score: one for Fulford, one for Mehas.

The good luck of Mik Mehas is the misfortune of Mike Zuro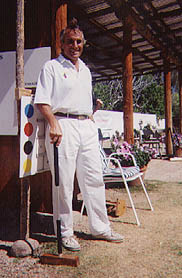 Mike Zuro - posing here at the Camelback Croquet Club - made an awful gaff in the elimination ladder; with consistenty strong play, he also gave notice of his potential as a future champion.

People sometimes say that Mik Mehas is lucky, which seems to me superstitious. I'd rather think that people make their own luck. But the luck of Mik Mehas is sometimes difficult to explain. (Could it be because he's a devout vegetarian?) He is indebted to one Mike Zuro of Chicago and Useppa Island for maintaining his place in the second tier, only because Zuro created an unusual wiring situation after he already had his Friday morning game against Mehas virtually put away on the Gainey court.

They had both been defeated in the second round of the third tier - Mehas by Fulford, Zuro by Don Fournier. Then they had played their way through to near the end of the second tier and confronted each other at 8:00 AM at Gainey Ranch in north Scottsdale, which was to be the venue of the finals.

Playing the first ball in the final rotation, with a two-point lead, Zuro put Mehas' blue ball (all live) in the jaws of #6 on the take-off of Zuro's red to yellow, in the middle of the field. Zuro had already sent black - live only on red - to near the north boundary. Zuro carefully picked a spot on the south boundary which would leave his balls together so yellow could prevent Mehas putting something together with blue in the last turn of the game. Zuro then did the one thing that would deliver this critical game to Mehas. He wired black!

Black lifted to red and croqueted red to blue's pioneer, 4-back, then went out of bounds near 4-back. Zuro, realizing the enormity of his error, knew the only way out was to hit blue - the ball he had jawsed- with yellow, thus denying Mehas the opportunity to take a second lift with blue. It was a difficult shot from the south boundary, with just a fraction of the ball showing through the jaws, and it missed, delivering to Mehas for his easy three-hoop break a fourth ball which he didn't even need.

How often does one deliver to the opponent in a single last turn two consecutive lifts? I don't recall ever seeing it at such a critical juncture in a significant game, and neither did others at courtside, who dubbed the move a "Zuro." Later I commented to Mike that I had to report one of the most unusual series of plays of the tournament and hoped he wouldn't be offended by the notoriety. I warned him that his unusual play might forever be known as a "Zuro." He reminded me that he has been playing for only 2 ½ years - hardly enough time to make all the mistakes from which every champion must learn, through bitter experience.

The championship game must always be reported, though it is often comparatively dull. Despite expectations of an heroic back-and-forth struggle between two seasoned champions, the final game was dull, and quickly over.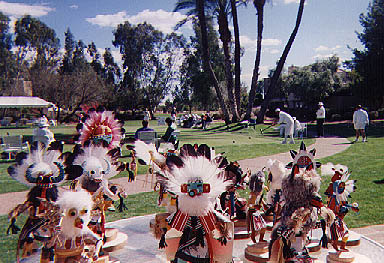 The striking Kachina dolls given as trophies turn their backs on Mik Mehas in the background as he mounts an unsuccesful attack on Robert Fulford in the Championship singles finals.
Most expected to see a protracted "out game," as both players have long favored keeping a ball out until a critical moment as a winning tactic against a formidable opponent. In this case, Fulford took the second position opener, and Mehas had already decided before the game started to come into the game with both balls if he had first position. So he did, joining on the south boundary, after which Fulford bumped his yellow ball a foot or so towards the jaws of the first hoop.
Despite yellow's threatening position, Mehas wasted no time in attacking with black. But his ball curved out besides red, delivering his fate to Fulford. That is the story of the game. Mehas spent most of it chatting on the sidelines - commenting, perhaps, on the treachery of the boundaries at the Gainey Ranch court. Not only did they fall away, they did not even have a string to save a delicate attack, and countless attacks over the week had gone awry by falling over the white chalk-line. "If we had a string boundary instead of chalk, the story might have turned out different," commented George Funk.
Is this unfair? No, this is croquet. Part of the unique challenge of the Arizona Open is the variety of surfaces in the five-lawn tournament. Each lawn is distinctive, and most players got to play on every one of them.
People have commented that the Arizona playoff ladder is "unfair" to the most successful players, potentially denying them the extra lives of the less successful players; potentially producing a final game in which some never-say-die maniac from the third tier roars through ten games straight and wins the championship by beating a previously undefeated player. But it never seems to happen. In this case, Fulford won two out of three games against his runner-up. Fulford lost only one singles game in the tournament, Mehas only two. The unusual triple-tiered elimination ladder had again produced a just result.
The godfather of the Arizona renaissance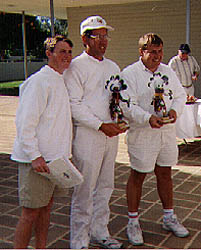 Jacques Fournier, at 16 the youngest-ever president of the Arizona Croquet Club, poses with doubles champions Joe Koenig and Robert Fulford, displaying their first-place trophies.

One reason the Arizona Open was comparatively small this year (it has gone to 64 in the past) is because the new Arizona International Rules Open in April competes for top players with the American Rules Arizona Open for top players. But the effect was less that some have predicted, and the new tournament, organized by Jacques Fournier, promises to be the strongest USCA sanctioned International Rules tournament on the continent. It is already fully subscribed, and its roster is a "who's who" of American croquet player power.

How did this come about? Largely as a result of the ambitions of Don Fournier, Sr., a dentist the local press has called "the godfather of Arizona croquet." He is a tireless promoter of croquet. All the male members of his family play croquet, and his three sons - Jacques, Don Jr., and John - are all recent members of USCA international teams. His front-lawn court is regularly the scene of some of the highest-level play to be seen in the country. "On Wednesday evenings," he told me, "you almost always see at least one triple-peel on this court." Wednesday evening, once "family night" at the Fournier house, is now "croquet night" for many of Arizona's finest players. Don Sr. predicts that by the year 2,000, "three out of the top four U.S. players will be Arizonans."

It could happen. In the early and mid-eighties, Arizona produced more top- level players than any other region of the country. In the late eighties and nineties, this distinction passed to Northern California. Don Fournier, Sr. has created the conditions needed for a millennial Arizona renaissance: frequent, intense, serious, all-out peer-level competition for the top players.

The finalists in the 1998 Arizona Open
Championship Singles

1. Robert Fulford (England)
2. Mik Mehas (California)
3. Don Fournier, Jr. (Arizona)
4. Jacques Fournier (Arizona)
5. Mike Zuro (Illinois and Florida)
6. Doug Grimsley (Virginia)
7. Carl Hanson (California)
Paul Bennett (Arizona)

Championship Doubles

1. Robert Fulford / Joe Koenig
2. Bill Martin / Paul Bennett
3. Doug Grimsley / Pat Roach
4. Don Fournier, Jr. / Mik Mehas

First Flight Singles

1. George Funk (Minnesota)
2. Sinia Beckstead (Florida)
3. Jeff Caldwell (Mississippi)
4. Simon Eccles (Massachusetts)

First Flight Doubles

1. Larry Stettner / Bob Nevens
2. Jeff Caldwell / Jack Scott
[The editor seldom has an opportunity to make a first-person report on a major tournament. The next one will be on the San Francisco Open in early May.]
---