1998 American Rules Nationals at Merion breaks new ground
--based on reports of Jim Armour and Harold Menzel, photos by Frank Borden, Cindy Gowell, and Harold Menzel, edited by Bob Alman
Posted November 1, 1998
---
The 1998 USCA American Rules National Championship lived up to its advance billing as the biggest ever. Registered in three flights of singles and doubles were 116 players. With 17 courts all in the same place - on the Great Lawn of the Merion Cricket Club in Haverford, Pennsylvania - the event presented the kind of spectacle seldom seen in the relatively small sport.

---

Merion Cricket Club - Haverford, Pennsylvania - site of the 1998 USCA American Rules National Championships.
In one of the largest championship flights in the 20-year history of the event, 52 players competed. (Three others were knocked out for various reasons, including President Dan Mahoney, whose travel plans were hampered by mudslides near his Idaho summer digs.) The sheer number of courts allowed plenty of opportunity for lots of games in all flights. All second and third flight players of both singles and doubles were scheduled for games through Saturday, the sixth day of the seven-day touranment.
The starting 52 players in the Championship Flight were brought down to 30 via block play, and then a second round of block play brought the field down to the final sixteen, who played out a double-elimination draw.
Championship game was 15th straight win for Mik Mehas
Michael (Mik) Mehas, the Championship Singles winner, played 15 singles matches during the week without a loss. Mik dedicated his win in the finals to Woodruff Leeming of New Canaan, Connecticut, a long-time stalwart of the Greenwich Croquet Club and "as good a friend as a person could have," in the words of Mehas.
The contestants for the 1998 USCA Championship were Paul Scott from Charlotte, North Carolina, and Michael (Mik) Mehas from Palm Springs, California. Mehas, with a -0.5 handicap, is a long-time veteran of the top ranks of American rules croquet, while Paul Scott, handicapped at +.5, was playing in his first Nationals. Scott's style of play, conditioned by International Rules play in his native England, emphasizes carefully controlled shotmaking.
Mehas is a colorful player, who with his stylish plus-fours and his strong shooting, stands out on any croquet lawn. Mehas has contested the Nationals many times, coming in as high as third place on two occasions. He has captured most of the other top titles in American croquet, including the national doubles title. He now holds both the International Rules and the American Rules national championships (a feat matched in the past only by Damon Bidencope in 1989 and Mac Penwell in 1993/94). He won the plate in the British Open this year and travelled to Leamington Spa in early October to compete in the third annual Golf Croquet World Championship. He plans to defend his International Rules title in Palm Beach later in the month. All this makes him the most active top American competitor in the sport.
His dress, his style, his confidence - which some mark as arrogance - cannot fail to draw the attention of the crowd and much comment, both favorable and unfavorable. He carries his history in the sport with him, a history that has been marked by controversy and even official censure. But he's riding a crest now of victory upon victory. It hardly matters that some of them are very close indeed, and that to some, he seems an unreasonably lucky player.
The final match played on "center court" of the spectacular Great Lawn of the Merion Cricket Club, won by a narrow margin, was no exception. A running commentary was provided by Tournament Director Ted Prentis, while Mehas and Scott supplied the drama. Mehas played blue/black; Scott, red/yellow.
Characteristically, Mehas started by keeping one of his balls out. (See his CROQUET WORLD article on the balls-out game.)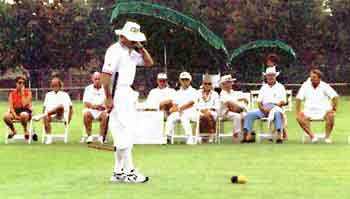 Mik Mehas contemplates a shot in the championship match.

Blue and yellow entered the came early, with yellow getting to #3 wicket. Red saw an opportunity and attempted to jump black, positioned in front of #1 wicket, to get into the game, but missed, and ended up at the other end of the court behind #2 wicket.

This gave black an opportunity to enter the game with a 3-ball break, and Mehas ran it to 3-back before breaking down.

Yellow took a long shot at blue but missed, bouncing off #1 wicket, and now blue had a three-ball break opportunity. But to his and the spectators' surprise, Mehas stuffed #3 wicket on a fairly easy shot.

Red, behind #2 wicket and not in the game, shot back up towards #1 to get into position, but hit the #2 wicket! Not good! Black shot out, and yellow was left with a difficult shot at blue, lying against #3 wicket. Scott made the shot and ran two balls to #5, then hit yellow out.

Mehas was able to pick up a couple of wickets while Scott was maneuvering red into position at #1 wicket. Paul finally got the ball to the wicket, and with blue and black behind #1 wicket in the blue corner, shot the wicket. Scott then attempted a roquet at blue/black but came up short. Mehas, preparing for the three-ball break, shot black towards its next wicket, anticipating that blue would roquet red and be on its way.

But Scott then made the shot of the day. With blue in the blue corner, and with yellow in the yellow corner, Paul shot yellow across the court and just nicked blue! Moments before, Mik had the game put away, and now Paul - with a miracle hit-in - had created a four-ball break opportunity. He ran the break faultlessly, bringing yellow through rover, and leaving the balls in a difficult position for blue to roquet. Rather than try for it, blue sensibly hit out in the blue corner.

Scott was now in control of the game. Red had a three-ball break, starting at #2 wicket, and Scott ran it through 1-back. The ball only just cleared the wicket, leaving a problematic, but not difficult, roquet shot at yellow. Missed!

Black, down by #4 Wicket, hit up towards red but missed, and both players then took their balls to the sidelines.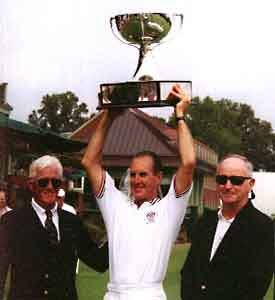 The champion rejoices between Archie Peck and Jim Hughes.

With about 15 minutes left in the game, red had a three-ball break opportunity. He ran 2-back, but the cut-rush towards black, near 3- back, left Scott with a longish roquet shot, which he missed. Black took a long shot at yellow,which red had pioneered near 4-back, but missed.

Yellow (rover) had an angle shot at the wicket, and being three-ball dead was clearly tempted to give it a try. Scott eyed the situation studiously, then chose to shoot out.

The game was now winding down. The wicket count was 20 to 18 in favor of Scott, but the field setup seemed to favor Mehas. Yellow was near the peg, with black stuffed in the rover wicket. Scott studied the situation for a while, then walked towards the red ball near the black corner. The 15-second call came from Bob Kroeger, keeping the shot clock. By the time Paul realized (actually, was told) that it was yellow to play, it was too late. The shot clock time was called on the backswing, and yellow stayed in the middle of the court.

That was the game. After a desperation shot by red, black ran rover, collected red, pegged out yellow, and set up the 3-ball break for blue, near 1-back. At this point, the wicket count was 21 for red- yellow and 18 for blue-black. With yellow out of the game, it was now blue's turn. In last turn with blue, Mik ran the break around to Penultimate, giving him 23 total wickets.

With the two-point lead, Mehas then put both balls out of bounds. Scott attempted another miracle hit-in, but it was not to be. Red just missed blue, and the game was over. Mik Mehas had won his first American Rules national championship.

Championship Flight Doubles is typically low-key
Rich Curtis and Doug Grimsley confer.

The partnerships were Richard Curtis, from Rochester, New York, playing with Doug Grimsley, from Fairfax, Virginia; against brothers Ron Turner Darrell Turner, Fulks Run, also from Virginia.

The tone of the game was careful and conservative. They were playing on the court that would be used for the championship singles in a couple of hours, and the wickets had been set on the tight side, which perhaps bothered them a bit. At any rate, there was hardly any attacking until very late in the game, and no long break until the game was nearly over. The players seemed content to run a wicket or two and then shoot out.

In the end, the timing was all on the side of the Curtis/Grismley team, who claimed the national doubles championship.

Youth wins in First Flight Singles

The winner, Frank Hentic, of Southampton, New York, at age 16, was the youngest player in the event. Frank had a good tournament, coming in third in the doubles with his father, Yves. The young Hentic defeated Garnett Turner, patriarch of the remarkable Turner family of Virginia and father of Ronald and Darrell Turner, runners-up in Championship Doubles.

Last-ball turn-around attempt in First Flight Doubles falls short.

The match was contested by Gray Wyatt and Freeman Turley, both from Richmond, Virginia; and Travis Watson, Basye, Virginia, playing with Garnett Turner. Wyatt-Turley played blue-black, Watson-Turner played red-yellow. Wyatt ran blue early to 2-back. There was a fair amount of sideline temporizing, as the players tried to set advantageous positions. Black eventually reached #5 wicket, and stuffed it. Red then got a 4-ball break and ran to penultimate. Towards the end of the game, black ran to rover. Black was first ball in last turn with the score 20 - 18 in favor of Wyatt-Turley. Red was in position at penultimate with a long shot. Black and blue were on the West boundary relatively close to each other. Black attempted a short roquet on blue in order to take red out of position and missed the roquet. Yellow came out on the court near the rover wicket for red to use. Blue was dead on black and stayed on the boundary. Red made penultimate, but rolled up to the peg and had no shot on yellow and was unable to make another roquet. The final score was 20 - 19.

Second Flight Singles taken by Dilley of Michigan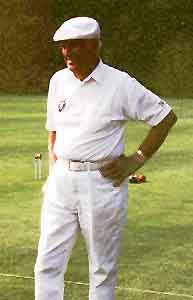 Al Dilley in his sartorial splendor.
In the second flight singles final between Al Dilley, of Grand Rapids, Michigan, and Graham McCauley, from Versailles, Kentucky, Al, playing blue-black,got off to an early lead, and brought both balls to #4 wicket. Red had trouble at #3, and was stuck there for what must have seemed like an eternity to Graham.
Dilley continued to play conservatively - his style throughout the tournament - and 2-balled blue-black to 2-back, shot the wicket with blue, and set up black. McCauley, now far behind with only six total wickets, attacked with red and broke up the set-up, but could gain no more than a single wicket. Dilley went on to win, 21-15.
At the awards ceremony. Al expressed his thanks to fellow Michigander Joe Koenig, from Ypsilanti (who had a fairly successful tournament himself, making the final draw in the championship flight) for being his teacher and guru.
Third Flight Singles is a deadness contest
Ted Kemp and Harold Menzel begin their final match.

In the third flight singles final between Ted Kemp, from Pittsburgh, Pennsylvani, playing blue-black, and Harold Menzel, of Richardson, Texas, playing red-yellow, both players started slowly and picked up a lot of deadness without running many wickets. After about 40 minutes, neither player had been able to advance a ball past #3 wicket. Red finally broke away and got to one-back, but stuffed it. Ted was able to advance blue and black to #5, and seemed to have the advantage, but Harold made a long roquet shot with yellow and evened up the score. The game ended with a ten-ball dead deadness board; blue and red for one-back, and black and yellow for two-back. Blue, last ball in last turn, behind two-back, roqueted black, made the long croquet shot to one-back where red was in position to shoot the wicket, roqueted red and made the wicket, giving the game to Kemp, 14-13.

Eastern regional players dominated tourney

The great majority of the players were from the Eastern seaboard. But there were eight from "middle America"; six from the Southwest, and three from the West coast. The international contingent included a player from Quebec, one from Mexico, and two from Bermuda (John and Nelga Young, veterans of the early days of USCA championship play).

The strong eight-person Virginia contingent was led by the Turners of Fulks run, who kept popping up all over the draw and in finals matches.

The Peyton Ballenger Trophy for the woman player with the best result in Championship Singles went to Terri Spoonhour of Orlando, Florida, and was presented by Jackie Jones, a two-time winner of the trophy.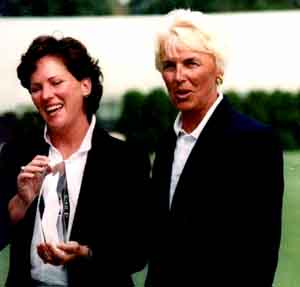 Terri Spoonhour receives the Peyton Ballenger trophy from Jackie Jones.
Search underway for 1999 nationals site
There is no question that the players appreciated having the tournament at one location. Despite some scheduling glitches, the one-venue nationals worked so well that speculation has already begun about repeating in 1999. Merion and Southampton appear to be the only locales at present which could put together the required number of courts. Rumor has it that Southampton is a good possibility for 1999. One of the biggest complaints around the tournament was the too-tight scheduling of games, with only ten minutes between matches - not sufficient time to allow for last-turn play and other normal delays. A shortage of referees was noted by some players. Both these flaws are easily corrected. All the review are in: the 1998 nationals at Merion were a big hit. The games worked well, and the most important factors in any tournament - the weather and the food - were exceptional. There was plenty of sun every day, the only rain falling during one overnight. The lunches provided by The Merion Cricket Club drew raves. Some of the players were disappointed with the continental breakfasts. The players seemed to thoroughly enjoy the facilities, the Lawn, and the week of croquet





Complete 1998 Nationals Results



CHAMPIONSHIP SINGLES     CHAMPIONSHIP DOUBLES

 1. MICHAEL MEHAS       1.  DOUG GRIMSLEY - RICH CURTIS
 2. PAUL SCOTT          2.  DARREL TURNER - RON TURNER
 3. JOHN OSBORN         3.  JOHN CURINGTON - WAYNE SYNAN
    JEFF SOO            4.  BOB CHERRY - GAR BECKSTEAD
 5. DARREL TURNER       5.  JIM HUGHES - BOB KROEGER
    BILL BERNE              LARRY MOORE - PHIL PARKER
 7. JAY HUGHES          9.  JOHN OSBORN - MICHAEL MEHAS
    JOE KOENIG              CARL UHLMAN - RICK SHEELY
 9. DAVID MALOOF            MACK PENWELL - JEFF SOO
    WAYNE SYNAN             MATT GRIFFITH - RON LLOYD
    NEIL HOUGHTON           NEIL HOUGHTON - BILL MARTIN
    BOB KROEGER             BRITT RUBY - JOE YODER
13. FRED JONES              DIGBY BRIDGES - ARCHIE PECK
    JIM HOUSER          15. JOE KOENIG - JOHNNY MITCHELL
    GAR BECKSTEAD           BILL BERNE - BILLIE JEAN BERNE
    RON TURNER              PAUL BENNETT - JOHN DILL
17. JOHN OEHRLE             RUFUS BAYARD - TOM COOPER
    MACK PENWELL            JOHN OEHRLE - WOODY LEEMING
    BOB CHERRY              JOHN YOUNG - JIM HOUSER
    DICK BRACKETT           JIM SPOONHOUR - KEN SCOGGINS
    KEN SCOGGINS        22. DERRICK ROBINSON - JEREMY EVANS
22. JIM SPOONHOUR           DAVID MALOOF - TERRI SPOONHOUR
23. JOHN CURINGTON          FRED JONES - JACKIE JONES
    RICK SHEELY         25. DICK BRACKETT - STUART LAWRENCE
    DOUG GRIMSLEY           LILA BAITSCHOVA - AUSTIN CONNELLEY
    TERRI SPOONHOUR                  
    TOM COOPER                            
    STUART LAWRENCE
29. BRITT RUBY
    JACKIE JONES
31. JIM HUGHES
32. TRAVIS WATSON
    PAUL BENNETT
34. RON LLOYD
    TOM HUGHES
36. MIKE ZURO
    DIGBY BRIDGES
38. CARL UHLMAN
39. JOE YODER
    RUFUS BAYARD
41. JOHN YOUNG
42. JOHN DILL
43. MATT GRIFFITH
44. JOHNNY MITCHELL
45. LILA BAITSCHOVA
46. JOE MORRIS
47. DERRECK ROBINSON
48. BILLIE JEAN BERNE
    PHILIP PARKER
    RICH CURTIS
51. WOODY LEEMING
    HOLLY CURRIER

FIRST FLIGHT SINGLES        FIRST FLIGHT DOUBLES

 1. FRANK HENTIC          1.  GRAY WYATT - FREEMAN TURLEY
 2. GARNETT TURNER        2.  TRAVIS WATSON - GARNETT TURNER
 3. GRAY WYATT            3.  YVES HENTIC - FRANK HENTIC
 4. GARY TURNER           4.  JANE MCDONNELL - GARY TURNER
 5. ANTHONY MAYO          5.  NELGA YOUNG - MARK BLUNDELL
    ANN WALSH                 BOB SUMWALT - DAN OCONNELL
 7. TOM KRAUSE            7.  GEORGE KUHASZ - MURRAY POLLOCK
    MARK BLUNDELL             TOM KRAUSE - GORDON SMALE
 9. GEORGE FUNK               SANAE BECKSTEAD - GEORGE FUNK
    JEFF CALDWELL             JEFF CALDWELL - JACK SCOTT
11. DON HEERENS           11. DON HEERENS - ANN WALSH
12. DAN OCONNELL              BO MENTON - ANNE MORRIS
13. GENE PEARSON              GEN LANYON - RAY STOY
    FREEMAN TURLEY            GENE PEARSON - LOUISE MERCURO
    MURRAY POLLOCK
16. SANAE BECKSTEAD
17. JANE MCDONNELL
18. GORDON SMALE
19. RUTH SUMMERS
20. YVES HENTIC
    GEORGE KUHASZ
    BOB SUMWALT
23. RAY STOY
    JACK SCOTT
25. GEN LANYON
26. NELGA YOUNG
    ANNE MORRIS
28. JEREMY EVANS

SECOND FLIGHT SINGLES      SECOND FLIGHT DOUBLES

 1. AL DILLEY             1. STAN ANDERS - DAN MAGUIRE
 2. GRAHAM MCCAULEY       2. FRANK FRIDAY - GLEN TAYLOR
 3. CAROL CHERRY          3. AL DILLEY - BARBARA LEEMING
 4. STAN ANDERS           4. JENNIE CONNELLY - HEDY STOY
 5. DAN MAGUIRE           5. GINNY AMSLER - CAROL CHERRY
    GLEN TAYLOR              JAMES ARMOUR - ED WILFORD
 7. BARBARA LEEMING       7. BILL ROUADY - GRAHAM MCCAULEY
    JAMES ARMOUR
 9. GINNY AMSLEY
10. ED WILFORD
11. FRANK FRIDAY
    LOUISE MERCURO
13. CAROL MAYO
    JENNIE CONNELLY
15. HEDY STOY

THIRD FLIGHT SINGLES       THIRD FLIGHT DOUBLES

 1. TED KEMP             1. TED KEMP - RAY THAYER
 2. HAROLD MENZEL        2. MARILYN JACOBSON - MARGOT LEONARD
 3. MARILYN JACOBSON     3. KATHLEEN KUHASZ - HAROLD MENZEL
 4. DON JACOBSON         4. BETSY ARMOUR - CATHY OEHRLE
 5. KATHLEEN KUHASZ      5. JAN BALSON - HOPE HARMON
 6. MARGOT LEONARD       6. DON JACOBSON - NORMAN STANDISH
 7. HOPE HARMON
    CATHY OEHRLE
 9. BILL ROUADY
10. JAN BALSON
11. RAY THAYER
    RICHARD ABAJIAN
13. NORMAN STANDISH
14. BETSY ARMOUR


---


[CROQUET WORLD ONLINE MAGAZINE also covers the USCA 
International Rules National Championships, played 
at the Palm Beach Polo Club in Florida, October 22-25.]
			
		
---