Mik Mehas Wins His First National Championship in Best-of-Three Finals Match in Oakland
by Mike Weimerskirch and Bob Alman
Posted September 25, 1997
---

Eight top seeds emerged from three days of preliminary block play - four from each of the long blocks. From "A" block, they were Jacques Fournier, Mik Mehas, Jerry Stark, and Charlie Smith; from "B" block, Phil Arnold, Erv Peterson, David Openshaw, and Rory Kelley. The cross-block semi-final round of twelve games produced the two finalists with the best record - both from "A" block.

---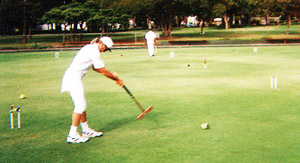 Tight-fitting modified baseball garb and ponytail set off the never-say-die Mehas playing style.
Mik Mehas of Palm Springs, California, outlasted Jerry Stark of Meadowood in California's Napa Valley in their best-of-3 final on Sunday, September 21, in Oakland, California, to win the 1997 USCA International Rules National Championship.
It was the first national championship Mehas has achieved in singles, though he has come close many times. When asked "What's next?" Mehas replied, "I'm going to win the American Rules Nationals in Palm Beach next month."
The final best-of-3 saw both players win games in which the opponent pegged them out. In the deciding game, Stark, trailing 21-2, took his first break around and pegged Mehas out to close the gap to 22-12 with 30 minutes remaining in the 2-hour-and-40 minute match. Mehas failed to score after his lift to contact and Stark quickly cut the lead to 22-19.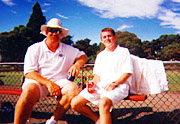 Jerry Stark (left) and Jacques Fournier finished second and fourth in the U.S. National Championship, and they'll be playing for America in the World Championship in Australia in November, 1997.

Mehas scored 4-back by setting up when Stark separated after clearing 1-back. Stark quickly resumed the chase, closing to within one point at 23-22, when he made his first and only mistake: After clearing 4-back, Stark rushed to penultimate and then, knowing the lift was coming, split partner to the west boundary, while gaining position, but then missed the hoop shot, with his ball very close to the jaws and directly in front.

With the lift, Mehas chose to shoot from B balk at an angle, presumably to avoid rush-peeling Stark through penultimate - which could have left Mehas with a long and difficult reverse take-off to achieve good hoop position. Mehas hit the lift shot, with Stark's ball obligingly bouncing out from the jaws on the playing side of the hoop. He then finished the game.

Taking Revenge for Game One
Game Three was revenge for the opening game, when Stark, with both balls rover, was pegged out by Mehas. Mehas gave up a lift to balk, which Stark missed, then kept Stark from shooting at the peg for several turns by joining opposite Stark.

Mehas got to 1-back, when he stuffed, and Stark hit in from the boundary north of 6 to save the game.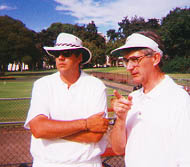 David Openshaw (right) a former champion of the tournament, explains a fine point of play to USCA president Dan Mahoney.



The overall format for the tournament was based on a discussion amongst many of the top players, who suggested long games, large blocks, limited playoffs, and an opportunity to play as many players as possible. The top four players from each of two blocks (8 and 9 players), advanced to a cross-block, which had each of the four top finishers in Block "A" playing a single game against each of the players advancing from Block B. Mehas and Stark advanced to the finals by surviving the cross-block, Mik with a 4-0 record, and Jerry with a 3-1 record, edging David Openshaw by 4 net points.

Block play was lead by Jacques Fournier, who finished 8-0, and led the tournament with four TPs. The fifteen-year-old from Phoenix also scored perhaps the most impressive victory of the tournament, with a six-turn wipe-out of Stark in block play. Fournier placed fourth in the tournament, just behind David Openshaw of England. All four of these players will be playing in the WCF World Croquet Championship in Bunbury, Australia, in November.

The tournament was also a warmup, of sorts, for two American players bound for Cairo in October to compete in the Golf Croquet World Championship - Mark Najarian and Sharif Abdelwahab. Sharif, who lives near Boston, is optimistic about his prospects. "We could win it," he says of the American contingent, which consists of Najarian and three native-born Egyptians living in the United States.

In the short First Flight, Melanie Marsac of Santa Rosa and David Gladstein of San Francisco also played out a grueling three-game match which ended with Marsac the winner by a hair.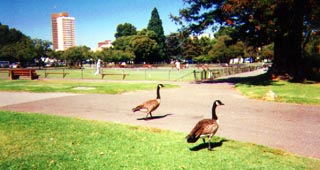 Venturing beyond the adjacent bird sanctuary, gaggles of geese graze on the open lawns separating the three enclosed championship courts of Oakland's Lakeside Park.
With game times set at a full two hours and forty minutes, with stopping the clock allowed in the last fifteen minutes, a majority of the games went to the peg, and there were no complaints with regard to time. Nonetheless, a surprising number of critical games among the top players went long and forced the players into "time tactics." The Mehas/Stark three-game finals match lasted almost eight hours.
Championship Block Results
Block "A"
Jacques Fournier 8-0
Mik Mehas 6-2
Jerry Stark 5-3
Charlie Smith 4-4
Britt Ruby 4-4
Jim Audas 2-6
John Leonard 2-6
Mark Najarian 2-6

Block "B"
Phil Arnold 7-1
Erv Peterson 6-2
Rory Kelley 5-3
David Openshaw 5-3
Sharif Abdelwahab 4-4
Bill Martin 4-4
Dan Mahoney 4-4
Ron Lastinger 1-7
Maurice Marsac 0-8

Cross-block Play-off
Mik Mehas 4-0
Jerry Stark 3-1 +30
David Openshaw 3-1 +26
Jacques Fournier 2-2
Rory Kelley 2-2
Erv Peterson 1-3
Charlie Smith 1-3
Phil Arnold 0-4

Finals
Mehas def. Stark -8, +15, +4
[CROQUET WORLD ONLINE MAGAZINE will cover the USCA American Rules National Championships in Palm Beach in mid-October.]
---