Nozaki Returns as 1997 Japan Open Champion
story and pictures by Pierre Dunn
Posted November 3, 1997
---

As a prelude to the second and final installment of his story on the 1997 Japan Open, Far East correspondent Pierre Dunn comments, "I didn't talk about the fact that many of Japan's strongest players are engineers working for Taisei Construction Company, one of Japan's largest construction firms, or that many of the other players became involved in croquet through exposure as physical education specialists interested in new sports. Maybe that can be an article at some future time."

---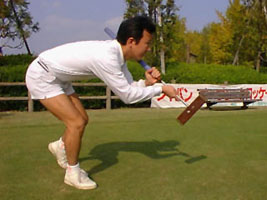 Takashi Nozaki follows through with a long roll en route to the championship in the 1997 Japan Open.

The clear, crisp, early fall day brought out Takashi Nozaki's best, prompting him to try briefly for the first tournament triple peel by a Japanese player. The effort was stymied by the treacherous slopes in the third corner of Showa Memorial Park's Court # 1, but the attempt made it clear that success will not be far off.

Nozaki went on to take the championship in the 14th annual Japan Open Singles competition, beating Atsushi Mitsui 23-12 in the final. Third place was taken by Akira Matsumoto, who defeated last year's third place finisher, Pierre Dunn, by a score of 18-13.

Ten players participated in the final two days of the tournament, held October 25 and 26 on Showa Park's two courts in Tokyo's Tachikawa district.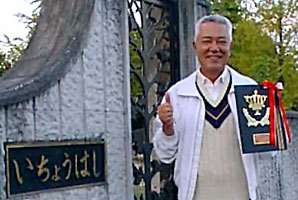 Atsushi Mitsui celebrates his second place finish on the Ginkgo Bridge near the Showa Park courts.

Saturday's play and one player's scheduling conflict reduced the number to seven for Sunday, giving Nozaki a bye to the semifinals, where he beat Dunn 26 - 9 while Mitsui defeated Matsumoto 14 - 6. All games were limited to two hours.

Conditions at the park were as good as they have been this year, but the courts are in need of serious work. Though plans are under development for adding new facilities prior to Japan's anticipated hosting of the WCF championships in the future, the two Showa Park courts are currently the only public courts in Japan built to meet official standards.

While the courts drain very well (making play in Japan's rainy summers feasible), other factors inhibit satisfactory play.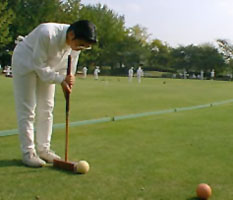 New Player of 1997 Maiko Naka displays the carefully controlled style that has helped her develop skills rapidly.

The ground has been subsiding, creating hills and valleys that are becoming steeper every year; mushrooms and anthills make play resemble bumper pool more than billiards; and the holes created by gardeners removing weeds are filled with a poorly graded sand that includes pebbles as large as half an inch in diameter - hardly conducive to straight cross-court shooting.

We can only hope that armed with players' complaints and the prospect of international attention, the Japanese Croquet Association will be able to prevail on the developers and maintainers of future facilities to provide courts that can satisfy world-class players as well as enable Japanese players to continue developing to world-class level.

In an effort to spur further development, the JCA has added a new award to its armory, recognizing the "New Player of the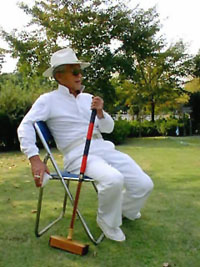 The eternally relaxed Akira Matsumoto considers his opponent's play.

Year" (from among the ranks of those who have taken up the sport within the last two years) with a new Advantage mallet from the Australian company Brereton & Dunstone. The first annual winner, announced at the 1997 Singles tournament awards ceremony, is Maiko Naka, a high school student who has been playing with singular dedication since early in the year.

The 1997 tournament was co-chaired by Masaaki Yamada, Toru Takano, and Nasuo Oda. Takashi Nozaki's assistance to the committee was notable, particularly in his preparation of tournament documentation, graphics, and posters.

Game Results for Saturday, October 25

Block A
Pierre Dunn defeated Toshio Yamada         17 - 7

Block B 
Takashi Nozaki defeated Emiko Wachi        26 - 9
Masaaki Yamada defeated. Wachi             19 - 4
Nozaki & M. Yamada tied                    15 - 15

Block C 
Atsushi Mitsui defeated Toshihide Mizusawa  9 - 2

Block D
Akira Matsumoto defeated Kazuo Kushida     11 - 10
Matsumoto defeated Maiko Naka               9 - 2
Naka awarded win over Kushida             by forfeit

Game Results for Sunday, October 16

Quarterfinals
Dunn defeated Naka                         21 - 2
Mitsui defeated M. Yamada                  10 - 9
Matsumoto defeated T. Yamada               17 - 7
Nozaki                                       bye

Semifinals
Nozaki defeated Dunn                       26 - 9
Mitsui defeated Matsumoto                  14 - 6

Finals
Nozaki defeated Mitsui                     23 - 12
Matsumoto defeated Dunn                    18 - 13

---