Twelve Players Advance to Final Round of 1997 Japan Open
story and pictures by Pierre Dunn
Posted October 19, 1997
---

Far East correspondent and past Japan doubles champion Pierre Dunn sends his first report on the country's most important tournament, held in two stages. A second story on the finals will follow shortly.

---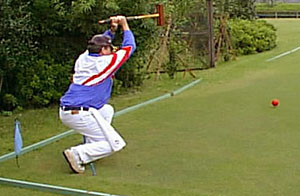 P. Dunn sends a half-roll across the court.

Eight players from Japan's Kanto area, two from each of four blocks, have advanced to the second round of play in the 1997 Japan Open Singles Croquet Tournament.

Winning their blocks on October 4 were T. Nozaki (A Block) and P. Dunn (B Block), with K. Kushida and T. Yamada advancing as runners-up. Block play on October 5 was won by M. Yamada (C Block) and A. Tanaka (D Block), with A. Mitsui and A. Matsumoto also advancing. Games were played on the courts at Showa Memorial Park in the Tachikawa section of Tokyo. The park and courts were built in the late 80's on the site of a former U.S. air base.
T. Nozaki plays a croquet stroke near hoop 4.

All of the players advancing through the preliminary process are veterans of Japan tournament play, including several former singles champions (Nozaki, Tanaka, and M. Yamada) and doubles champions (Dunn, Kushida, Matsumoto, Mitsui, Tanaka, and T. Yamada). Notably absent from the field was former champion I. Nagashima, forced to withdraw due to the demands of work.

The Kanto area, including Tokyo and the region surrounding it, is the center of croquet in Japan. As a result, two-thirds of the twelve players who will participate in the second round of play were selected in the Kanto region preliminaries.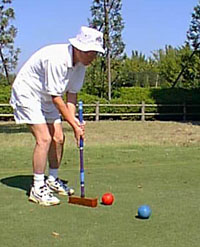 A. Tanaka sets for a short roquet.

Of the other four players, two will come from from the Kansai area (around Osaka) and Fukui, and the remaining two will fill "Wild Card" slots to be filled from the ranks of B and C class players. In future years, these last two slots will be made available first to players entering from outside Japan.

The second round of play will be held on October 25, with the twelve participants competing in four blocks of three. The top two in each block will advance to a knock-out ladder on October 26, with initial opponents selected by lot. The four winners will move on to a semi-final round of ladder play, with the winners of this round competing for first and second places and their defeated foes competing for third-place honors.

[CROQUET WORLD ONLINE MAGAZINE will report the finals in a follow-up story.]
---