USCA International Rules Handicaps
Now Published Online and Updated Bi-annually
by Bob Alman, as reported by Ervand Peterson
Posted October 14, 1997
---

For several years the USCA has maintained a list of International Rules handicaps for American players, but it has been little known and seldom published. Now, with the encouragement of CROQUET WORLD ONLINE MAGAZINE, the USCA International Rules Handicap Committee has released for online publication the latest update of the list, which follows this article.

---
According to the chairman of the committee, Ervand Peterson of Santa Rosa, California, the list is updated twice a year - in March and September. Beginning this month (October, 1997), the list will be maintained online along with the USCA American Rules handicaps in CROQUET IN AMERICA, the official USCA Website.
This list does not use "tracking points" like the American Rules handicap system, or any other "automatic" process to determine handicaps. Instead, the results of all USCA sanctioned International Rules tournaments are considered by the three committee members when the list is updated. (The other committee members are Jerry Stark, croquet pro at Meadowood in California's Napa Valley, and Bob Kroeger of Massachuestts, one of America's most active tournament directors and instructor/coaches. All three are veterans of international team play.)
STARK AND TAVES ARE AT THE TOP OF BOTH LISTS
The International Rules Handicap listing - without the "plus bias" built into the other system - constitutes the most accurate USCA ranking available for International Rules play. The current handicap list puts Jerry Stark and John Taves at the top with handicaps of Minus 1.5. In the next tier - at Minus 1.0 - are five players: Phil Arnold, Damon Bidencope, Mik Mehas, Ervand Peterson, and Wayne Rodoni.
Another way to get a ranking of American players in International Rules play is to abstract an American list from the WCF's world ranking. Currently, John Taves, at #9, heads that list, followed by Jerry Stark, #33, Wayne Rodoni, #38, and Mik Mehas, #42.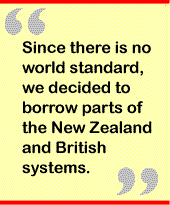 The USCA handicap system appears to be closely correlated to the one used by the British Croquet Association, but chairman Peterson says that several foreign models were used. "When we originally established the handicapping for Association Rules," Peterson says, "we consulted with the New Zealand, Australian, and British association on their systems and handicaps. Since there is no world standard for handicaps we decided to borrow portions of the New Zealand and British models (the latter of which goes no lower than -2).
"Since U.S. players play so few Association Rules tournaments," Peterson continued, "we thought it best to handle the handicaps as a committee and adjust them semi-annually. This handicap system, it was agreed, would not become an automatic system, but would remain with the committee. Originally we compiled a list of all the U.S. players that played or had played Association Rules tournaments; we then assigned handicaps and submitted the list to international players who knew U.S. players and had seen them play over the past five years. These players then evaluated our handicaps and gave us input on them. We then finalized our list.
"We have maintained the list for the past two years by
1.
adding new names as players play in Association Rules tournaments;
2.
removing names of those who don't play Association Rules or who have died;
3.
adjusting handicaps as players improve or lose their game."
"Criteria we utilize in evlauating players and their play are:
1.
Understanding of the Laws;
2.
Tactical knowledge (use of lifts, contacts, peeling finishes, wiring tactics, pegged out play, handicap play, etc.);
3.
Skill level demonstrated in tournaments."
The following September update of the list gives only the first initial and last name of the ranked players. Peterson promises to fill out the next listing with complete first names.
USCA INTERNATIONAL RULES HANDICAP LISTING - UPDATED SEPTEMBER, 1997
NAME
HANDICAP
NAME
HANDICAP
Stark, Jerry
Taves, John
Arnold, Phil
Bidencope, Damon
Mehas, Mik
Peterson, Ervand
Rodoni, Wayne
Bast, Jim
Fournier, Don. Jr.
Fournier, Jacques
Grimsley, Doug
Jones, Kiley
Osborn, John
Scott, Paul
Smith, Charlie
Thomas, Rhya
Bell, R.
Berne, F.
Burchfield, A.
Hanson, C.
Kraft, R.
Kroeger, R.
Mabee, C.
McBride, L.
Prentis, T.
Rebuschatis, R.
Roach, P.
Abdelwahab, S.
Arkley, T.
Esquivel, S.
Fleming, R.
Hughes, Jay
Kelley, R.
Llewellyn-Williams, M.
Penwell, M.
Taves, A.
Weimerskirch, M.
Audas, J.
Brown, H.
Curtis, R.
Dole, P.
Erwin, J.
Karbo, L.
Lott, J.
Louis, D.
McCarthy, K.
Orgill, M.
Prentis, D.
Robinson, R.
Rosen, K.
Ruby, B.
Soo, J.
Wilhoite, R.
Wolman, A.
Breuer, E.
Burris, M.
Cline, E.
Cooper, T.
Gibbons, M.
Hermann, J.
Mahoney, D.
Martin, B.
Najarian, M.
Anders, C.
Ball, J.
Barr, D.
Bennett, P.
Berne, BJ.
Brodsky, S.
Cote, J.
Craig, D.
Curington, J.
Eliassen, G.
Graves, N.
Hughes,T.
Janitz, W.
Miles, J.
Patmor, S.
Reif, C.
-1.5
-1.5
-1
-1
-1
-1
-1
-0.5
-0.5
-0.5
-0.5
-0.5
-0.5
-0.5
-0.5
-0.5
0
0
0
0
0
0
0
0
0
0
0
0.5
0.5
0.5
0.5
0.5
0.5
0.5
0.5
0.5
0.5
1
1
1
1
1
1
1
1
1
1
1
1
1
1
1
1
1
1.5
1.5
1.5
1.5
1.5
1.5
1.5
1.5
1.5
2
2
2
2
2
2
2
2
2
2
2
2
2
2
2
2
Richardson, B.
Sheely, R.
Stewart, T.
Young, J.
Haley, R.
Hanner, M.
Lee, B.
Baitshova, L
Cawley, A.
Currier, R.
Dunker, T.
Fisk , W.
Garrett, J.
Gibbons, C.
Greathouse, T.
Hamlin, J.
Horne, K.
Houser, J.
Howlett, M.
Hoy, W.
Kayden, X.
Keonig, J.
McKeon, J.
Milse, G.
Mitchell, J.
Roberts, E.
Schott, J.
Taylor, J.
Tucker, R.
Yoder, J.
Collins, D.
Currier, P.
Haden, R.
Heath, A.
Lawrence, S.
Marsac, Ma.
McClatchy, W.E.
O'Brien, M.
Powell, R.
Ross, T.
Alman, B.
Campbell, W.
Chatham, M.
Donohue, T.
Hamm, R.
Juvinall, D.
McDonnell, J.
Muller, D.
Oehris, J.
Park, J.
Siemers, C.
Wilhoite, B., Jr.
Young, N.
Clayton, R.
Holcomb, T.
Langstroth, W.
Marsac, Me.
Hofstein, I.
Holloway, M.
Kurelic, M.
Loew, D.
Mayo, A.
Moss, T.
Pearce, E.
Stevens, J.
Sumwalt, B.
Campbell, M.
Donaldson, B.
Maxwell, M.
Diebel, M.
Fournier, D., Sr.
Loew, R.
Sargent, J.
Summers, R.
Strong, T.
Lee, F.
Fong, E.
Strong, J.
Ridley, T.
2
2
2
2
2.5
2.5
2.5
3
3
3
3
3
3
3
3
3
3
3
3
3
3
3
3
3
3
3
3
3
3
3
3.5
3.5
3.5
3.5
3.5
3.5
3.5
3.5
3.5
3.5
4
4
4
4
4
4
4
4
4
4
4
4
4
4.5
4.5
4.5
4.5
5
5
5
5
5
5
5
5
5
6
6
6
7
7
7
7
8
10
11
12
12
15
---