American Teammates and Brothers Must Face Off in World Golf Croquet Championship "Round of Sixteen"
by Mohammad Kamal
Posted October 18, 1997
---

The quarter-finals of the second WCF World Croquet Golf Championship in Cairo provided fresh evidence of the Egyptians' supremacy in their own national game - Egyptian Golf Croquet. The two Americans who made it to the quarter-finals were defeated, and the semi-finals were contested by four Egyptians, resulting in a final contest Saturday between Salah Hassan and Walid Salah.

---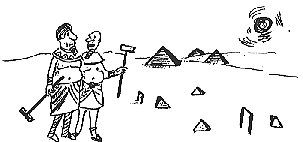 In principle I like the game, but there must be a way of speeding it up.
Cartoon by Jack Shotton
After a perfect first round, American Mark Najarian defeated teammate Mohammad Kamal 7/5- 7/6 in a very close best-of-three match in the "round of sixteen," qualifying him to continue to the quarter-final "round of eight." Najarian was able to play his own style - which is very different from the typically aggressive Egyptian style Kamal has adopted.
With his first-round win over K. Younis (the reigning champion), Mohammad was expected to go further in the tournament. But thanks to Mark's brilliant play and the distraction of breaking his new Pidcock mallet in the first round, Mohammad wound up finishing the tournament in 13th position.
Sherif Abdelwahab's intensive coaching of Mark before the tournament proved to be very effective. Mark's debut in the game at the world championship level was most impressive. His subsequent loss to Egyptian Nahid Hassan in the quarter-finals should not discourage him; she is a very strong player and arguably the best female player in the history of Egyptian croquet.
Undaunted by the prospect of playing against his own brother and American teammate in the "round of 16," Sherif won the match against his sibling Ihab in two games. Sherif was formidable with his accurate shooting and explosive style. Unfortunately he lost to H. Elshobaky in the quarter-final. Sherif went on to win all his matches in the ranking round, finishing with a strong win over K. Younis 7/5- 7/6. His fifth-place finish was the highest of any non-Egyptian in the championship.
Ihab is a force to be reckoned with in future tournaments. His performance in the first and second rounds was the strongest among the American team. He defeated Salah Hassan, who will play in the finals against Walid Salah. Considering that this is his very first tournament and that unlike Mohammad and Sherif he didn't play in Egypt competitively before going to the United States, Ihab is on the right track to be a strong contender in future championships.
The best match in the tournament so far was in the quarter-finals between K. Younis and Walid Salah, the current national champion of Egypt and the best shooter in the tournament. After splitting the first two games,. Walid took over the match in the third game, leading 3/2, and then making #6 from a position near #5; the same ball made one-back and hit Younis's position at 2-back, sending it to corner 3. Younis missed the hit on Walid's position at 2-back to find Walid up 6/2. Walid won that game 7/3. Final match score: 7/6, 6/7, 7/3.
Losing players have had many activities and adventures to console them - including trips to the Pyramids, the old town bazaar. and dinner on the Nile Pharaoh floating restarant.
[CROQUET WORLD ONLINE MAGAZINE will continue coverage through the final match.]
---