WCF CHAMPIONSHIPS
Day 6
Results from Tony Hall and a story from Wendy Davidson
Posted November 14, 1997
---

Up to now, all matches in the Knockout Ladder have been best-of-three. The semi-finals on Saturday and the finals on Sunday will all be best-of-five matches.

---
Championship Quarter-Final Results
Robert Fulford (England) v Richard Baker (NZ) 26TP-2, 9-26TP, 26TP-11.
David Maugham (England) v Reg Bamford (South Africa) 26TP-0, 26-23.
Stephen Mulliner (England) v Steve Jones (NZ) 12-26, 26-4, 26-13.
Shane Davis (NZ) v Bob Jackson (NZ) 23-26, 26-0, 26TP-0.

Plate Event Results, Round 1
J. Stark (USA) v W. Wahban (Egypt) 26-22.
D. Fournier, Jr (USA) v P. Payne (Switzerland) 26-14.
B. Fleming (Qld, Australia) v T. Weston (Jersey) 26TP-7.
C. Pickering (SA, Australia) v R. McInerney(Ireland) 26-9.

Plate Event Results, Round 2
D. Openshaw (England) v P. Skinley (NZ) 26-9.
J. Fournier (USA) v E. Lualdi (Italy) 26-17.
H. Thurston (Perth, WA, Australia) v J. Stark 26-3.
D. Fournier v G. Bury (Qld, Australia) 26-1.
B. Fleming v W. Louw (South Africa) 26-1.
P. Cordingley (England) v C. Pickering 26-15.
C. Williams (Wales) v A. Faulkner (Vic, Australia) 26-9.
M. Mehas (USA) v I. Bond (Scotland) 26-25.

Plate Results, Quarter-Finals
J. Fournier v D. Openshaw 26-13.
H. Thurston v D. Fournier 26-0.
B. Fleming v P. Cordingley 26-11.
M. Mehas v C. Williams 26-2.

The semi-finals will be played on Saturday.
The Day Six Story from Wendy Davidson
It's quarter-finals day for the Wimbledon Cup [the main event], and the first round of the Bunbury Plate [the "consolation" tournament]. Games are over quickly as those with the best skills and tactics did battle. Helene Thurston, the best performing Australian, eliminated from the Cup, is marching her way towards the finals of the Plate.
A huge audience is expected to gather around the court where the semi-final between Thurston and Jacques Fournier will be held tomorrow (Saturday): Thurston is the President of the Western Australia Croquet Association, and Fournier is the youngest competitor in the tournament, having celebrated his 16th birthday this week. Both have drawn a big crowd each time they have played.
Last night saw 160 players and supporters enjoy the Presentation Dinner at the Lighthouse Inn, in a huge room with a dance floor with a panoramic view over the ocean and port entrance. Plaques were presented to winners and runners-up in the Bunbury tournament. Speeches were made by various officials from the World Croquet Federation, Croquet Australia, sponsors and the city of Bunbury - and toasts were proposed. Formalities were few, and everyone took the opportunity to chat with those they had not caught up with during the week.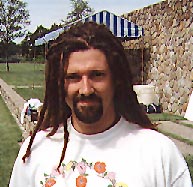 New Zealander Shane Davis, ranked#16 in the world, is the only non-Brit in the semi-finals.

In the Cup three matches were decided quickly, two being settled in two games. The match between New Zealanders Shane Davis and Bob Jackson was played at a slower pace, and more conservatively, with the third game being played after lunch.

Maugham finished his first game quickly, and was well ahead in the second, but he failed a hoop with both Bamford's ball for that hoop. Bamford played well, made his first break and was looking dangerous, but the game see-sawed, Maugham eventually maintaining control to complete the game, so progressing into the semi-finals where he meets Fulford.

The match between Jones and Mulliner was played at a different tempo as Mulliner bustled around the court. Jones won the first game and Mulliner convincingly won the second, giving Jones few chances. The third game was completed before lunch, when Jones broke down and Mulliner finished.

Fulford vs Baker also went to three games. Fulford`s experience eventually saw him through to the semi-final after a patch of indifferent play.

After losing the first game to Jackson, Davis was in control in the second and third games. He made it look easy.

So tomorrow we look forward to seeing Maugham vs Fulford and Mulliner take on the long-dreadnaughted Davis. The wind has dropped, and sunburn was the extra enemy today.

[Wendy Davidson is the editor of CROQUET AUSTRALIA, the official magazine of the Australian Croquet Association.]
---