Knock-Out Ladder Reduced to
16 Survivors
by Wendy Davidson, Editor, CROQUET AUSTRALIA
Posted November 12, 1997
---

Day Four of the WCF World Championship completes the first round of the Knock-out ladder, reducing the starting 32 players to just 16. The first group of 16 played down to 8 on Tuesday, the second group of 16 on Wednesday. At the end of the day on Wednesday, the sixteen survivors who go on to the next round of the Knock-out are five Englishmen, four New Zealanders, two Australians, two Americans, two South Africans, and one Welshman.

---
The first 16 players who won their way through to the Knock-out had an extra adversary - gusty winds. All players were affected, and the wind blew mallets off course and unsettled players such that many roquets were missed. Because of the difficult conditions several games took over four hours to complete.

England's David Maugham quickly eliminated Welshman Shawn Carter.

Most of the spectators gathered around three games; Robert Fulford (England) vs Andrew Hope (Scotland); Jacques Fournier (USA), celebrating his 16th birthday, vs Paul Skinley (New Zealand); and the President of Western Australia Croquet Association, Helene Thurston (Australia) vs Ian Dumergue (New Zealand).

It was Australia's day today. Both Aussies won. Thurston fought the gusty winds on the open tennis courts during the four-hour epic which saw her win the first game 26-11. The second game saw Thurston in control from start to finish, taking her first clip to 4-back, and giving Dumergue several long hits before taking her second ball to the peg, gaining accurate position in front of hoops despite the wind. Dumergue failed to get a break going and Thurston quickly finished the game, winning 26-0.

Greg Bury (Queensland) had a long battle with Jerry Stark (USA). Bury made 9. Stark hit the lift and made 9. Bury missed the lift, but Jerry was not able to capitalise on the miss. Bury attempted a triple, failed, and after several more turns, finally had his clips on the peg. He had two attempts at pegging out before pegging out one ball, and then, with Stark's balls together with a set rush, Bury pegged out from the boundary.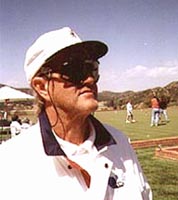 Mik Mehas is one of only two Americans still alive in the main event.

In their second game both made breaks of 9, and Bury failed another triple, getting the clips to penultimate and the peg. Stark hit the lift and failed to make hoop 1. Bury missed, and Stark proceeded to start a triple peel before failing at hoop 5. Bury finished the game, winning 26-14.

The wind was so strong at times that, on a court adjacent to the above match, the player was swinging to hit a ball on the yardline and while he was swinging the mallet, the ball was blown back between his legs. Those whose stance includes stiff legs with no flex at the knees had the greatest difficulty in maintaining a stable position to counter the gusts of wind.

The first game of the match between Jacques Fournier (USA) and Paul Skinley (NZ), drew an audience when Fournier pegged out Skinley's forward ball. Skinley was traveling well, with his first clip on 4-back, but well into his second break he did not hit the ball hard enough to get it through 2-back. Fournier's clips were on hoops 1 and 2. Fournier proceeded to take red to 4-back. Each player had a number of opportunities, and several times the most appropriate tactics were not used. Finally Fournier pegged out Skinley's ball, with his other clip on hoop 5, and Skinley's on 4-back. Skinley muffed two hoops, and missed several long roquets. Finally Fournier pegged out, to loud applause for a popular win.

The second game was quicker, with Fournier winning 26-8 with a triple peel. It was a great day for the birthday boy.

Three times World Champion, Robert Fulford (England) took a long time to win his first game against Andrew Hope (Scotland), the wind again interfering with play. The result was 26-7. The second game was quicker, with a typical Fulford triple peel, result 26-1.

Other winners were:

Reg Bamford (South Africa) over Jane McIntyre (New Zealand), 26-6, 26-10
Richard Baker (NZ) from Don Fournier, Jr. (USA) 26TP-10, 26-12.

The quickest win was David Maugham (England) over Shaun Carter (Wales), 26-5, 26-3. Maugham was playing on the courts which had no protection; maybe he wanted to get to shelter quickly!

Only one match went to three games - Ronan McInerney (Ireland) and David Openshaw (England) are still locked in battle seven and a half hours after hit-off at 8 AM. The first game was won by McInerney 26-14, the second by Openshaw 26-23. From where I sit I can see a red clip on 4 and yellow has just run 3-back. [Editor's note: Openshaw won the game and the match.]

So, after the first round of the knockout two Australians, four New Zealanders, two Americans, five Englishmen, two South Africans, and a Welshman are through to the second round.

[CROQUET WORLD's coverage will continue with complete coverage of the 1997 WCF World Croquet Championship in Bunbury, Australia, and links to related Web pages.]
---