Most Player Selections Finalized as Bunbury Prepares for World Croquet Federation's
1997 World Championship


Edited from reports of Hartley Slater, Neil Bloomfield, and the World Croquet Federation;
Bunbury photos by Geoff Bloomfield, player photos by Bob Alman

Posted August 26, 1997
---

The seventh edition of the official World Croquet Championship is being held in Bunbury, Western Australia, November 8-16, 1997. The 40-person lineup from 17 countries is, as expected, formidable, with England sending the most heavily favored players.

---
It is, by far, the most remote spot chosen thus far for croquet's official world championship - played four times in England, once in France, and once in Newport, Rhode Island. Bunbury is a provincial port of 40,000 souls, about two hours' driving time south of Perth, the capital of Western Australia. The city, perched on the western edge of the continent, is the biggest population center within - literally - thousands of miles.
Yet this could prove to be the most popular venue yet for the championship. Bunbury is to Perth what the Monterrey Peninsula is to San Francisco - a weekend getaway with many of the attractions and diversions vacationers most prize. The Port of Bunbury is on a peninsula surrounded by the Indian Ocean, Koombana Bay and the Leschenault Inlet. The climate, like California's coastal climate, is Mediterranean, with the temperature in November ranging from 12 to 23 degrees Celcius (55 to 73 degrees Fahrenheit). Very little rain falls from May to August.
Climate and sights a big plus for remote venue
Organizers expect visitors and players alike will take advantage of a once-in-a-lifetime visit to Bunbury to see sights that can be seen only in Western Australia - and to play lots of croquet. Inexpensive membership in a "Supporters Club" will provide numerous social and playing opportunities and temporary privileges in nearby sports clubs.
Once they arrive in Bunbury, the championship players will also have ample opportunity to recover from jet-lag and play a warm-up tournament In fact, the preliminary round could almost be considered a "warmup," as it simply reduces the field from 40 players to 32 - eliminating only one player from single-game matches played in eight round-robin blocks of five.
In the ensuing 32-player knock-out round, each match will be decided as the best of three games. From this round will emerge the four semi-finalists, who will play best-of-five matches to produce the two finalists.
English contingent boasts three highest-ranked players in event
In spite of the fact that most of the major countries are providing little or no financial help to the players, they have all managed to make strong selections, with England heading the list. England is sending both the current title-holder. Chris Clarke, and the runner-up, three-time winner Robert Fulford. David Maugham and Stephen Mulliner are strong contenders as well. David Openshaw - the "old man" of the 1997 British Solomon Team - was also selected, and Phil Cordingley, a veteran of international team play who has recently returned to form, won his place in a qualifying event. The British contingent thus includes No's 2, 3, 4, 8, 21, and 29 on the current (August) unofficial WCF World Rankings.
| | |
| --- | --- |
| | |
| Chris Clarke won his current World Champion title the last time the championship was played - in France in 1995. | Robert Fulford of England, runner-up in 1995, has won the championship three of the six times it has been played in 1990, 1993, and 1994 |
If the world rankings are any guide, New Zealand must be considered, once again, the runner-up favorite to produce a winner this year. Aaron Westerby, ranked as #1 following his win in the British Open, is not playing. But Bob Jackson (winner of the New Zealand championship in January), ranked at #7, will be in Bunbury, along with countrymen Shane Davis (#11), Paul Skinley (#12, Richard Baker (#14), and WCF Wild Card Ian Dumergue (#16).
Best American odds are on Meadowood's Jerry Stark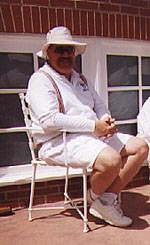 Jerry Stark (shown here at the 1997 Solomon Matches) was third in the WCF championship in 1995 and has the strongest record of the American contingent.

America's "great hope" would have to be Jerry Stark, who placed third in France in 1995, and who recently won The Resort At The Mountain Invitational contesting strong players from Australia and New Zealand. The Fournier brothers from Arizona - 15-year-old Jacques and older brother Don, Jr. - have been playing very well this year, and could pull off some upsets in Bunbury. Don was a standout performer at the Solomon Trophy matches in Southern California this year, and Jacques had to beat several of America's best to win the Meadowood Classic in July. Mik Mehas of Palm Springs and Hollywood, California, can be expected to perform well under pressure.

Reg Bamford, though long domiciled in England, has been selected by South Africa to play in the World's. He's ranked at #5 in the world, and he could win it.

Australia's five slots are to be filled by Colin Pickering, Shirley Carr, Andrew Reid, Greg Bury, and Bruce Fleming.

Carr will be joined by at least one other woman in the WCF Games this year - Canada's Audrey Wille.

Only New Zealand provides major financial support to players

New Zealand is the exception among countries providing little or no financial support to players. According to correspondent Steve Jones, New Zealand puts an "international levy" on each croquet player in the country, totaling close to $30,000 annually, which is matched by the Sports Council - but only if New Zealand produces victories enough to justify support. Recent wins in the Trans-Tasman matches and Aaron Westerby's Sonoma win in 1996 have provided the necessary justification for continuing the constant government support New Zealand's international players have enjoyed for the entire decade.

Individuals in the United States, organized and supported by the Croquet Foundation of America, have produced significant levels of support for U.S. players in the past, but not this year. According to Bob Kroeger, head of the USCA Selection Committee, this factor complicates the problems of making quality selections. He comments, "I was very fortunate in my competitive years - from 1988 to 1993 - to get the benefit of USCA subsidies for international team play. While it's a privilege to represent the U.S. abroad, it's also costly to take time off, even when the out-of-pocket expenses are subsidized. Combined with the cost of playing in qualifying events, this is an obvious strain for many."

The Australian hosts provide breakfast and lunch for players, as well as accommodations. Airfare is the major expense item.

Special tours and playing events planned for visitors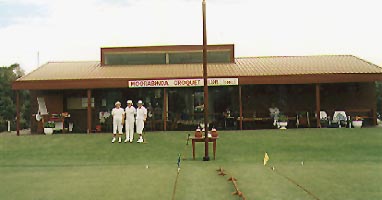 Moorabinda Croquet Club is the main venue for the championships.

Because of the many attractions of the Bunbury area, organizers are planning local half-day sightseeing tours for visitors as well as playing events at all levels. After the Championship, starting on November 17, there will be extended tours of the surrounding district, with highlights to include: the largest open-cut mine in the Southern Hemisphere; the Diamond Tree, a giant karri with a fire lookout at the top; the Pemberton Tourist Tram, wandering through forest and over trestle bridges; the Valley of the Giants (Tingle Trees); the rugged coastline of Albany; and a whale watch cruise. [For more information, contact Classic Holidays, Suite 2, 16 Kearns Crescent, Applecross, Western Australia, 6153, or phone +61 (0)9 316 2277, or fax +61 (0)9 316 2278.]

For visiting croquet players, the main attraction may well be the opportunity to play in a secondary tournament that begins before the main event and runs parallel to the World's, held partly at nearby Bunbury Central and partly at Moorabinda. A multi-grade format is being arranged to guarantee a minimum of four games in doubles and four in singles. These events are being offered and produced at modest cost by the Western Australia Croquet Association, co-hosts of the world championship. For more information, contact Mrs. Lynne Wilkinson, P.O. Box 1191, Bunbury, W.A. 6231, Phone 097-212882, Fax 097-959088.

[Frequent reports from Bunbury during the WCF Games will be published here and on the Western Australia Croquet Association Website.]
---
---